Spread financial intelligence
We have already reported a few times that scammers often claim that FinTelegram has committed copyright infringement in the warnings and reports. For this purpose, the scammers take text elements and images from FinTelegram and post them backdated on some obscure websites. With the infringement claims, the scammers want to prevent the articles from appearing in Google search results. So far, Google has rejected all of these claims. Most recently, Armin Ordodary resorted to this means. An occasion to report about him again.
FinTelegram News copyright policy: For some DMCA copyright claims, the scammers also copy the images and overlay the FinTelegram copyright notice. Therefore, in the future, we will put this in the background of all images. We hope this clears up any misunderstandings. We publish our content, including pictures, under the Creative Commons license (here). Thus, everyone is free to use our images as long as you credit us and license your new creations under identical terms.
The Belgrade Turf
Belgrade is one of the centers of the Israeli boiler rooms. Some call Belgrade the Manhatten on the Balkans. Boiler rooms offer attractive jobs to well-educated young Belgraders. Notorious boiler room operators like the Cyprus resident Armin Ordodary are doing big business. He provides boiler room services to regulated investment firms and scammers alike.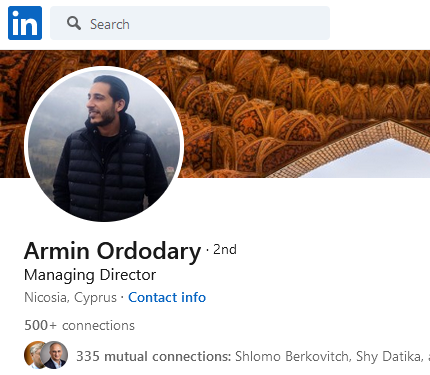 Armin Ordodary (LinkedIn) lives and works in Cyprus, where he has his two companies Benrich Trading Ltd and Benrich Holdings Ltd, and maintains other activities. The latter has a subsidiary in Serbia called Bizserve DOO (formerly known as Upmarkt DOO), which operates a boiler room working for various scams.
The FSMsmart scam
Until 2018, Ordodary operated the huge FSMsmart binary options scam with various domains through the offshore entity FSM Smart Ltd registered in the Marshall Islands. Ordodary was also involved in the development of CRM software for brokers. To our knowledge, some authorities in Europe are investigating Ordodary and its scam activities, but there have been no law enforcement actions so far.
Specifically, we know of one law enforcement agency in Germany that already has a large investigation file.
The boiler rooms operated by Ordodary and his Upmarkt a/k/a Bizserve are also said to have been involved in the Lau Scheme operating worldwide with various scam brands (please read the article here).
Identified brands and companies
Our FinTelegram Research Team has been able to establish connections between Armin Ordodary and the following brands and companies so far:
Brands and Domains
FSM Smart – www.fsmsmart.com
FSM Smarts – www.fsmssmarts.com
NepCore – a white-label broker and/or CRM solution
Legal Entities
FSM Smart Ltd – Marshall Islands
Benrich Holdings Ltd – Cyprus
SIAO Ltd – Cyprus
Bizserve DOO (previously Upmarkt DOO) – Serbia
BizTech DOO – Serbia
Report information
If you have information on Armin Ordodary and/or his FSM Smart and related schemes, please share it with FinTelegram using our whistleblower system.