Spread financial intelligence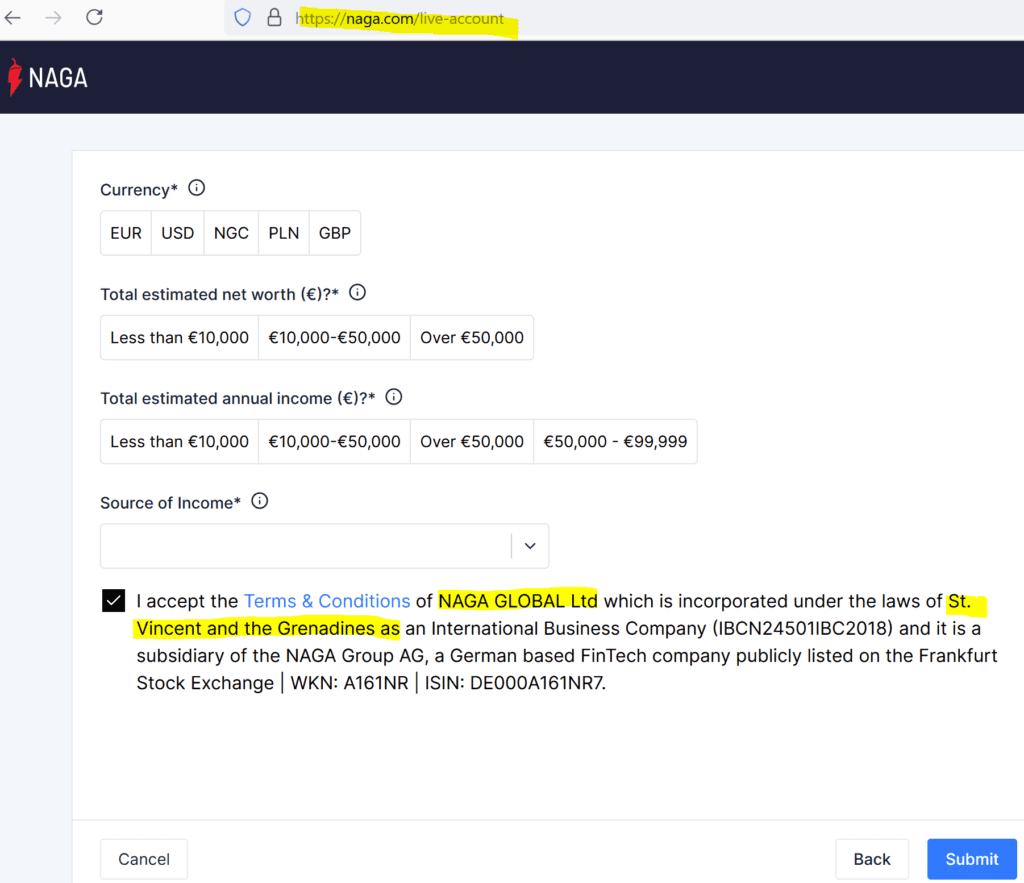 The NAGA Group AG is a German-based FinTech company publicly listed on the Frankfurt Stock Exchange (WKN: A161NR and ISIN DE000A161NR7). The company is doing business as NAGA (www.naga.com). The subsidiary NAGA Markets Europe Ltd is an investment firm (CIF) regulated by CySEC in Cyprus with license number 204/13. Another subsidiary is the unregulated offshore entity NAGA Global Ltd, registered in St. Vincent and the Grenadines. The company labels itself as an operator of a social network for financial investments and thus similar to eToro. Today, we established that NAGA is using fraudulent marketing methods. This should be of interest to the two regulators in charge, CySEC and BaFin.
The NAGA Saga
Hamburg, Germany-based listed The NAGA Group AG currently has a market capitalization of around €240M. As of May 2021, the company has reportedly already processed more than €100 billion in trading volume in the current fiscal year. In May 2021 alone, the trading volume would have been €24 billion, doubling that of May 2020. The company also announced that its shares would now be available in the U.S. via a cross-listing.
NAGA claims it would have acquired more than 155,000 new customers in 2021 alone. Given the now discovered use of fraudulent marketing campaigns, the question arises whether these customers were acquired by legal means.
Fraud campaigns and fake review sites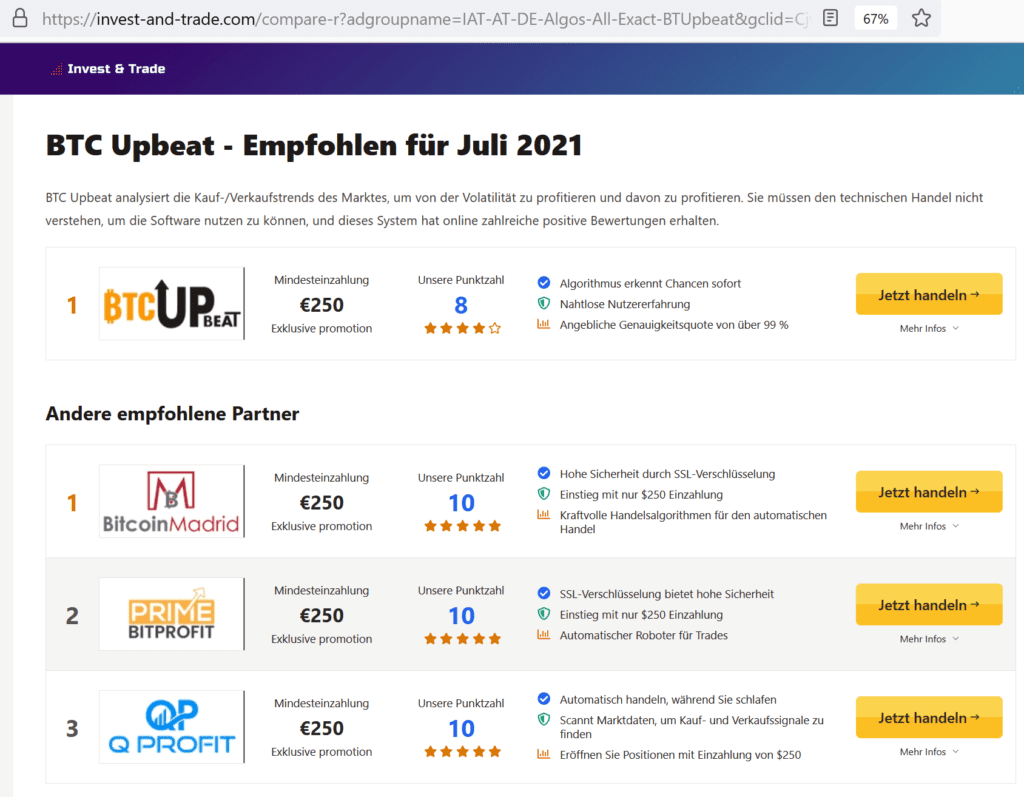 Digital marketing agencies and payment processors are the main facilitators for CySEC investment firms and scammers. These agencies prefer to work with fraudulent campaigns in which they use celebrities in fake articles to promote new, revolutionary products to get rich quickly. In the BitcoinX fraud campaign, for example, Elon Musk is portrayed as a supposed promoter. In addition, we know of Tesler, Bitcoin Profit, Bitcoin Prime, and dozens of other fraudulent campaigns (see our Marketing Campaign Blacklist here).
These campaigns are compared, reviewed, and given great ratings on various fake comparison sites like Invest and Trade (www.invest-and-trade.com). With the massive use of Google Ads, both the fraudulent campaigns and the comparison sites are advertised. Today we were led to NAGA via Invest and Trade and the BTC Upbeat campaign advertised there. Invest and Trade evidently focuses on German-speaking victims (see screenshot left).
We were automatically registered as a new customer at NAGA with the registration via Invest and Trade or BTC Upbeat and automatically forwarded to our freshly squeezed NAGA account. There we had to fill in our missing details like address, citizenship, and birthday. And off, we went!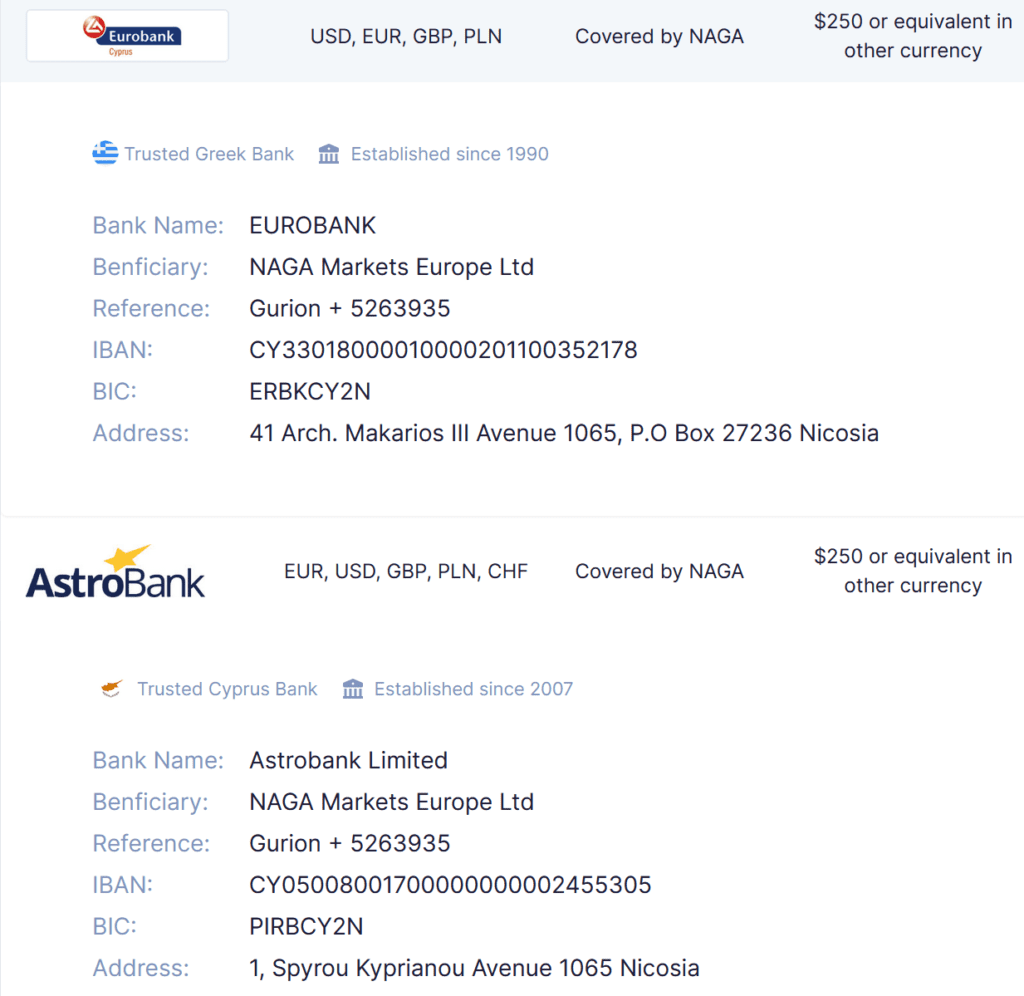 Non-compliant payment limits
We were told that without verifying our data, i.e., KYC, we could make deposits of a maximum of €2,000. However, in our simulation, we could deposit an amount of €5,000 and £4,300 via credit and debit cards, respectively, without verifying our email addresses. Trust Payments handled the processing for this. In addition, NAGA offered bank wires to accounts of the CySEC-regulated NAGA Markets Europe Ltd to accounts in Cyprus at AstroBank and Eurobank. Here we found no more reference to an amount restriction for the pre-KYC deposit. These deposits were possible without a prior KYC/AML check.
Attacking EU,UK, and Russian consumers
In our total of 8 tests today, we have always ended up at NAGA via Invest and Trade. We were able to register there as citizens of EU countries just as easily as UK citizens. NAGA accepted us as Russian citizens. Only as an alleged US citizen, NAGA denied the registration. For very good reasons, we assume.
Fraud it is
These marketing campaigns are scams. Period! Using fraudulent marketing campaigns to acquire new customers is also fraud. It does not matter if you use an offshore entity like NAGA Global Ltd or not. Fraud remains fraud. It is incomprehensible that a German listed company like The NAGA Group AG exposes itself with such methods. It would be time for both CySEC and BaFin to take a look at this. Unfortunately, both regulators are considered harmless for quite different reasons.