Spread financial intelligence
Many of the so-called startup founders of the binary options era in Israel have become rich. Between 2014 and 2017 they exploited the hype around an allegedly revolutionary new financial instrument called Binary Options. It turned out, however, that this financial instrument was primarily a tool to defraud naive retail investors across the globe. Tens of thousands of retail investors in North America, Europe, Asia, and the Arab lost billions of dollars according to the findings of the U.S. FBI. Back then the Israeli Guy Galboiz was one of those binary options wizards who tricked thousands of retail investors with his MigFin boiler rooms and his broker scams by promising them the "big money". He now enjoys a luxury life at the expense of his victims.
Binary Options banned and prosecutors marching in
Since early 2018, binary options have been banned in most countries. Politicians, financial market regulators, and the judiciary realized that binary options have mostly been a tool used by scam-brokers and their boiler rooms to cheat retail investors. Since the conviction of the Israeli Lee Elbaz in the U.S. for investment fraud in connection with the boiler rooms of the Israeli Yukom Communications and the binary options scams BinaryBook and BigOption, this fraud has been "recognized" worldwide.
Further charges and convictions will follow suit the U.S. prosecutors said. The so-called Israeli startup miracle was built primarily on the grounds of the fraudulent binary options industry.
Meet a leading Binary Options perpetrator
One of the worst perpetrators of this binary options industry was certainly the Israeli Guy Galboiz, who operated his MigFin boiler rooms and defrauded thousands of retail investors in the US, Canada, and Europe by millions. FinTelegram has extensively reported on this. Galboiz and his partners Eyal Nachum and Tamir Zoltovski with their payment services Payobin and Moneta International were involved in a number of big binary options scams:
ICOption
TitanTrade
AlfaTrade
AlgoCapitals
NRGbinary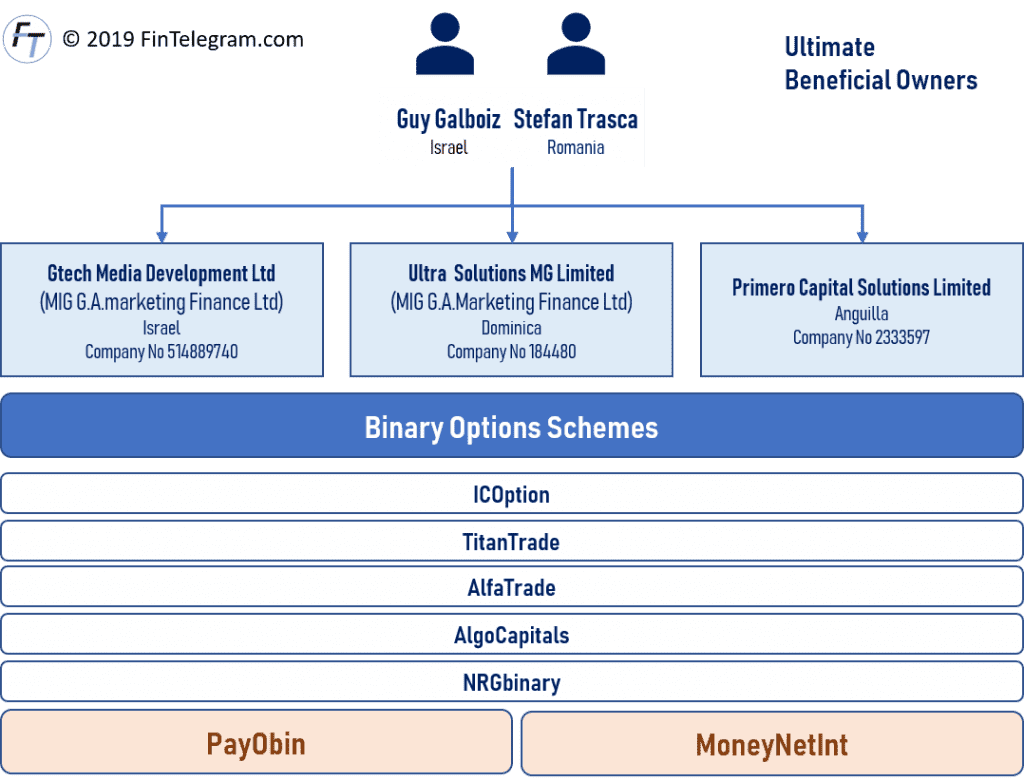 Guy Galboiz, revised history, and victims money
Guy Galboiz has earned a fortune in the binary options era. Millions which he now uses to present himself as a successful entrepreneur, investor, and bon vivant. He is currently reappearing increasingly on the Internet and is letting the world know that he is an enthusiastic entrepreneur, investor, and vain sportsman.
On the tech news site Techburgeon, for example, Guy Galboiz presents himself as a technology entrepreneur and "IT thought leader" who successfully created some new startups like CreditSense, ClickLogiq, and B Capital (just to "name a few" he says).
In vain one looks for references of his activity with MigFin and the binary options scams involved. Clean sheets, no records provided. The all-new Guy Galboiz appears with a revised résumé but shows very publicly where the money of the cheated retail investors is.
Former partner testified against Guy Galboiz
Even his former business partner Eyal Nachum testified in a written statement that Guy Galboiz has set illegal activities. The statement is available to FinTelegram. The authenticity of the document has been checked.

Eyal Nachum was asked for comment but we have not yet received an answer. In his written statement, Nachum explicitly confirms that Guy Galboiz is behind the ICOption and TitanTrade Scam (Primero Capital) and his Payobin made the payment transactions for it. Afterward, Nachum claims that he was threatened and blackmailed by Galboiz. A moral image of the then celebrated Israeli binary options industry.
We have received Titan Group (which is also familiar as Primero/Ultra and MIG Finance) details from one of our affiliate [sic] 2 years ago. Primero is well known in the online industry especially in the FX/Binary and recently also in the lottery world.

[…]

We also prepare a civil action against Mr. Galboiz. Since he spoke to several of our clients and told them we stole money from him. Since we lost few clients. We start to collect the relevant evidence to start defamation case against him.

Eyal Nachum statement (17 May 2016)
We would like to point out that this written statement and the attached documents prove at least two important points. Firstly, Eyal Nachum confirms that Guy Galboiz and MigFin were behind the binary options scams TitanTrade and ICOptions and, secondly, that Payobin was involved as a payment services provider.
Guy Galboiz wanted for answers
Guy Galboiz is still wanted by thousands of client-victims of his MigFin boiler rooms. They want him to answer their questions. They want their money back. Maybe all this is just a big misunderstanding and Guy Galboiz has nothing to do with the binary options fraud around himself and his companies and brands. But then, again, the question arises why he publishes falsified (revised or redacted) biographies. He for sure will know the answer as does FinTelegram. And the latter has the documents to support its answers.