In early 2019, the German Uwe Lenhoff was arrested in his Ferrari at his vacation spot in Austria. After years of investigation, law enforcement had gathered enough evidence to arrest Lenhoff for being the mastermind and principal of a vast cybercrime organization. One of his lieutenants was Betim Tasholli, a Kosovan national. Lenhoff was found dead in his prison cell in the summer of 2020. Cause of death unknown. Thus, Betim Tasholli moved up to the main surviving perpetrator. The trial against him will begin on June 22, 2022, in Germany. Lenhoff was one of the partners of Gal Barak.
In a nutshell
Betim Tasholli is just one of several defendants at the upcoming trial against the "Veltyco Scheme," which operated vast binary options scams such as Option888, ZoomTrader, or XMarkets, and the LottoPalace scam. Insiders expected further indictments in this matter.
It will be seen in the trials how the role of B90 Holdings PLC (prev. Veltyco Group PLC) and its board members are presented by the defendants and witnesses. One of the former B90 Holdings directors and Lenhoff lieutenant, Hans Dahlgren, is charged by the prosecutors, but he is allegedly on the run. His whereabouts are not known.
Uwe Lenhoff and his cybercrime organization have been working closely with the convicted Israeli Gal Barak and his E&G Bulgaria. They co-founded Global Payment Solutions Podgorica DOO in Montenegro and Serbia together with the lawyer Marko Vujosevic and a local entrepreneur. Millions of Euros have been laundered via this entity.
Public-listed Veltyco Group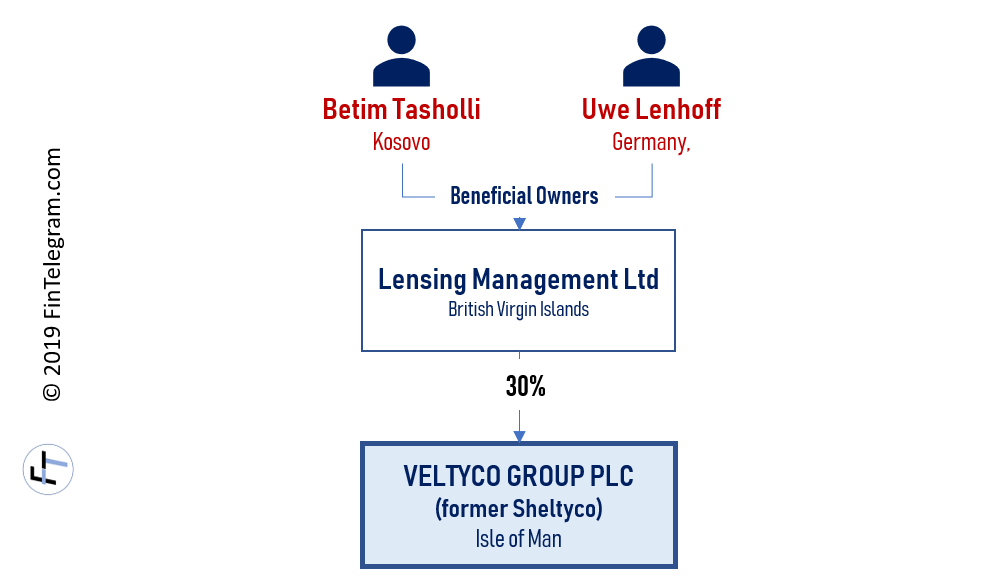 Veltyco Group PLC, listed on the London Stock Exchange AIM, was founded by Lenhoff in 2016 with his Dutch partner and investor, Dirk-Jan Bakker. Also involved was Betim Tasholli, who, together with Uwe Lenhoff, owned the shares of Lensing Management Ltd, British Virgin Islands, which was the largest shareholder of Veltyco Group PLC.
The Veltyco Group PLC, renamed B90 Holdings PLC after Lenhoff's death, was at the epicenter of Lenhoff's cybercrime organization. He used this public-listed entity as the front end to launder the money stolen for consumers via scams such as Option888 or LottoPalace. At the time of the listing, the core activities of B90 Holdings have been the marketing of Lenhoff's scams (see admission document here).
The Maltese connection
One of the main assets of B90 Holdings PLC today is the Maltese sports betting and online casino venture Bet90, which Uwe Lenhoff and Betim Tasholli co-founded. In or around 2017, B90 Holdings acquired Bet90 from Lenhoff and Tasholli. Until recently, Bet 90 Sports Limited, an MGA-regulated entity, used to be the operator of Bet90 (www.bet90.com). Currently, it is operated by Spintastic NV, regulated in Curacao, which is also the operator of Spinbookie (www.spinbookie.com). Bet90 Holdings announced the acquisition of Spinbookie in December 2021.
Betim Tasholli has also been the shareholder of Silkline Group shpk in Pristina, Kosovo, which was the boiler room behind the Option888 binary options scam. The illegal boiler room with up to 100 employees was operated on behalf of Veltyco Group PLC (see commercial register entry here).
Stay tuned for a more detailed update. We will launch our "Veltyco Scheme Series" next week to guide you through these vast cybercrime activities.