Spread financial intelligence
No, it's not a John Grisham fiction. It's reality. The European Fund Recovery Initiative (EFRI), co-founded by FinTelegram, has filed several complaints against the Danish KBH Andelskasse. In September 2018, the small cooperative bank was finally taken under supervision by the Finansiel Stabilitet and is being wound up. Danish prosecutors opened a criminal case on charges of money laundering and facilitating cybercrime. Af Johan Christensen, an investigative reporter with the leading Danish financial newspaper Børsen has published a series of reports about KBH Andelskasse based on FinTelegram and EFRI findings and his own research. The story continues to unfold with unprecedented dimensions.
The Danish Shadow Bank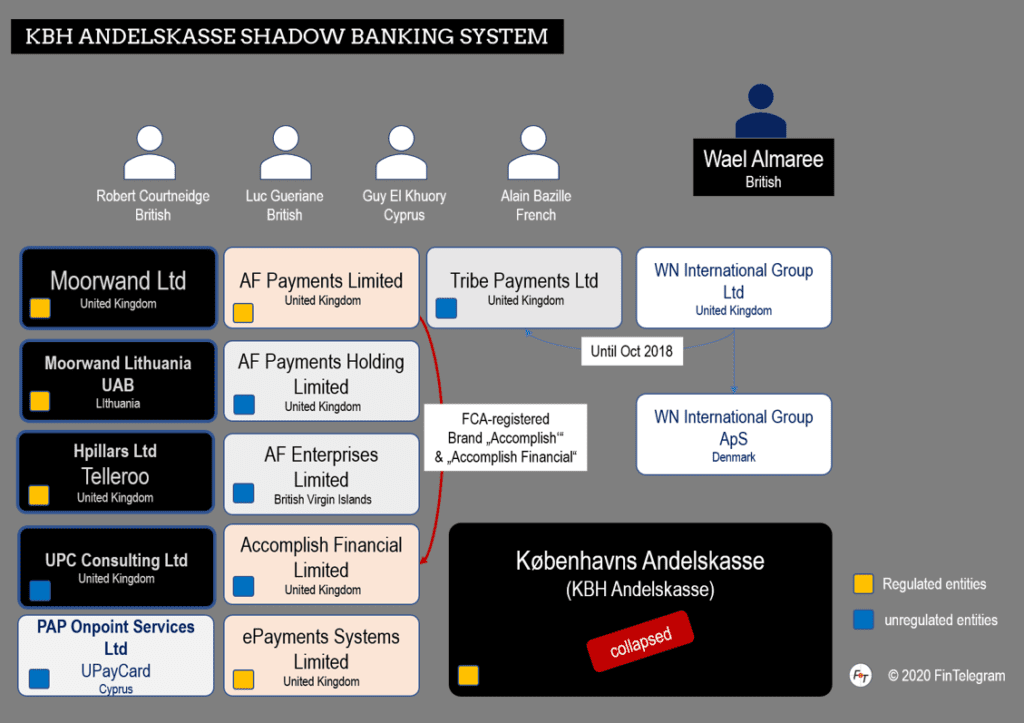 As reported by FinTelegram, KBH Andelskasse (aka Københavns
Andelskasse) was the center of a global shadow banking system led by the mysterious entrepreneur Wael Almaree, a now British citizen born in Moldova. He currently resides in London. This shadow banking system specializes in high-risk industries, cybercrime, and money laundering.
KBH Andelskasse was a partner for many regulated and unregulated payment processors in facilitating scams and processed some €4.1 billion for them in 2018 alone. FCA-regulated Moorwand Ltd of Robert Courtneidge and Wael Almaree was one of them. The majority of those €4.1 billion was processed via accounts with suspicious customers, including 183 foreign high-risk customers from 31 countries. Most of these suspicious customers are related either to Moorwand of the group around Wael Almaree and Robert Courtneidge.
Overall, our assessment is that there is a significant risk that Andelskasse may be held partly liable for the losses suffered by the persons in question

PWC Report (Google Translator)
A report by PWC concludes that KBH Andelskasse could actually be responsible for the losses of its clients' victims due to the negligent (or intentional) violation of compliance regulations. This is in line with the opinion of FinTelegram's and EFRI's legal advisors.
Af Johan Christensen has repeatedly asked Moorwand, Almaree, and Courtneidge to comment in vain. None of them has responded to Børsen's repeated requests for comment on the allegations about their roles in the case of the Copenhagen Cooperative Fund. The same goes for the current CEO of Moorwand, Vicki Gladstone. What should they answer anyway? It is probably a safer tactic to play dead in communication. Maybe the scandal of KBH Andelskasse will pass them by. And perhaps the FCA turns a blind eye at Moorwand Ltd.