Spread financial intelligence
Over the last months, FinTelegram has received plenty lot of evidence that suggests the involvement of Roy Almagor's CySEC-regulated Maxigrid Ltd in broker scams like RoyalsFX or LincolnFX. These scams have harmed thousands of EU small investors. However, the legal responsibility to investigate the allegations lies with the responsible regulator CySEC and law enforcement. We have therefore sent a Request 4 Action to the CySEC Chairwoman and Europol. The receipt was confirmed by CySEC and thus the clock is ticking.
---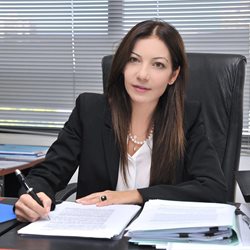 The old hand
According to her profile page, Demetra Kalogerou has been the Chairwoman of the Cyprus regulator CySEC since September 2011. She has thus been involved in the entire fraudulent binary options industry for the last 10 years. As chairwoman of the regulator where the majority of the regulated binary options operators, brokers, and payment processors, most of which are under Israeli control, were active. So she is an old hand and should know about and be responsible for negative developments. Maybe, it's time for a change in the post-binary options era.
A few days ago Kalegerou was also appointed as a member of the independent investigative committee task with the probe of the "Golden Passport" scheme. According to Al Jazeera, Cyprus is said to have sold knowingly citizenship to convicted criminals. Members of parliament and businessmen in Cyprus are said to be involved in the scandal.
EU to suspend license passporting
If CySEC continues with its super-relaxed approach about scams, illegal payment processors, and cybercrime the EU must take executive measures to protect EU citizens. Otherwise, the EU Commission will be guilty of its own actions. As a matter of fact, Cyprus' regulated as well as not regulated financial entities export more than 99,9% of their services with the EU as their primary targets. This is also true for their scams.
The EU Commission has the obligation to scrutinze CySEC and its lax regulation and its handling of money laundering and international crime. And impose sanctions if necessary. One regulatory action should be the suspension of EU license passporting for CySEC regulated entites as lately exercised by th UK FCA.