Spread financial intelligence
The Cypriot regulator CySEC regulates Depaho Ltd with the license number 161/11. One of the approved brands is FXGM with the domain www.fxgm.com. On the website of FXGM, you can read that they are currently under a regulatory review, and at the time of the review, no investment services are offered or executed. On 3 November 2021, CySEC announced that the suspension of Depaho Ltd had been recalled. FXGM is also said to have worked with the Maltese ZP Services Ltd boiler rooms until some time ago, WarningTrading reported.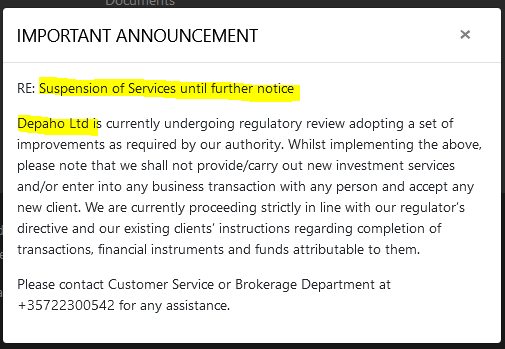 In February 2021, the journalist Nicolas Gaiardo brought in WarningTrading a detailed report about the incredible (and illegal) business practices of FXGM and the Maltese boiler room operator ZP Services Ltd. He explains in detail how the boiler rooms – including ZP Services Ltd of Liran Ben-Ari and his wife – worked for the "Invesus-Depaho-Bforex-FXGM Galaxy." If only a fraction of the report is accurate, an investigation by the responsible regulators CySEC and MFSA would have been due years ago. It currently turns out that online casinos and brokers are serviced via Maltese boiler rooms.
Read our reports on ZP Services here on FinTelegram.
Also, the other CySEC-approved broker brands GTCM (www.gtcm.com) and Depaho (www.depaho.com and www.depaho.eu) are currently not available for their clients. On the website of GTCM, you can read an identical suspension notice and on the website of Depaho, you can read that a new website will be available soon. Whether this is related to the boiler rooms in Malta, we do not know yet.
Allegedly, Edward Grech of MFSA visited the ZP Services offices back then, and the MFSA obtained a lot of information. However, the MFSA did not act in any way and enabled the boiler rooms to continue with their illegal business.