Spread financial intelligence
Forex and online trading scams have been an issue for regulators even before binary options entered the state in or around 2009. From this pre-binary options period of forex schemes, we know the names of the Israeli perpetrators Yossi Herzog, Aviv Talmor, Stavro D'Amore, and the then-rookie Guy Galboiz. The 4XP forex scheme was a network of brands such as Forex Place, Forex TG, or FXTG or SkyFX which operated globally with dozens of different entities. It was the pre-CySEC time. In the binary options era, the successors of the 4XP scheme emigrated to Cyprus which became the preferred Israeli offshore destination.
The pioneering 4XP forex scheme
The pre-binary options forex era had no FinTechs as we know them today. Payment transactions were actually a problem at that time and it is thus no coincidence that in the period of binary options hype between 2012 and 2017, many Israeli FinTechs and payment processors also emerged. Without these new payment processors, the binary options hype would not have been possible and tens of thousands of victims would most certainly not have lost their money.
The binary options hype has also brought up the now collapsed Wirecard with the friendly cooperation of David Cartu and his network of payment processors and binary options scams around GreyMountain Management and MegaCharge.
The 4XP scheme was one of the powerful incubators for the fraudulent Israeli binary options industry whose representatives are today sued by victims or charged by prosecutors and law enforcement in many jurisdictions. But 4XP was not a CySEC problem at first. Only gradually the 4XP migrated to Cyprus for CySEC.
The 4XP forex scheme dates back to 2008/09 when the Israeli infrastructure and forex service provider DealServe established Forex Place Ltd in the British Virgin Islands (BVI), Forex TG Ltd in the UK, and Forex TG Pty Ltd in Australia. These companies were directed by the then-leading forex trading guys such as the Israelis Stavro D'Amore, Yossi Ashkenazi, Aviv Talmor, Yossi Herzog, or Guy Galboiz.
Until 2010, Forex TG Ltd was originally licensed by the UK Financial Conduct Authority (FCA) with the Reference number 491661 and Daniel Kibel acting as CEO. The company was authorized to operate under five trading styles: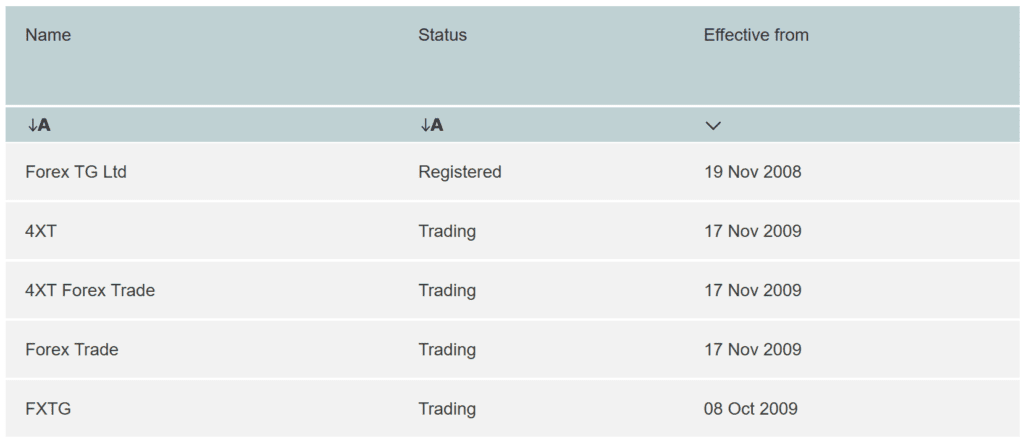 The 4XP scheme's Australian entity Forex TG Pty Ltd actually registered and operated the very same brands in Australia (see company history). The scheme mutated several times and operated for almost 12 years. It finally vanished in or around 2020. The Australian Forex TG Pty Ltd was renamed into Berndale Group Pty Ltd in 2016 and changed its name, brand and directors several times since then (see company history). In Australia, the AFS license of Berndale Capital Securities Pty Ltd was canceled by ASIC in November 2018. That this time the company was run by Stavro D'Amore who allegedly took over control and management from his compatriot Aviv Talmor in Nov 2015. However, the company is still in liquidation today.
The 4XP scheme's brands, entities, shareholders, directors, officers, and regulators changed many times but the fraud actually stayed the same. Some of the names from the Forex scam pioneer 4XP et al are later found as operators of huge binary options scams such as Yossi Herzog or Guy Galboiz. This generation of pre-binary options era has produced the younger generation of binary options scammers such as Lee Elbaz or Gal Barak.
The scheme's key data
Name
Jurisdiction
Function
4XP, 4XT, FXTG, Forex Place, SkyFX
Web
The scheme's brands
Deal Serve Trading Desk Ltd
Israel
Infrastructure and forex service provider incubating the 4XP scheme and its forex brands
Forex TG Pty Ltd
Australia
Operating entity
Forex Place Ltd
British Virgin Islands (BVI)
Offshore entity
Forex Place Ltd
United Kingdom (UK)
Operating entity dissolved in 2009
Forex TG Ltd
United Kingdom (UK)
FCA registered Forex broker with Reference number: 491661, stroke off in Dec 2020
Trademarker (Cyprus) Ltd
Cyprus
CySEC regulated operator of SkyFX and CapitalOption
Avi Talmor
Israel
Shareholder, principal, director (Utrade, SkyFX, CapitalOption etc)
Stavro D'Amore
Israel
Shareholder, director, CEO (FXGT, Berndale)
Yossef "Yossi" Ashkenazi
Israel
Shareholder, director, CEO (AGM Markets Pty Ltd)
Yosef "Yossi" Herzog
Israel
Shareholder, director, principal
Guy Galboiz
aka Guy Gelboiz
Israel
Shareholder, director, principal
Jonathan Frankenstein
Israel
Director, CEO Trademarket (SkyFX)
Noam Chris Stiekema
South Africa
Shareholder, director
Yair Abramov
Israel
Shareholder, director
Benjamin "Benny" Abramov
Israel
Shareholder, director
Shimon Cohen
Israel
Shareholder, director
Roy "Roi" Douieb
Israel
Director
Meir Barak
Israel
Director
Daniel Kibel
Israel
Director Forex TG UK, CEO
Investor Warnings and Cease and Desist Order
Almost from the very beginning, supervision authorities of different regulatory regimes issued warnings against the early forex scam of the pre-binary options and pre-CySEC ers 4XP, FXTG, SkyFX et al. The scheme attacked would-be forex traders across the planet. The list of warnings and victims stretched from Canada, via Spain via the United Kingdom and the British Virgin Islands (BVI) to Australia.
The alleged licensor and regulator of the early 4XP scheme, the BVI Financial Services Commission issued a Cease and Desist Order against the BVI registered Forex Place Ltd and 4XP in April 2013. The BVI regulator also confirmed to a defrauded victim that Forex Place Ltd actually has never been licensed.
Begin of CySEC era
In 2011 AGM Markets Ltd received the CIF license no. 145/11 from CySEC. In Australia, AGM Markets Pty Ltd was founded by Yossi Herzog and received an ASF license from ASIC which was canceled in November 2018. At that time the company was under the control of Yossi Ashkenazi. This was blocked for 8 years for the Australian financial market.
Shortly after AGM Markets, Trademarker (Cyprus) Ltd was granted CIF License No. 151/11 in August 2011 by CySEC to operate the two scam brands SkyFX and CapitalOption in the 4XP network. The SkyFX brand was operated as a sort of subsidiary of 4XP with Jonathan Frankenstein as CEO until 2015.
According to press reports, the controlling person behind these two scam mutations was the notorious Israeli scammer Aviv Talmor who acquired the CySEC-regulated SkyFX and the ASIC-regulated FXTG in or around 2012. In April 2016 CySEC revoked the license of Trademarker while Aviv Talmor was jailed in 2016 in Israel.
With AGM Markets and Trademarker, Cyprus established itself as the offshore center of the fraudulent binary options industry incubated in Israel. With the establishment of the Trademarkers, important managers from 4XP were settled in Cyprus.
In this brief introduction to 4XP, it was certainly not possible to list all names, brands, and companies. That was not the goal. However, it can be shown that the names associated with 4XP were later involved in the giant binary options scam. Some people like Yossi Herzog, Lee Elbaz, or Kobi Cohen are now wanted by the U.S. prosecutors. Aviv Talmor was arrested and charged in Israel. The 4XP names and their successors and networks will keep the justice system in many jurisdictions busy for a long time to come. And the CySEC was at the very heart of the binary options scam as has to be shown over the next reports of this series.
To be continued