Spread financial intelligence
FinTelegram has been covered the Maxigrid Case over the last months. This criminal case is about the activities of the CySEC-regulated investment firm (CIF) Maxigrid Ltd in connection with the broker scams RoyalsFX and LincolnFX. The company of Roy Almagor and Jekaterina Pedosa has received payments from victims of these scams through its crypto platform BitandBuy as well as through its bank accounts with the Lithuanian GlobalNetint (GNI). While BitandBuy vanished and GNI closed the accounts a scam victim is now suing Maxigrid with the support of EFRI for compensation for the loss.
The Maxigrid Case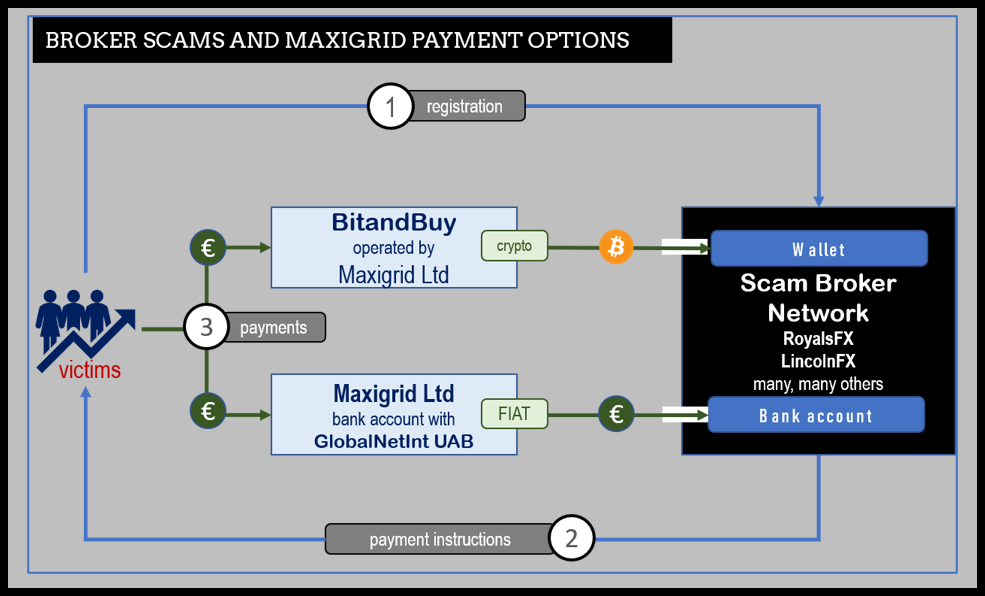 These are certainly not easy times for the Israeli forex veteran Roy Almagor and his two CySEC-regulated investment companies Maxigrid (CIF No 145/11) and Maxiflex (CIF No 258/14). The latter just recently had to pay €370,000 to the Republic of Cyprus in a settlement with CySEC due to possible compliance violations. Andrew Saks on FinanceFeeds also discusses this settlement and the scam past of Roy Almagor with the currently most-wanted forex predator Yossi Herzog. Saks accuses CySEC of massive failures in monitoring its CIFs.
Through a Viennese law firm known for its successful international lawsuits, the victim of the RoyalsFX scam has now filed a lawsuit against Maxigrid Ltd. The victim had previously filed a criminal complaint against the scam and its accomplices and supporters. FinTelegram has received the complaint in which the scam and the payment processes about Maxigrid including account data and payment documents are explained in detail over several pages.
The EFRI Community
EFRI is a non-governmental organization and has the mission to recover lost funds for scam victims via out-of-court settlements and litigation. Scam victims can use EFRI's services for a fee of €75. In case of a successful recovery, EFRI receives a small percentage of the recovered money. The claiment in the Maxigrid Case is an EFRI member and thus received the NGO's support.
EFRI organized the law firm for the victim and supported the preparation of the lawsuit with its experts. The lawsuit has been filed on 2 Dec 2020 with the appropriate court and will be served to Maxigrid consequently. In parallel, the criminal authorities are investigating.
Recently we reported that GlobalNetint (GNI) has terminated the relationship with Roy Almagor and his companies – the CIFs Maxigrid and Maxiflex, the marketing company Ministro and the IT Services company Pallino. Currently, it seems as if Yossi Herzog's buddy Roy Almagor, too, is regarded as a rather toxic guy.