In October 2022, we published our initial review of the high-risk payment processor PayOp and revealed that it is essentially a Ukrainian scheme operated through legal entities in Canada and Singapore. The Ukrainian Sherii Zakharov is the controlling person. At the time of your initial review, PayDo was heavily engaged in Russia, which accounted for more than 30% of its website visitors. Since we published our report, PayDo terminated its Russian connections, blocked Russian visitors, and started to defame FinTelegram!
Key Data
Short Narrative
Sherii Zakharov, founder and CEO of PayDo, resides in London, according to his LinkedIn profile. The Head of Operations, Oleg Pikarevskyi, the Chief Technology Officer, Matviss Mikhnevych, the Head of Marketing, Ivan Pronchenkov, and many other managers and employees state Ukraine as their country of residence.
PayDo and PayOp have an operational basis in Ukraine. Both companies seem to have an almost identical business focus and specialize in payments for video games, for example. In November 2021, both companies announced a partnership.
According to the information provided to us on Twitter, the servers of PayOp and PayDo would be connected, with PayOp processing transactions through the FCA-regulated entity. This will undoubtedly be true, as PayOp offers the PayDo e-wallet as a payment option for various payment platforms such as Trustly or Neosurf.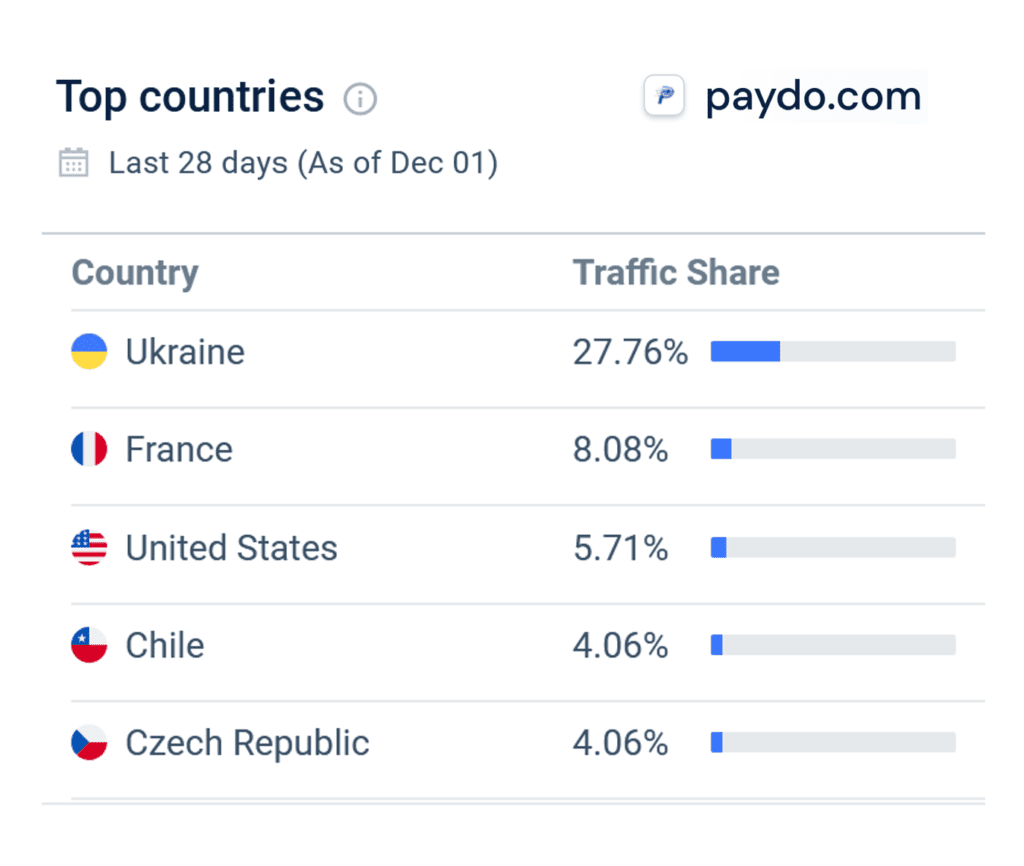 The Similarweb Question
According to the latest Similarweb statistics (September 2022), more than 30% of the approximately 164,000 website visitors came from Russia, an increase of about 153% compared to the previous month. With an average dwell time of more than 6 minutes, we can assume that most website visitors process payments via PayDo.
In December 2022, the Similarweb statistics (left) show no Russian visitors. In a statement to FinTelegram, PayDo questioned Similarweb's data and called the report defamatory. At the same time, they announced that in compliance with Western sanctions, they had now blocked the website and payment services for Russian visitors. That said, it turned out that our review was correct at the time of publishing.
However, this has also meant a massive drop in visitors. In the last 28 days, around 66,000 people have visited the website, compared to over 164,000 in September – a decline of almost 60%. Apparently, the Russian visitors have had a massive impact.
Almost 100% of the PayDo website's referral traffic comes from online casino websites; the Similarweb statistics say (picture right).
Share Information