Spread financial intelligence
The story around the broker scams RoyalsFX and LincolnFX. These two broker scams have been using the CySEC-regulated investment firm Maxigrid Ltd (www.maxigrid.com) to process deposits from client-victims. Some of the victims made deposits via the now-vanished Maxigrid crypto platform BitandBuy and others without any crypto disguise to Maxigrid's bank account at the Lithuanian GlobalNetInt. Maxigrid denies any involvement in scam business and/or respective client allegations and threatens its complaining customers with lawsuits.
The 'No, not me approach"
Regardless of how exactly Maxigrid is involved in the scams, the CySEC-regulated company has a legal obligation to assist its customers in investigating and recovering funds lost through Maxigrid. The company suddenly shuts down its crypto platform BitandBuy and tells customers that nothing has been done wrong. Full stop! Complaints would therefore be inappropriate and will be legally pursued. Hey guys, this is not the appropriate way for regulated entities.
Without any reasonable doubt, Maxigrid had several points of contact with the scammers when processing payments. These were processed as shown below: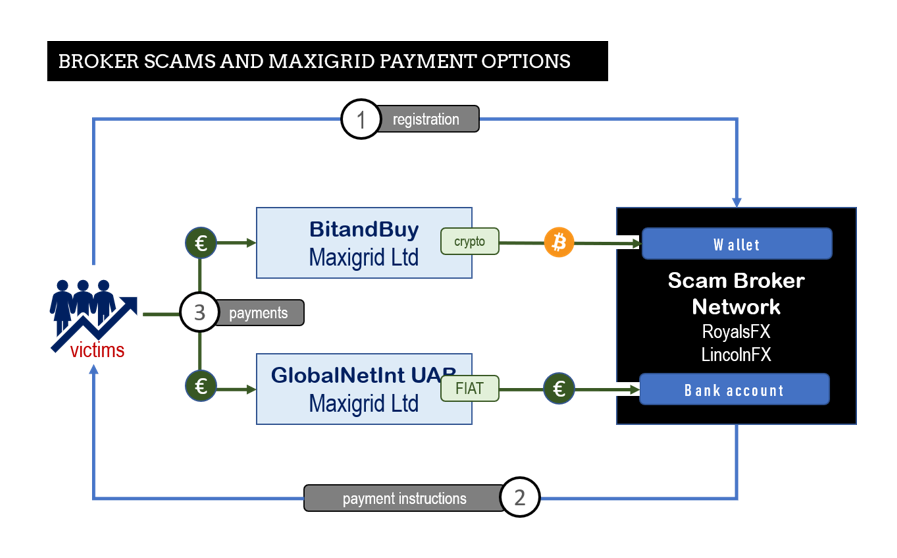 For weeks FinTelegram has been trying to find a free solution between the victims of RoyalsFX and LincolnFX and Maxigrid via the newly established FinTel Ombudsman Service. Without success so far, unfortunately. A carefully established Stipulation of Facts sent by the FinTel Ombudsman Service to Maxigrid for comment has not been answered. A WhatsApp message was sent to us saying that they would call in a lawyer based on the severity of the customer's allegations.
However, this lawyer, the Cypriot law firm Michael Kyprianou Advocates (www.kyprianou.com) wrote a letter to one of the victims. In this letter, the victim is informed that the complaints and the related allegations would possibly constitute the crime of slander and defamation. The victim was asked to withdraw all accusations, otherwise, further legal action would be reserved. This is a very direct threat and intimidation.
We have also communicated with the beneficial owners of Maxigrid in recent weeks. Among them Roy Almagor, who is also the director of Maxigrid. We have also communicated in detail with one of his most important partners. Also with the Maxigrid CEO Jekaterina Pedosa. In summary, we can state that we have researched extremely extensively and carefully and consider the victims' claims to be legitimate.
Maxigrid is now turning the tables and trying to make the victim the perpetrator. By threatening to slander and defamation lawsuits, the victim is to be silenced. Maxigrid has already denied the victim a reference number for his complaint. This reference number is required by the Financial Ombudsman of the Republic of Cyprus.
Stay tuned. The final report of the FinTel Ombudsman Service will be published shortly. In this context, we ask victims of scams that have made deposits via Maxigrid to contact FinTelegram.