The first Wirecard trial is currently taking place in Munich. The defendants are the former CEO Markus Braun, Oliver Bellenhaus, and Stefan von Erffa. In his book Money Men, Dan McCrum describes how former Wirecard top executives Dietmar Knoechelmann and Ruediger Trautmann left Wirecard to build today's Payabl, with Wirecard's high-risk customers. Payabl threatens FinTelegram with lawsuits for its reports. We ask our readers to fact-check the Payabl complaint.
According to the accounts of Dan McCrum in his book Money Men and of Fraser Perring and Matthew Earl in the Zatarra Report, Dietmar Knoechelmann, and Ruediger Trautmann were key figures in early Wirecard between 2006 and 2010. According to the Zatarra Report, Knoechelmann allegedly continued to sign official Wirecard documents after leaving Wirecard.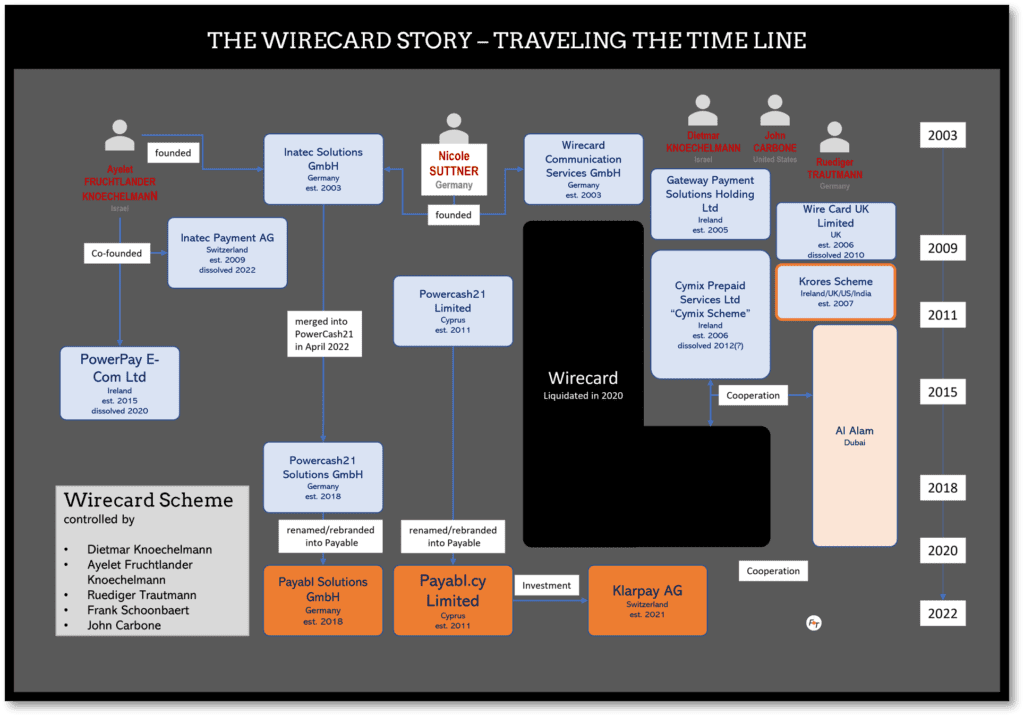 Ruediger Trautmann, Dietmar Knoechelmann, and his wife Ayelet Fruchtlander-Knoechelmann founded the high-risk payment processors Inatec and PowerCash21. According to McCrum, Knoechelmann and Trautmann transferred high-risk merchants from Wirecard to Inatec. This is somehow questionable because Knoechelmann had sold these clients previously to Wirecard in 2006 for $20 million in a mysterious deal, according to J Capital Research Limited.
In 2022, Inatec and PowerCash21 were merged and renamed Payabl. The German-Cyprus company operates under a license from the Central Bank of Cyprus and, like Wirecard, primarily has merchants in the online porn, gambling, and trading sectors.
The Wirecard Way
Now Payabl has sent us a take-down letter via the Cypriot law firm Loizides & Economou LLC demanding that we take offline all "defamatory" articles and social media posts. Otherwise, they would reserve the right "to proceed to an action" against us immediately. However, the take-down letter fails to specify where FinTelegram would have misreported or defamed.
You can download the take-down letter here.
Payabl has already threatened us and our hosters with lawsuits several times in the past. Isn't this the path Wirecard has taken as well?
We feel intimidated by this take-down letter and have retained our law firm to respond accordingly. The lawsuit filed by the British short seller Matthew Earl shows how Wirecard has proceeded. Also, FinTelegram has already been contacted by people who kindly asked to take the Payabl reports offline.
Crowdsourced Fact Checking
It is imperative to us that we do not report anything false or defamatory. Thus, we ask our readers to review Payabl's take-down letter and tell us where we might have made mistakes. We also request that you provide additional information that completes Wirecard's overall picture of Payabl.