Spread financial intelligence
CySEC-regulated investment firm Maxigrid Limited of Roy Almagor and Jekaterina Pedosa is in the spotlight of FinTelegram. Our documents prove beyond any reasonable doubt that Maxigrid processed payments for broker scams through its unlicensed and CySEC-unauthorized crypto platform BitandBuy, as well as through its bank account at Lithuania-based GlobalNetInt UAB. Among those facilitated scams are RoyalsFX or LincolnFX, against which numerous regulators have issued warnings. While the victims are still waiting for investigations, the CySEC has settled with Maxigrid and received €75,000 on behalf of the Republic of Cyprus.
This is a typical Cypriot solution. A CySEC CIF's misconduct typically results in a sort of illegal financial business that, in turn, causes losses for many EU consumers. If you are a CySEC CIF, you don't have to worry too much. You can buy your way out of the violations with settlements. This is exactly what Maxigrad evidently did in this case. This results in CySEC receiving the money from Maxigrid (for the Republic of Cyprus) instead of giving the victims. This settlement results in some negative consequences: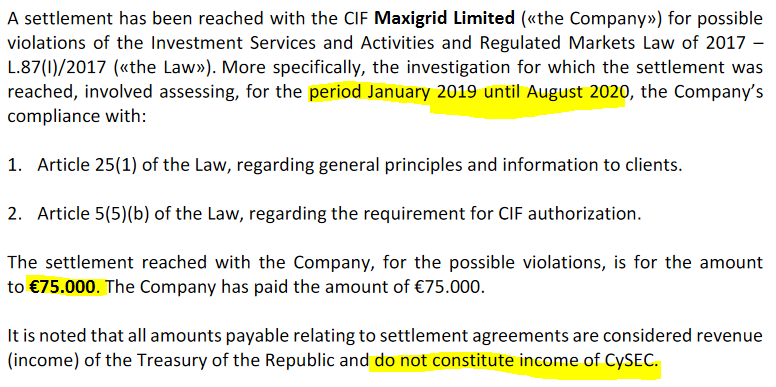 no further investigation is conducted by CySEC, so that
the alleged misconduct is not investigated and/or no results are published, and
the victims are legally worse off.
CySEC investigated the period between January 2019 and August 2020 in which the misconduct took place. Via the settlement, Maxigrid and its international network of scams are out of the wood. Good for Maxigrid, good for Cyprus, super-bad for the victims.
Brave CySEC. In our view, CySEC is to be qualified as a co-conspirator of companies like Maxigrid. To use the words of Andrew Saks of Finance Feeds – another "brown envelope solution" that harms EU consumers and retail investors has been served.
Stay tuned, we will update you soon on this scandal! This is no longer a Maxigrid Case, it is a actually a CySEC Case!