Spread financial intelligence
Since May 2020, we have been reporting on the Maxigrid Case. In a nutshell, Maxigrid Ltd of Israeli Roy Almagor and its CEO Jekaterina Pedosa, regulated by CySEC under license number 145/11, has been processing funds as an unlicensed payment processor for many broker scams such as RoyalsFX, LincolnFX, 10CryptoMarket, RoyalCBank, and others. For this purpose, Maxigrid used its bank account with the Lithuanian GlobalNetint as well as its own crypto platform BitandBuy. Victims of these scams have provided us with many documents proving this. At least one victim has filed a lawsuit and criminal charges through his attorney.
No support from Cyprus
An inquiry with the responsible law enforcement agency has revealed an interesting aspect. The responsible law enforcement Agent informally told us that neither CySEC nor his Cypriot colleagues would be helpful. This would also be the case in other cases where CySEC-regulated investment firms are under investigation. Therefore, investigations into Maxigrid and its involvement in the scams would also be difficult.
The lawsuits and investigations against Maxigrid will continue. Delayed by the COVID-19 pandemic and the lack of cooperation from the Cypriot authorities. But they will not be stopped.
Terminated and vanished
Sincoe our first reports, things moved forward:
GlobalNetint has already terminated its account relationship with Roy Almagor's CIFs Maxigrid and Maxiflex shortly after our first reports. Allegedly, the Bank of Lithuania investigated these bank accounts and the respective transactions.
The BitandBuy platform suddenly disappeared.
On her LinkedIn account, Jekaterina Pedosa removed Maxigrid from her profile. Now it only says that she works for a CIF (Cyprus Investment Firm) as CEO.
CySEC initiated a probe into Maxigrid but the investigations were closed for a settlement payment of €75,000 (read this report). All is well for Maxigrid, Roy Almagor, and Jekaterina Pedosa, or is it not?
Letter from the CEO

A letter from Jekaterina Pedosa, CEO of Maxigrid, to FinTeleegram claims that CIF's business conduct is in order and fully compliant. The closure of BitandBuy would have been a business decision, and Maxigrid compensated all customers. Really? Then what about the victims of BitandBuy and Maxigrid's scam customers? The fact is that Maxigrid never had the permission to act as a payment processor and to operate a crypto payment platform. It is not covered by the CySEC license. But this is not a problem anymore because CySEC has stopped the investigation.
Serbian boiler room activities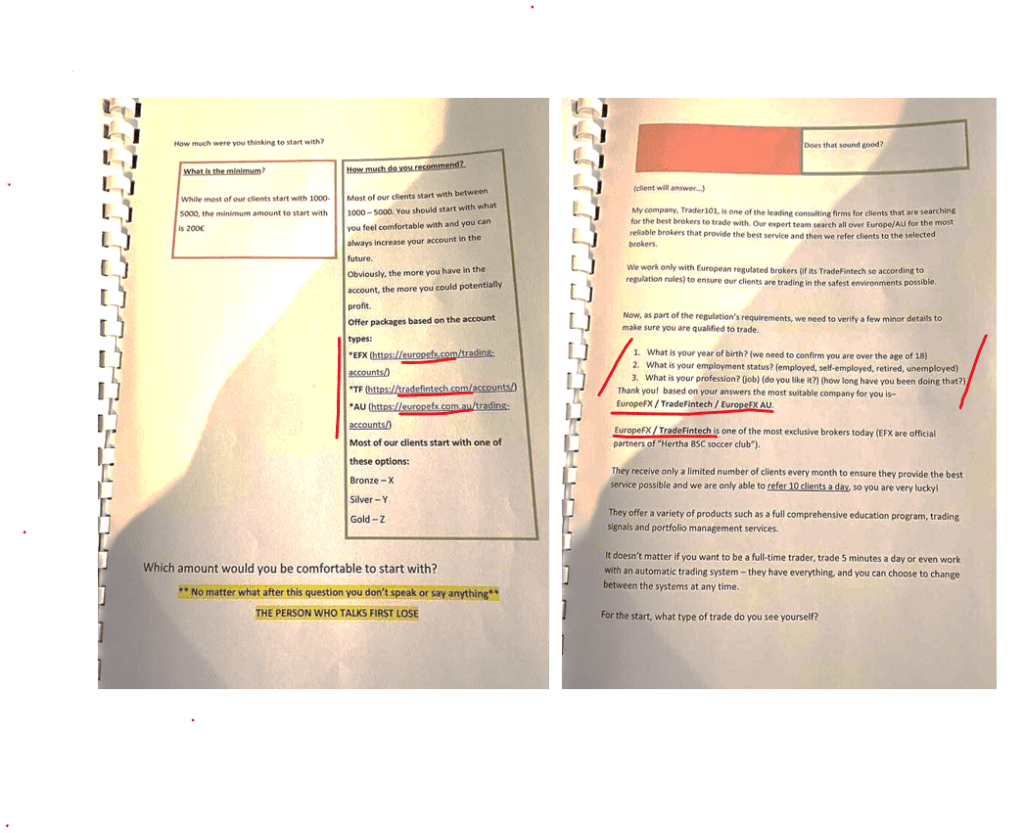 We recently discovered Roy Almagor's other CIF Maxiflex Ltd, also regulated by CySEC under license number 258/145, as a client of the notorious Serbian boiler room operator Silver Bell Group DOO. A boiler room script provided to us for the regulated EuropeFX (www.europefx.com) and its offshore mutation EuropeFX AU (www.europefx.com.au) shows Silver Bell Group is doing the training of boiler room agents for Maxiflex. These boiler room agents present themselves to the potential client-victims of the trading platforms as experienced traders or brokers. Bullshit, it is. In fact, they are nothing more than call center salespeople with a script. In most cases, they are using fake identities and fake CVs.
The script is a detailed guide to lure customers to the trading platform. Interestingly, the script also placed the TradeFintech (www.tradefintech.com) scam in connection with EuropeFX. We would be interested to know if and how this scam is related to Maxiflex.
Keeping you informed is our mission
Anyway, we will stay on this case and try to provide the victims of Maxigrid and their scam clients the public platform for their recovery actions. We will continue to act as an information hub between victims, their lawyers, and law enforcement. Scam facilitation cannot happen with impunity. Especially not by a regulated investment firm that repeatedly violates EU regulations and financial laws.