Last updated on July 4, 2019
The forex platforms Trade360 and UFX are the two largest customers of ParagonEX from Haim Toledano and Saar Pilosof. This is the finding of an SEC filing that was submitted in February 2019 in connection with the planned public listing on NASDAQ. It contains a detailed description of the ParagonEX Group.
The UFX forex scheme is operated within the EU via Reliantco Investments Ltd, registered in Cyprus, as a licensed Forex broker. Outside the EU, UFX is operated as an unlicensed platform through UFX Global Ltd. Trade360 is operated in the EU by Crowd Tech Ltd, also registered in Cyprus. With both broker schemes, there are numerous complaints from customers all over the world who have lost a lot of money.
Trade360 victim and new information
Most recently, our Europen Funds Recovery Initiative (EFRI) was contacted by a Trade360 victim. She lost some $500,000 with the platform. Previously, this retail investor had commissioned the Israeli Wealth Recovery International (WRI) with the fund recovery. Against the deposit of several thousand euros, WRI informed the investor that Haim Toledano and Saar Pilosof would be the beneficial owners of Trade360. In addition, WRI informed the client that Toledano and Pilosof had been arrested on suspicion of tax evasion and released on bail. In summary, WRI wants to make it clear to its client that Toledano and Pilosof are responsible for the losses. That's interesting, isn't it?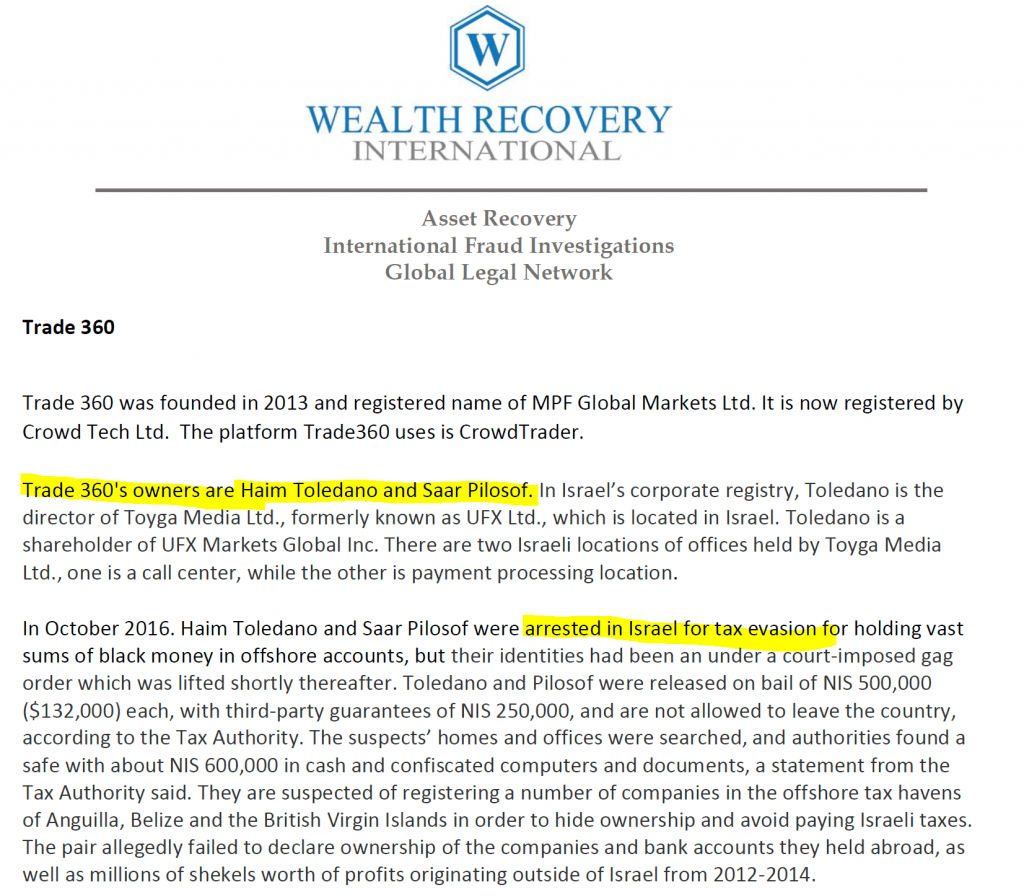 A closed system
If this information from WRI is correct, then the two Israelis would not only be the beneficial owners of the technology provider ParagonEX, the liquidity provider and market makers PX Exchange, and the licensed financial services providers Reliantco and CrowdTech, but also the only customers of this configuration. If this is true, then the current filing of ParagonEX in connection with the Reverse Takeover (RTO) with MICT Inc (SEC CIK 0000854800, Symbol MICT) on the NASDAQ would also be wrong.
As the FinTelegram readers know, ParagonEX wants to make an RTO on the Nasdaq with UFX and Chinese partners and thus create the new listed vehicle Global FinTech Holdings Ltd.
Please note that it was WRI who informed the investor of this ownership of Trade360 through an official report. Unfortunately, WRI founder Austin Smith has now been found guilty of investor fraud with binary options. His partner Tami Hamm apparently recently left the company. However, she supported this report as a lawyer admitted in the USA. Therefore we can rely on this information as FinTelegram.