Spread financial intelligence
The PPRO Group consists of PPRO Financial Limited (www.ppro.com), an e-money institution (EMI) regulated by the UK FCA and several other entities in different jurisdictions including South America and Asia. The German PPRO Holding GmbH is the controlling entity. Philipp Nieland, a German citizen, is a director in both companies. The FCA-regulated PPRO Financial has a bank account with the BaFin-regulated Deutsche Handelsbank and through these accounts, it processes payments from scam customers and their victims. PPRO Group was founded by former Wirecard manager Tobias Schreyer.
The founder's Wirecard legacy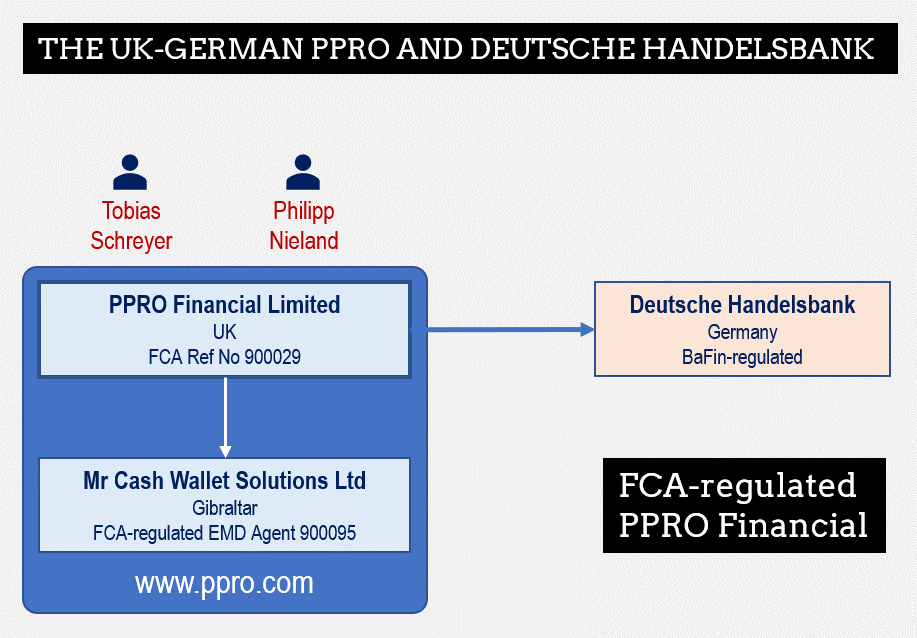 The PPRO Group and its founder Tobias Schreyer (LinkedIn profile) are mentioned in what is currently probably the most prominent financial scandal Wirecard. The so-called Zatarra Report published by the now-famous short-seller Fraser Perring claims that the former Wirecard VP of Business Development and Sales Tobias Schreyer and his PPRO Group were part of the "Full Tilt Poker Conspiracy" together with Wirecard (see graphics left).
In or around 2006, Schreyer would have co-founded Transact Network Ltd, a regulated and authorized MasterCard and Visa Europe Principal Member registered in Gibraltar before he joined Wirecard. In 2010, PPRO Ltd in the UK was established with the now PPRO Financial director Philipp Nieland. Both Transact Network and PPRO would have acted as an acquirer and payment processor for Wirecard respectively, controlled by Schreyer. PPRO Ltd evidently was a predecessor of the FCA-regulated PPRO Financial Ltd but is not legally related.
Supporting the allegations
The legal representation of PPRO Group has asked FinTelegram to provide evidence to support the allegation that PPRO Group actually facilitated scams. Otherwise, the statements would have to be qualified as defamatory statements. We are happy to comply with this request as we and the European Fund Recovery Initiative (EFRI), co-founded by FinTelegram, have plenty of evidence.
Most of the evidence is part of the criminal files of investigating prosecutors in Germany and Austria in the first place. Moreover, we do have payment documents of scam victims proving that they have been instructed by the scammers to make payments to the bank accounts of PPRO Financial at Deutsche Handelsbank.
In particular, we do have the evidence directly connected to largest European cybercrime court cases around investment scams and money-laundering: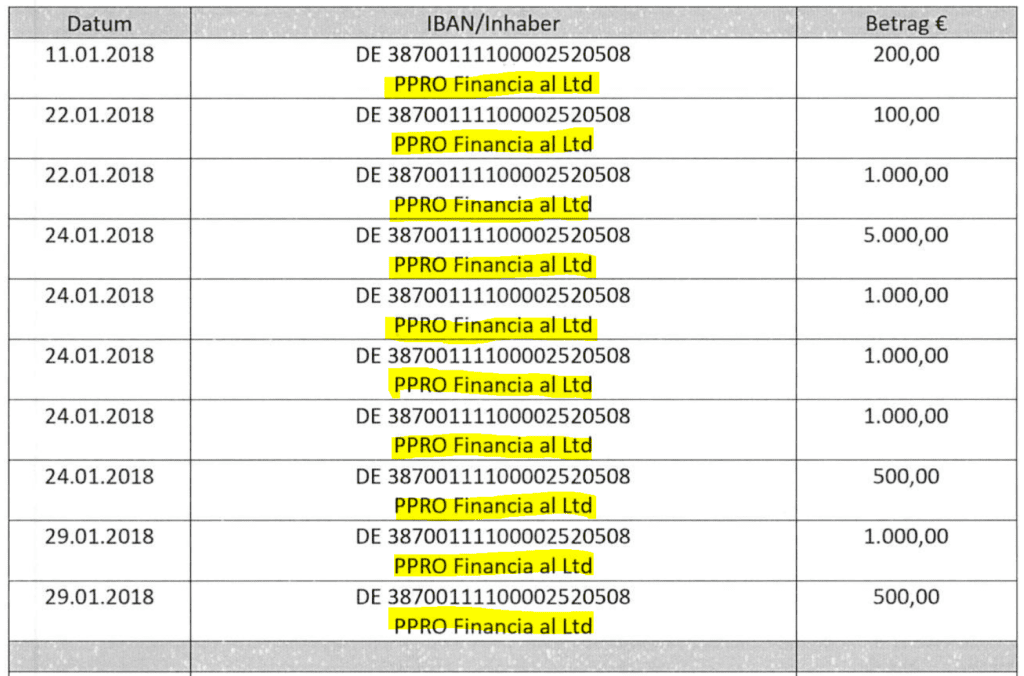 PPRO Financial has been processing payments from client victims of Uwe Lenhoff's LottoPalace scams via Deutsche Handelsbank. The statements of the many victims together with the payment document are in the criminal files. Altair Entertainment N.V. was the operator of LottoPalace and a number of other Lenhoff scams. And evidently, a PPRO Financial client.
Gal Barak, who was sentenced to four years imprisonment and restitution payments of several million Euros in the Vienna Cybercrime Trials (#VCT) for investment fraud and money laundering, has stated in a written statement that his group also processed payments of his victims with his scams via PPRO Financials, e.g. for the XTraderFX scam.
Given the amount of evidence that does not seem to be available to the PPRO Group's legal representatives, it is in any case certain that the allegation that PPRO Financial facilitated scams and thus laundered money is well documented. It is also certain that both PPRO Financial and Deutsche Handelsbank have massive problems with AML regulations and compliance. Recently, in the case of the Deutsche Handelsbank, the BaFin also made this public (read this FinTelegram report).