Update 11 Nov 2020: we have been contacted by Financial House and have been informed that they wouldn't have any business relationship with The Sacramento Bee. Actually, this has never been said in any way in this report.
The Sacramento Bee is the fifth largest Californian newspaper established in 1857. And it's not one of the clients of GlobalNetInt (GNI). In 2015 the collapsed Panama law firm Mossack Fonseca registered an offshore company called The Sacramento Bee Ltd in the British Virgin Islands as a holding company over a global gambling and FinTech empire. This is a really big GNI client and Anil Uzun is one of its beneficial owners. We would like to learn more about this vast group of companies and individuals.
---
A bright and busy financial mind
Anil Uzun is only 34 years old. He was born in Turkey and went to the UK at a young age. He holds the citizenship of Turkey and the UK. Anil studied finance in London and Stanford. Between 2012 and today he has founded a number of FinTech companies and gambling ventures. He is currently the beneficial owner and director of UK registered Gobaba Ventures Limited (Companies House).
The Sacramento Bee is controlled by its ultimate beneficial owner (UBO) Anil Uzun, a Turkish-born UK citizen and resident. Uzun is not only the UBO behind The Sacramento Bee but also one of the UBO in several other Malta-based clients of GNI, like Lilibet Ltd (OpenCorporates) or Efes Club Limited (OpenCorporates) with Continental Solutions Ltd in Curaçao which is licensed by Curaçao Licensing N.V. Except the latter all of them are GNI clients.
Prosecutors ante portas
In March 2020, the Ankara Chief Public Prosecutor's Office disclosed an indictment against 75 suspects for illegal online gambling and gaming. Among the suspects are Anil Uzun (LinkedIn profile) and some members of his family. According to several media outlets, Uzun, born in April 1986, is said to be the mastermind of a cybercrime organization that carries out illegal betting in Malta, Lithuania, Bulgaria, and Cyprus. His brother Onur Uzun and his sister, Fatma Uzun Demirtaş and her husband Ümit Demirtaş have also been part of this cybercrime organization.
Impressive Banking Connections
Anil Uzun is a client of GlobalNetint (GNI) with some of his legal entities, but is also the beneficial owner and/or associated partner of a network of regulated financial service providers.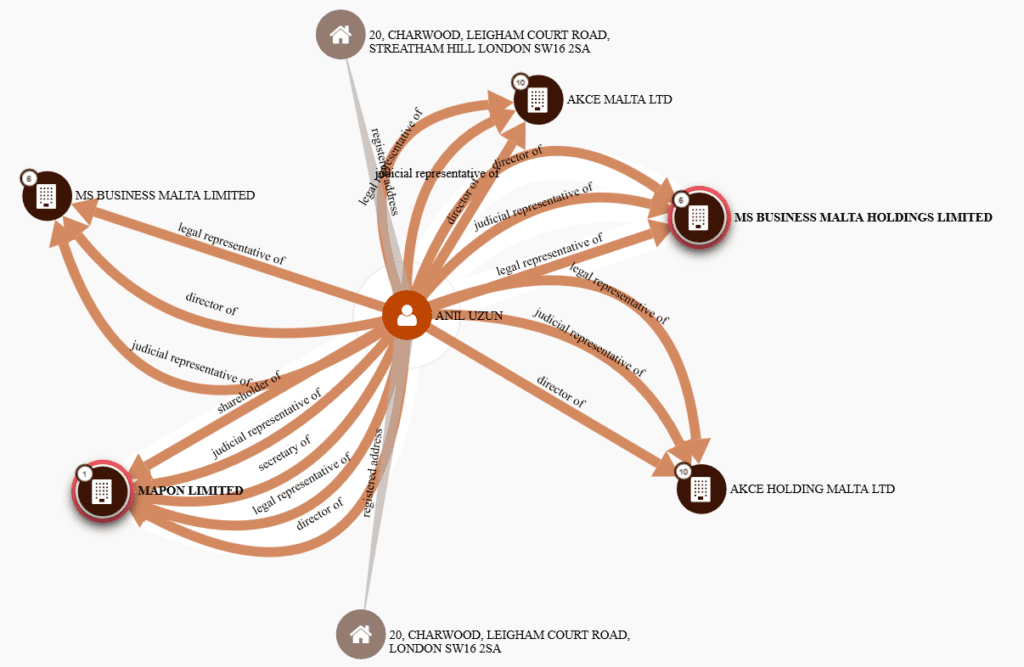 According to the records of the Offshore Leaks Database, Anil Uzun is or was a director of Akce Holding Malta Ltd, which established the European Merchant Bank UAB in Lithuania in 2017 and was granted a special license from the Bank of Lithuania in 2018. The law firm Sorainen issued a respective press release with information on the Akce Holding Malta and its group of companies.
According to a respective press release of the Bank of Lithuania, Ozan Limited, which is licensed by FCA with the reference number 900482, is also part of the Akce Group. According to his LinkedIn profile, Anil was a co-founder and a director of Ozan Limited until June 2017. His founding partner was Ozan Özerk, born in August 1979, who until today controls the entity.
Ozan Limited is connected to FCA-licensed SettleGo Solutions Limited (d/b/a OpenPayd) via the Bulgarian Iana Dimitrova. Dimitrova is active in both FCA-licensed companies as a director and officer. The two companies also have consecutive FCA reference numbers 900482 and 900483. Dimitrova is also presented as the CEO of the Akce Group as a holding entity above these three regulated financial institutions.
Share Information
We would like to know more about The Sacramento Bee, Anil Uzun, and his network of companies and individuals to continue our report. If you have information and/or experience, we would be grateful if you would share it with the FinTelegram Research Team.