Spread financial intelligence
The German Uwe Lenhoff, arrested on suspicion of financial crime, money laundering, and investment fraud, is still the largest shareholder through his Cypriot trustee Centaur. Lenhoff recently transferred his shares to ULEN Holdings Ltd, a company registered in Cyprus and managed by Centaur Fiduciaries (Cyprus) Limited. Lenhoff officially still controls some 27% of the Veltyco shares.
The second-largest shareholder after Lenhoff is the Dutch real estate investor Dirk Jan Bakker who holds more than 20% of the Veltyco shares. He was regarded as Lenhoff's mentor and supporter and apparently continues to set the tone at Veltyco. Despite the many malversations of Veltyco's management that have been uncovered, Bakker has refused to take any action.
The third-largest shareholder DTIG Holding Ltd controlling some 9% of the shares is currently likely to be controlled by a Serbian entrepreneur. According to the information available to FinTelegram, this Serbian entrepreneur has taken over the control over DTIG Holding from the former Israeli partner from Lenhoff. FinTelegram has not yet received the final confirmation for this transaction but it would make perfect sense. Uwe Lenhoff and Gal Barak have had important sites of their cybercrime organization in the Balkans. Among other things, the two were the shareholders of Global Payment Solutions Podgorica DOO, which is registered in Montenegro. Veltyco itself has a subsidiary in Montenegro, Velmont LLC.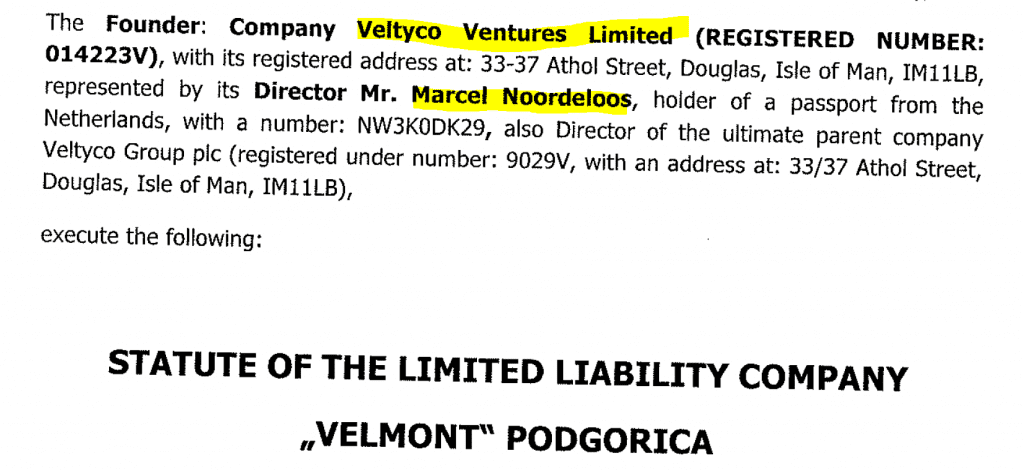 Lenhoff, Barak, and Veltyco allegedly were also massively involved in the money laundering scandal of the Montenegrin Atlas Banka. Statements from the former Atlas Banka owner Duško Knežević have confirmed this allegation. FinTelegram has got in touch with him and asked for comments. The Montenegrin authorities have issued an arrest warrant against Knežević who denies any wrongdoing. He is currently in exile in London.
Veltyco is indeed an exciting company. Thank you for asking. We will continue to report. As a matter of fact, the AGM seems to develop in a quite dramatic event. Veltyco and its people have to be held liable for the losses of defrauded retail investors of the scams it has been involved into such as Option888 or LottoPalace.