Spread financial intelligence
Between 2014 and 2018 they were the new kings of the financial world. The Israeli Binary Options Masterminds like David Cartu, Uri Katz, Guy Galboiz, Gal Barak, Lee Elbaz, and their colleagues. The Times of Israel journalist Simona Weinglass based in Tel Aviv estimated in her 2016 article series "The Wolves of Tel Aviv" that about 10,000 people in Tel Aviv worked in the boiler rooms, marketing agencies and software companies of the Israeli binary options industry. The employees in this segment have received high salaries, as an article on Finance Magnates presented.
Fraudulent industry powers startup nation
In fact, this fraudulent industry was the heart of the internationally acclaimed Israeli start-up miracle, Weinglass laid out. This Israeli online industry has cheated tens of thousands of retail investors worldwide, causing up to $10 billion in damage per year, the authorities estimate.
During 2017, when it became apparent that the broker schemes of GreyMountain Management (David Cartu and Uri Katz), MigFin (Guy Galboiz), Yukom Communications (Lee Elbaz and Yossi Herzog) or E&G Finance (Gal Barak) and almost all other binary option schemes were systematic investment scams, regulators and parliaments began to ban binary options.
In Israel, the ban on binary options became effective in early 2018. As early as 2017, the highly acclaimed binary options kingpins began their retreat. They made their binary options platforms and the companies behind them vanish. They began to cover up all traces in the best possible way. GreyMountaing Management Ltd, founded in 2014, was sent into liquidation in 2017. MigGin, established in 2013, was renamed into GTech Media Development Ltd with new management, E&G Finance was renamed into E&G Bulgaria.
Paramount Role of Payment Services Providers
Payment service providers have been of paramount importance to this industry. They were the first to facilitate investment fraud with their services. The so-called FinTech start-ups such as Payobin, Moneta International and MoneyNet International have made excellent profits with the billions of retail investors paid to broker schemes. And they had an excellent overview of the industry. In this respect, the above-mentioned Eyal Nachum Declaration is of great importance.
Eyal Nachum Declaration
In a detailed declaration to a registered financial services provider in May 2016, Eyal Nachum summarizes the situation around two binary options Scams ICOption and TitanTrade. Eyal Nachum and his Payobin were involved in both platforms as payment services providers. We also know this from the public court case Payobin vs. Umbrella OnlineTech. At the time of the declaration, the binary options industry was at its peak. It was the heydays for the Wolves of Tel Aviv.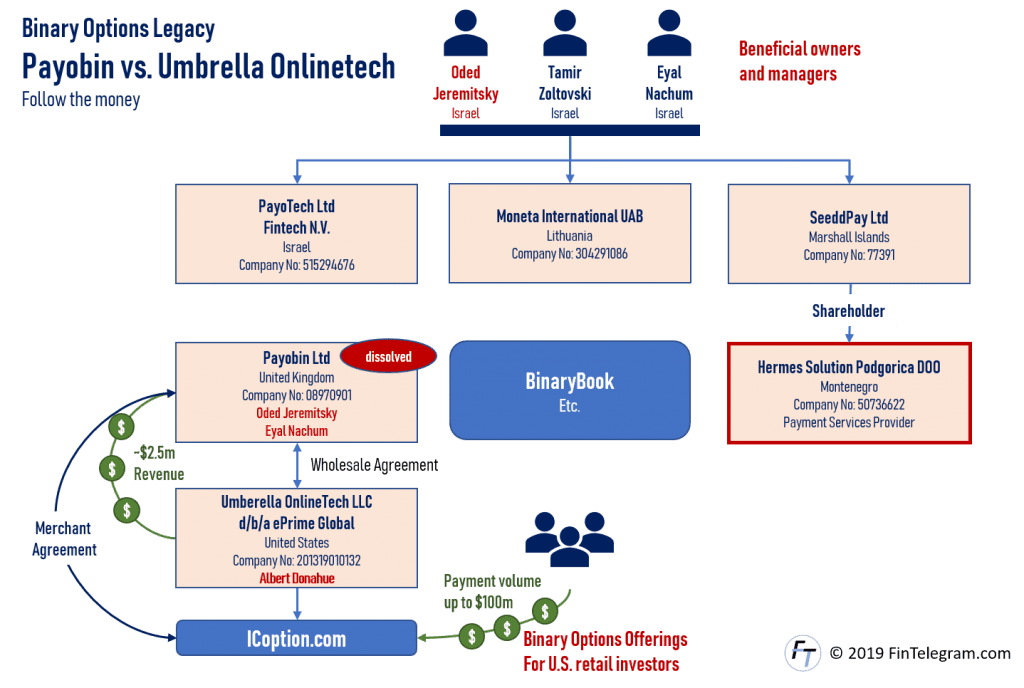 In the declaration, Nachum states that Guy Galboiz and his MIG G.A. Marketing Finance Ltd (MigFin) are actually the same as Primero Capital Solutions Ltd and Ultra Solutions MT Limited. This supports a FinTelegram article on this subject from May 2019. It also shows that Guy Galboiz and his company were very close with Eyal Nachum and his Payobin. The Eyal Nachum Declaration supports FinTelegram's reports on Payobin's involvement in binary options and broker scams. To FinTelegram, Eyal Nachum and his lawyers have always described this claim as defamation and "all lies."
Ultimately, Nachum's declaration proves the unscrupulous approach in the Israeli binary options industry. Nachum accuses Galboiz of threatening them and announced legal action against Galboiz for defamation.
We have asked Eyal Nachum to comment on his declaration. In a lengthy discussion, he did not deny that he is the author of this declaration. However, he also did not give a statement but accused FinTelegram in general of lying and defaming. Despite repeated requests for concrete lies or mistakes, we did not receive an answer.