The people behind Payabl, like Dietmar Knoechelmann or Ruediger Trautmann, are used to fighting media reports with threats of lawsuits from their time in the Wirecard scheme. Most recently, the Payabl people have tried to fight FinTelegram with absurd DMCA complaints. We were accused of making unauthorized use of information published on LinkedIn and reporting on the positions of Payabl people. In the meantime, however, other sites such as PayNews42 and PayRate42 are already reporting on Payabl.
While new money laundering allegations against the Wirecard scheme put the collapsed German fintech into the limelight again, the business of former Wirecard managers and partners seems to flourish. Around 2010, former Wirecard managers and partners Ruediger Trautmann, Dietmar Knoechelmann, his wife Ayelet Fruchtlander Knoechelmann, together with Frank Schoonbaert, and Nissim Zarfati established Payabl Group (previously PowerCash21). Here is another update!
Key Data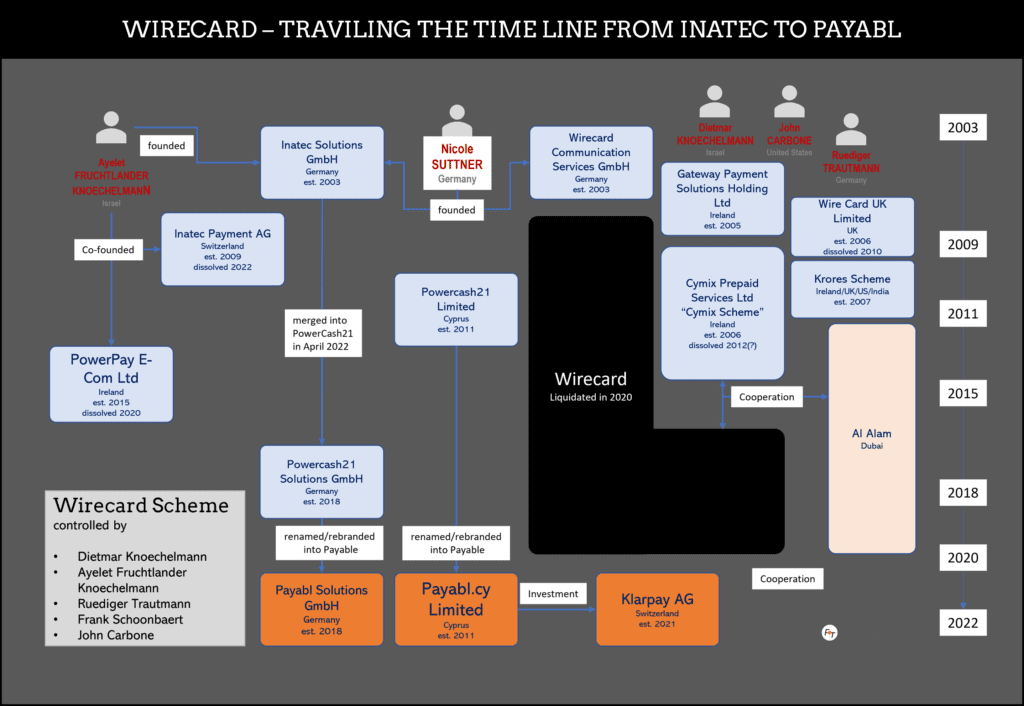 The Wirecard Satellites
The questionable dealings of Wirecard satellite companies uncovered by the Financial Times research was recently confirmed by a new analysis published by German TV channels.
The trail to the now liquidated Wirecard satellite company Al Alam in Dubai can be traced back to Dublin where the cooperation started when Dietmar Knoechelmann, Ruediger Trautmann and Frank Schoonbaert were key players in the Wirecard scheme (report here).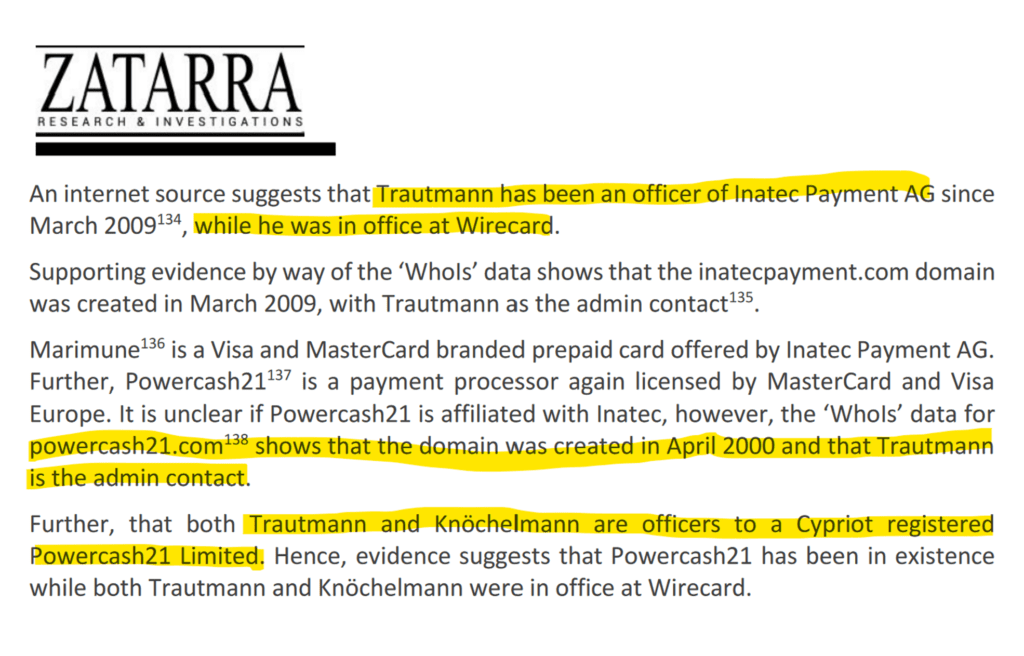 The notorious Zatarra Report by Fraser Perring revealed that the payment processors PowerCash21 and Inatec were two of the satellite companies in the Wirecard scheme. These companies were controlled by allegedly Ruediger Trautmann, Dietmar Knoechelmann and his wife Ayelet Fruchtlander Knoechelmann.
In 2022, PowerCash21 and Inatec were merged to form the "new" Payabl Group. The Lithuanian payment expert Ugne Buraciene was installed as the group's CEO.
The Payabl Group should be excellently equipped financially. In addition to the million euro investment in Klarpay (described below), the Cypriot Payabl.cy Limited subscribed to a capital increase with a nominal value of GBP 350,000 at Payabl. (UK) Limited in May 2022. The UK's Payabl operations are led by Sean Forward as General Manager.
The Klarpay Investment
In the spring of 2022, Payabl Group organized a multi-million investment in the FINMA-regulated Swiss payment processor Klarpay and added the company to its network. Payabl Group CEO Ugne Buraciene was installed as an advisor to Klarpay in the process.
The Swiss FinTech Klarpay AG, registered in Zurich and doing business as Klarpay, looks like a sort of BDSwiss spin-off. At least when it comes to the involved people. The former director and co-founder of BDSwiss Group, the Lithuanian Martynas Bieliauskas, and the former BDSwiss CIO & CTO Christos Alatzidis founded Klarpay in 2019. The former BDSwiss Chief Financial Officer Marc Evans joined Klarpay in Feb 2022 as Chief Financial Officer.
Follow the Klarpay profile here on PayCom42.
Share Information
If you have any information about Payabl, its operators, customers, and partners, please let us know via our whistleblower system, Whistle42.