Last updated on July 16, 2019
Shay Hillel and Yehoram Hillel are certainly among the big names in the startup scene in Israel. They are regarded key people in building the Israeli binary options industry. According to reports in the Times of Israel and other Israeli media, the two controlled the OptionBit binary options platform through their company IGMD Ltd, an online marketing and business development company founded in 2001. Their Novox Capital Broker Hub, along with Grey Mountain Management (GMM), the MigFin of Guy Galboiz, and Yukom Communications, was certainly one of the larger Israeli scheme operators of the binary options era.
Novox Capital and binary options schemes
Shay Hillel and Yehoram Hillel are the beneficial owners of CySEC-regulated Novox Capital Ltd, where their long-time friend and partner Israel Bash used to act as an officer.
Shay and Yehoram also provided the initial financing for binary options white-label software provider and hoster Tradologic and acquired 40% of its share capital. Consequently, the Novox Capital Broker Hub was operated and hosted with the Tradologic white label solution. It is interesting to note that Gery ("Gabi") Shalon, accused in the U. S. of the JP Morgan hack, running illegal gambling schemes, securities fraud, money laundering, and financial crime, and his Russian partner Vladislav ("Vlad") Smirnov were also invested in Tradologic. The Hillels had also shares in the Bulgarian Global Creative Solutions EOOD which was closely connected to Tradologic. Novox Capital and Tradologic used to be synergetically related parties.
The Hillels have also developed their own boiler rooms which are regarded the core elements of the fraudulent Israeli binary options industry. Some broker sites of Novox Capital and the other Hillels companies are linked to the Serbian boiler room of the Israeli company Smardis Ltd, for example.
In January 2016, Novox Capital officially operated the five binary options schemes, OptionBit, OptionStars, OptionMerchants, STXoptions, and ZoomTraderGlobal (in 2015 ZoomTrader). Later in 2016 RoyalPIP was also included in this list of its regulated platforms. Since late 2014 those schemes received investor warnings from financial regulators in different jurisdictions in North America and Europe. In December 2016, for example, the Canadian British Columbia Securities Commission (BCSC) warned against Novox Capital and its schemes OptionStars and OptionStarsGlobal. Other warnings were issued by regulators in UK, France, Germany, Austria, o Belgium.
The Schemes List
To get a better overview FinTelegram compiled a list with the Novox Capital-related schemes and people as well as legal entities connected to those schemes.
Schemes
People
Legal Entities
OptionBit (OptionBitWorld)
Tradologic
Shay Hillel, Yehoram Hillel
IGMD Ltd, Novox Capital (until 2015),
Top Volume Solutions Limited (2016), Global View International Services Ltd (2016/17), Global View Ltd (2017)
Option888
Tragologic
Uwe Lenhoff, Betim Tasholli, James Azar, Karin Zalcberg Mohamad Shaker,
Novox Capital (until 2016),Veltyco Group (from 2016), GlobalTactiCall sro, Silkline Group shpk
RoyalPIP
Tragologic
Oren Giditz
Smardis SR doo, Smardis Ltd, Leverate Financial Services Limited (2016),Novox Capital Ltd (2017)
OptionStars (OptionStarsGlobal)
Tragologic
Gal Barak, Marina Andreeva, Shay Hillel, Israel Bash
New Markets SA, Markets Development EOOD, E&G Bulgaria, Novox Capital Ltd
RoyalMarkets (RoyalCFDs)
Tragologic
Shay Hillel, Yehoram Hillel, Israel Bash
Global View International Services Limited, Global View Ltd
ZoomTrader (ZoomTraderGlobal)
Tragologic
Shay Hillel, Yehoram Hillel, Israel Bash, Ilan Tzorya, Uwe Lenhoff
Novox Capital Ltd, Veltyco Group PLC
STXglobal
Tragologic
Shay Hillel, Yehoram Hillel, Israel Bash
Novox Capital Ltd, STX Global Limited
Novox Capital – The brokerage incubator
Until the end of 2017, Novox Capital's business model evidently was to run a broker hub and operate binary options platforms under the regulatory umbrella of CySEC together with other companies. Novox Capital has also maintained a so-called Business Accelerator Program. Within this program, Novox Capital offered so-called brokerage incubation and money manager incubation services.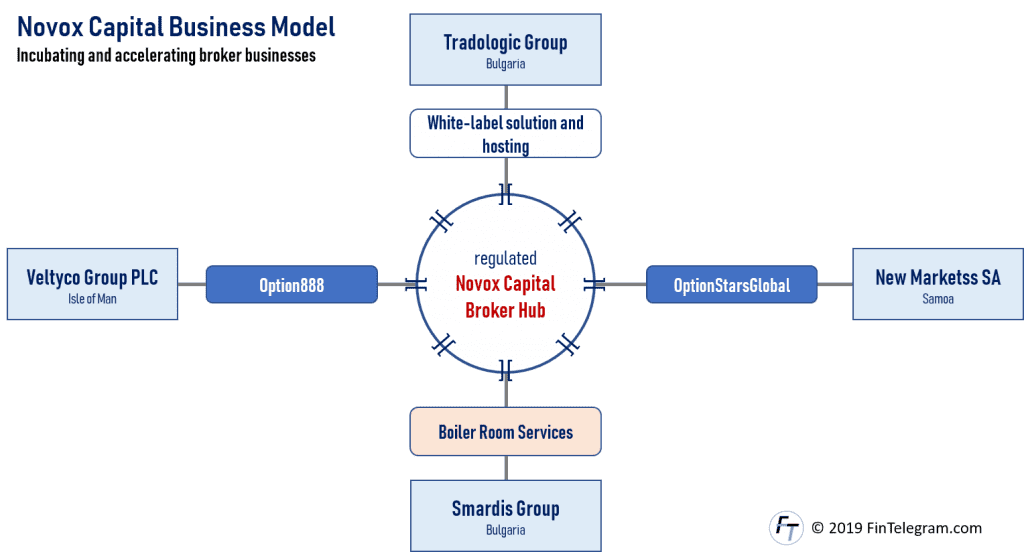 Novox Capital was at all times responsible for the compliance of the business activities of the broker hub and its associated platforms. This responsibility also included the proper management of customer funds in accordance within the regulatory framework of CySEC and other regulatory authorities and financial market laws. Thus Novox Capital is also responsible to the investors of the various platforms for losses caused by illegal or unauthorized activities. Through our EFRI campaign, we know that some of Novox Capital's allegedly regulated platforms like Option888 or OptionStarsGlobal have thousands of victims with millions of losses.
The Veltyco Connection
The founder of the public Veltyco Group PLC, the German Uwe Lenhoff, who was arrested in the course of an international police action and is currently in custody in Germany, confirmed the role of the Hillel's within the scam network around Veltyco Group, Gal Barak's E&G Bulgaria and Tradologic in his statements to the authorities. Their strategic cooperation concerned two binary options platforms. Both were part of the Novox Capital Broker Hub and hence labeled "regulated":
Option888 and
ZoomTraderGlobal.
Initially, according to Lenhoff, it was agreed with Novox Capital that Option888 was operated as a regulated platform. This was officially said in Veltyco's admission document for the London Stock Exchange (LSE).
On 1 February 2016, Option888 Marketing Limited ("Option888") entered into a marketing and introducer agreement with Novox Capital Limited ("Novox") […] The Option888 brand was launched in early 2015, focussing initially on the Swedish and German markets. Through Novox Capital Ltd, the Option888 platform is offered in three different languages (English, German and Swedish) and five different currencies alongside customer support both through e-mail and live-chat.

Source: London Stock Exchange Admission Document (June 2016)
But Lenhoff wanted to grow faster and let share prices of his public Veltyco rise. Consequently, a big deal was arranged via Tradologic founder Ilan Tzorya. In September 2016, the public Veltyco Group PLC signed a revenue-sharing agreement with Novox Capital regarding the latter's binary options platform ZoomtraderGlobal. It was a multi-million cash-and-share deal. The Forex media outlet Finance Magnates was excited about the deal back then.
CySEC fine forces changes
Shortly after the ZoomTraderGlobal transaction in February 2017 CySEC imposed a another fine of €175,000 on Novox Capital for various violations in the operation of its broker hub. Disputes between Novox Capital and the other parties involved aroused over the payment of the fine. In the end, Novox Capital stopped operating Option888 and ZoomTraderGlobal.
As a result, Lenhoff and Veltyco have used various unregulated and therefore unauthorized operating companies such as Celestial Trading Ltd to run Option888: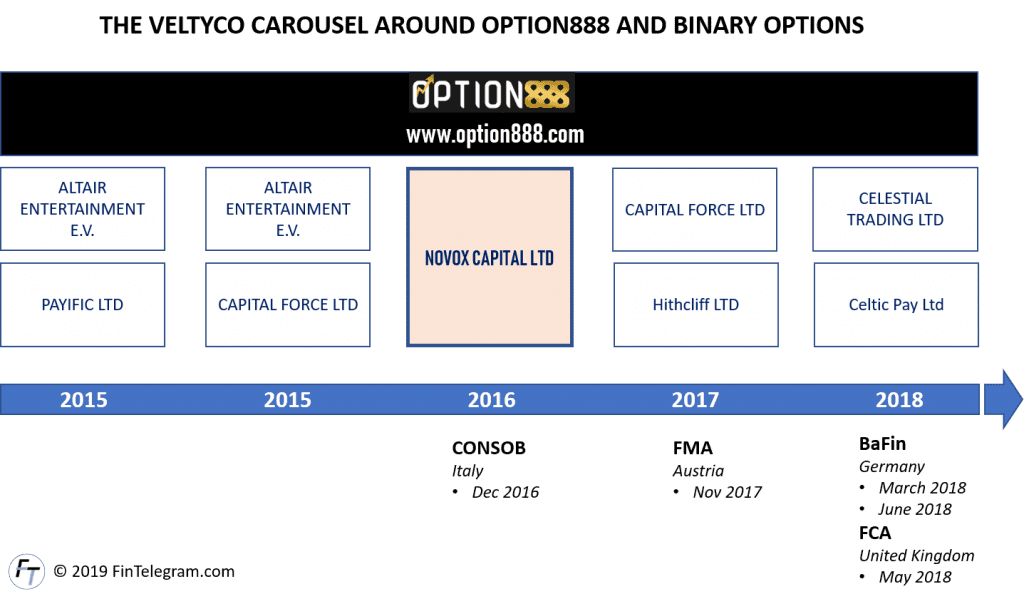 Terminating the broker hub
In March 2017, CySEC announced another fine imposed on Novox Capital. This time €5,000 for not notifying CySEC immediately for the material change regarding its trading name 'ZoomtraderGlobal' and its domain www.zoomtraderglobal.com. The "Global" suffix in the different brands and domains was used by Novox Capital to fool around with its clients and the regulators.
In October 2017, the ZoomTraderGlobal website still stated that the Novox Capital would be its owner making it a regulated broker. Shortly after, the site went offline and Veltyco had actually invested the millions for nothing. This was one of the many toxic transactions Veltyco has entered into under its founder Uwe Lenhoff.
A few weeks later Novox Capital announced on its website that it had separated from the binary options broker platforms. That was the end of the broker hub and the brokerage incubation business. The broker sites incubated and accelerated by Novox Capital vanished into the dark of the web, leaving thousands of victims clueless behind.
Regulatory lssues, defrauded investors and criminal legacy
Regarding the two major transactions of Novox Capital with Veltyco, no official statement has been made by Novox Capital. Neither has the shutting down of ZoomTraderGlobal been officially announced by either Veltyco or Novox Capital. Novox Capital has never disclosed that it used to be the operator of Veltyco's Option888 platform which caused thousands of victims with millions of damages.
The broker platforms connected to the Novox Capital Broker Hub have received many investor warnings from regulators. Option888 or OptionStarsGlobal are subject to criminal investigations in various jurisdictions. Uwe Lenhoff, the founder of Veltyco and Option888 is in custody for that. An EU arrest warrant has been issued against Gal Barak, the beneficial owner of OptionStars and OptionStarsGlobal. Novox Capital was demonstrably involved in these platforms and should stand up to its responsibility vis-a-vis defrauded retail investors and authorities.
Moreover, some important regulatory questions have to be presented to CySEC. To this day, thousands of damaged retail investors of the platforms associated with Novox Capital are waiting for their funds. It is therefore incomprehensible that CySEC, as the supervisory authority of Novox Capital, has not yet taken any noticeable measures.