Spread financial intelligence
Finmax scams have been active since at least 2016 with various websites and domains in Binary Options, Forex, and CFDs. Various regulators and review sites have already issued numerous investor warnings. Nevertheless, the scam is currently active with at least two websites FinmaxFX (www.finmaxfx.com) and FinmaxBO (www.finmaxbo.com). The two Ukrainians, Olena Vakulenko and Oleksandr Vakulenko, coordinate the scams through various legal entities in Lithuania, Vanuatu, Seychelles and St. Vincent and the Grenadines. To date, despite all scam warnings at FinmaxFX, Praxis Cashier with the Spanish Redsys and Comercial Global Payments as payment processor is active.
The payment processors
A test deposit on FinmaxFX last conducted on March 1, 2021, shows that credit and debit card payments there are processed through Praxis Cashier and forwarded to Redsys (www.redsys.es) and Comercial Global Payments (www.comercialglogalpayments.com).
On the final payment screen, after some nice routings, Comercial Global Payments lists the Spanish digital marketing agency LIVADAKI 2004 S.L. d/b/a livaplay as the merchant to which client-victims of Finmax are making their deposits.
The other payment processors that were included a few weeks ago (see this report) are currently no longer active.
The company
The beneficial owners behind the Finmax Scam are believed to be two Ukrainians Olena Vakulenko and Oleksandr Vakulenko. We currently do not know how the two are related.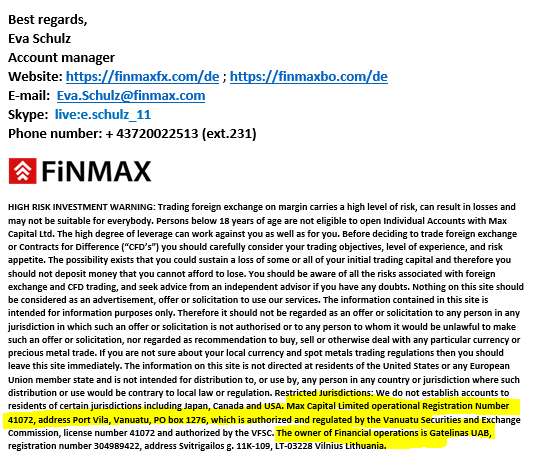 Olena Vakulenko is the registered founder of Max Capital Limited in Vanuatu and CEO of Lithuanian Softcast UAB d/b/a Media24 (www.bluemedia24.com). This company is located at the same address as Gatelinas UAB in Vilnius, which is presented as the owner of Finmax websites in email signatures.
Oleksandr Vakulenko was the beneficial owner of Morris Processing Ltd, registered in London, United Kingdom, in 2015. Until 2017, IK Partners Ltd, registered in St. Vincent and the Grenadines, was also registered as the beneficial owner. The German regulator BaFin issued an investor alert against Morris Processing and IK Partners in January 2019.
Max Capital Limited was registered by the VFSC with company number 41072 in February 2019 with a capital of $2,000. The VFSC authorizes the company to engage in the banking business as defined in the Financial Institutions Act and the International Bank Act. That is what offshore regulators do and what their regulation is worth – nothing!