Spread financial intelligence
The Lawsuit
In January 2018, Simona Weinglass of the Times of Israel wrote about a lawsuit filed against the binary options scheme TitanTrade. The lawsuit was filed in May 2017 by a Polish woman who allegedly lost $95,000 with TitanTrade. According to the lawsuit, filed by attorneys Yossi Haezrachy and Nir Friedman, TitanTrade was operated by Gtech Media Development Ltd. (formerly known as MIG G.A. Marketing Finance Ltd or MigFin). Gtech's director and the registered owner is the Israeli Guy Galboiz.
The Lie
In his writ of defense, Galboiz's lawyers denied that Gtech is connected to TitanTrade. The lawsuit was withdrawn before it reached the evidentiary stage. In the course of the legal proceedings, the plaintiff requested to withdraw the lawsuit and also stated that she had no cause for action against Gtech. The plaintiff did so because as the proceedings were commencing, the plaintiff received all her money back from TitanTrade, even though TitanTrade was not the defendant, Simona Weinglass noted in her article.
The Facts
As a matter of fact, Guy Galboiz is the beneficial owner and/or controlling person via his Gtech (formerly MigFin). FinTelegram received evidence that beyond any doubt prove the Gtech orchestrated the TitanTrade scheme via the Ultra Solutions MG Limited. Directors and shareholders of Ultra Solutions is the Seychelles citizens Genevieve Magnan who is known for being a perfect frontwoman for illegal broker schemes.
Guy Galboiz and his Romanian partner Stefan Trasca via their Gtech (then named MigFin) were the ultimate beneficial owners of Ultra Solutions as one can see for example in this merchant application form filed with a PSP:
The Millions
As a matter of fact, MigFin (Gtech) managed TitanTrade and other illegal binary options broker sites. In the merchant applications MigFin employees such as Mor Herches are provided as contact person (see screenshot above). Reading through the merchant application form one learns that the TitanTrade operators expected a monthly payment volume of $3.5m which is quite a number, isn't it?
However, Guy Galboiz and his companies do not only use PayObin of Tamir Zoltovksy and Eyal Nachum but also MoneyNetInt, another Israeli payment service provider registered in the UK with the Financial Conduct Authority (FCA). Zoltovsky and Nachum are also behind the Lithuanian PSP Moneta International. We will provide more information on these Israeli PSPs in a later article in the course of our PSP research activities.
As one can read from MigFin-Emails (see featured Email below), MigFin not only controlled Ultra Solutions but also Primero Capital Solutions Limited which will be in the focus of another FinTelegram report soon.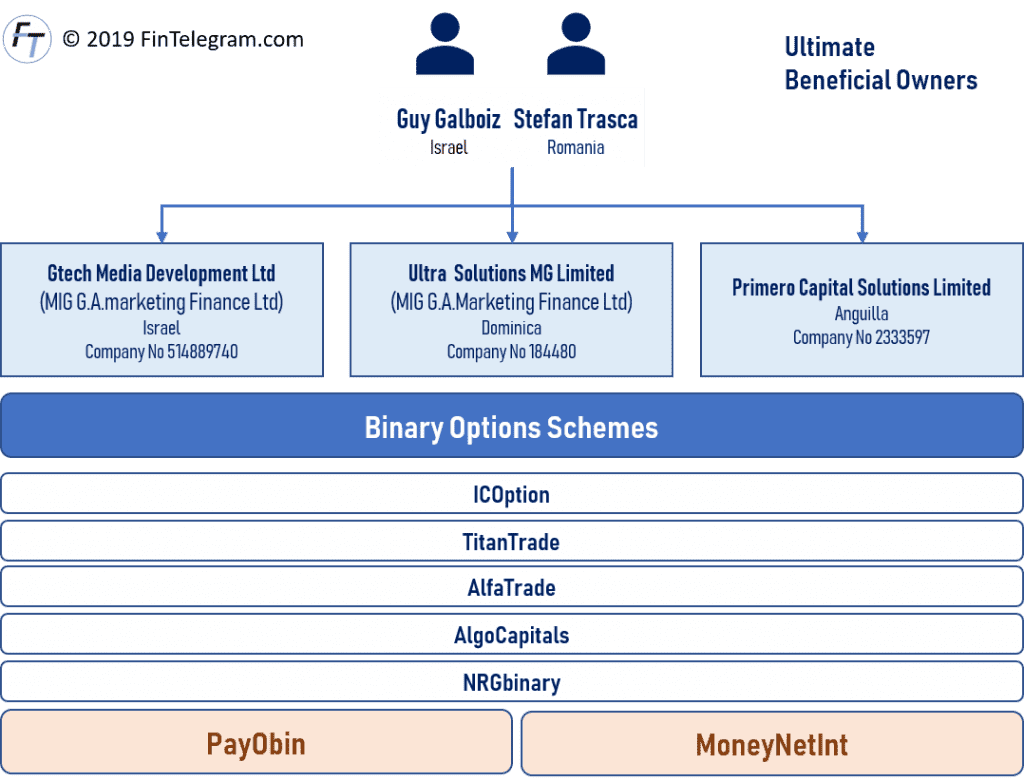 These are the facts and they prove beyond any reasonable doubt the Guy Galboiz and his partner Stefan Trasca were the beneficial owners of TitanTrade. This will be of interest to the many former clients victims of TitanTrade and other binary options platforms.
Share Information With FinTelegram
If you have any information regarding TitanTrade, MigFi (Gtech), Guy Galboiz, Stefan Trasca and their ventures please share them with our FinTelegram Research Team in the very best interest of investor protection and fund recovery.
to be continued