We pointed out several times in 2022 that the crypto payment processor Mercuryo, founded and controlled by Russians allegedly living in London, had close contact with Russia despite Western sanctions. We have discovered Mercuryo as a payment processor for scams several times in recent years. In Q1 2023, the Mercuryo website recorded explosive growth, with visitors from China and Turkey. The Estonian crypto license was archived in December 2022.
Key Data
Trading style
Mercuryo
Domain
https://mercuryo.io
https://gateway-provider.com
Legal entities
MoneyAmber UAB, Lithuania
MoneyMaple Tech LTD, Canada (MSB registration number: M21565803)
MoneySwap OÜ, Estonia
MRCR Holdings Ltd (shareholder of MoneySwap OÜ)
MoneyTea LTD, UK (agent of FCA-registered Cauri LTD)
Monetley Ltd, UK (FCA-licensed EMI) as principal of MoneyTea Ltd
Cauri Ltd, UK (FCA-licensed Payment Institution) as principal of MoneyTea Ltd
Related individuals
Petr Kozyakov, Russia (LinkedIn)
Aleksandr Vasilev, Russia (LinkedIn)
Greg Waisman, a/k/a Grigory Vaysman, Cyprus (LinkedIn)
Dimitrijs Lapkoviskis, UK, (LinkedIn)
Natalja Medvede, UK, (LinkedIn)
Antons Blohins, UK, resigned in July 2022
Authorization
FCA for MoneyTea Ltd
PayRate42 rating
Red compliance rating (profile)
Short Narrative
Mercuryo offers its services via several legal entities in various jurisdictions. According to its website, Mercuryo services are provided by
MoneyAmber UAB,
MoneyMaple Tech LTD,
MoneySwap OÜ, and
MoneyTea LTD, registered by the UK FCA as PSD Agent of Cauri LTD, an authorized Payment Institution with FCA firm reference number: 683817, and Monetley, authorized by the UK FCA as an Electronic Money Institution. Mercuryo's e-money services are provided through Monetley. In our review on April 25, 2023, an SSL warning greeted us when we attempted to visit the Monetley website. Strange for an FCA-regulated EMI.
Since The Mercuryo-related companies, including FCA-regulated Monetley, are controlled via the Cyprus-registered MRCR Holdings Ltd. There Grigory Vaysman, a/k/a Greg Waisman, is registered as a director.
The Russians Petr Kozyakov and Aleksandr Vasilev control the English MoneyTea Ltd and are the company's officers. Petr Kozyakov is also the registered beneficial owner of the Estonian MoneySwap OÜ, the crypto license of which was archived in December 2022.
Cyberfinance rating agency PayRate42 has placed Mercuryo on its Red Compliance List to support broker scams with its payment processes.
The Payment Processor
In 2022, Austrian lawyers for MoneyTea d/b/a Mercuryo contacted FinTelegram and wanted us to stop calling the company a payment processor. We find it surprising that a UK-registered and FCA-regulated company is communicating through Austrian lawyers with a Delaware-registered company in the first place. But that's just a side note.
It is indisputable that MoneyTea, as one of the operators of Mercuryo, is also a licensed PSD (payment) agent and, additionally, also an EMD agent. They officially act as a payment processor (in whatever concrete form). It is also a fact that Mercuryo receives, processes, and pays out FIAT money. In our understanding, all companies processing FIAT or crypto transactions in whatever form are payment processors.
Even on its website, Mercuryo offers payment services. Therefore, we can certainly call MoneyTea d/b/a Mercuryo, a payment processor.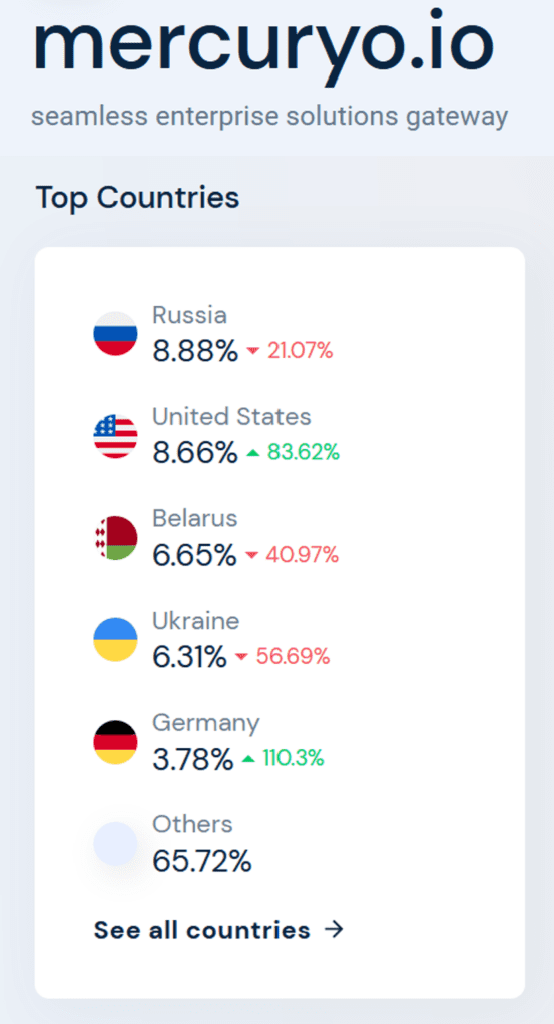 The Website Analysis
The Western Alliance has imposed sanctions against Russia and Belarus as per Regulation (EU) 833/2014 (sanctions against the Russian Federation) and Regulation (EU) 765/2006 (sanctions against Belarus). According to the latest SimilarWeb data from June 2022, Mercuryo's primary market was Russia, followed by the USA and Belarus.
Similarweb data for Q1 2023 shows that Russia appears to be no longer a factor for Mercuryo. Likewise, the referral traffic from the Russian payment processor Advcash significantly decreased.
On the other hand, the number of visitors to the Mercuryo website exploded to almost 900,000 in March 2023, with almost 23% coming from China and around 22% from Turkey.
Since the lawyers of MoneyTea and Mercuryo constantly confront us with requests for clarifications that we consider absurd, we try to present a fact-based picture of MoneyTea d/b/a Mercuryo as possible.
Share Information
If you have any information about Mercuryo, its operators, partners, or customers, please let us know through our whistleblower system, Whistle42.