FinTelegram was contacted by ECommPay, stating that some of the data in our reports were incorrect. We did a comprehensive check and found that our reports were indeed correct, although it is possible to disagree about certain terms. We have therefore created an update and responded to ECommPay's criticism.
Earlier this year, FinTelegram brought reports on the payment processor ECommPay, controlled by the Russian Alexander Spiridonov and his Latvian comrade Aleksejs Sjarki via legal entities in Cyprus, the UK, Latvia, and the Cayman Islands. ECommBX Ltd, regulated by the Central Bank of Cyprus as an EMI, and the FCA-authorized payment institution ECommPay Limited are part of the ECommPay group. Russia is still the most important market, the latest SimilarWeb data suggest. However, some related companies in Russia vanished over the last 12 months.
Key data
Short Narrative
In a statement to FinTelegram, ECommPay said that it was not a high-risk payment processor but that it was targeting merchants in high-risk industries. Well, that is a high-risk payment processor in our definition. And we don't see this as defamation but as a classification.
According to ECommPay, they are actively targeting "such business segments as e-retail, travel, hospitality, civil and private aviation, online education, transportation industry (like taxi, ride-hailing, micro-mobility, etc.), and more." Some of these industries are classified as "high-risk."
Fact-Checking Procedure!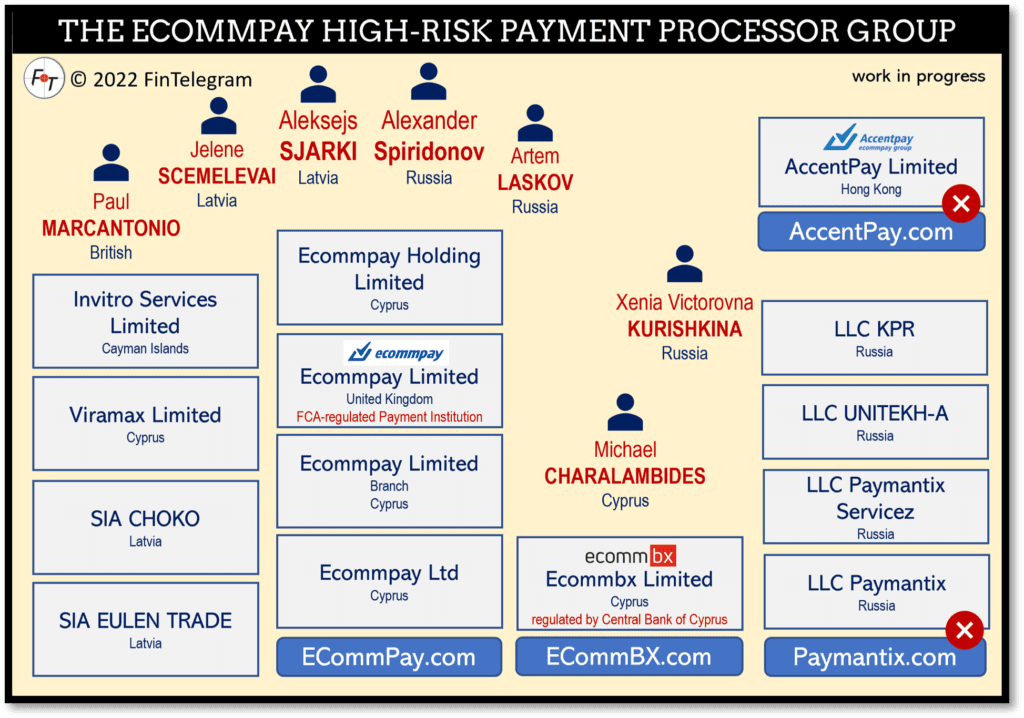 According to ECommPay, the vanished Russian payment processors AccentPay and Paymantix are not part of their network. This may be true for today. However, ECommPay admits that AccentPay had a limited right to use the ECommPay brand until 2018 when this right allegedly expired. Having said that, AccentPay evidently was actually a part of the ECommPay network and a close partner until 2018.
According to the Russian company register records, the Russian ECommPay representative Xenia Viktorovna Kuryshkina was also a director of Paymentix LLC until July 2019, and to that extent, we do not find the claim that there was no connection between ECommPay and Paymantix correct. In any case, there has been a personal connection. Thus, in the definition of most jurisdictions and accounting regimes, the companies are called "related."
The ECommPay People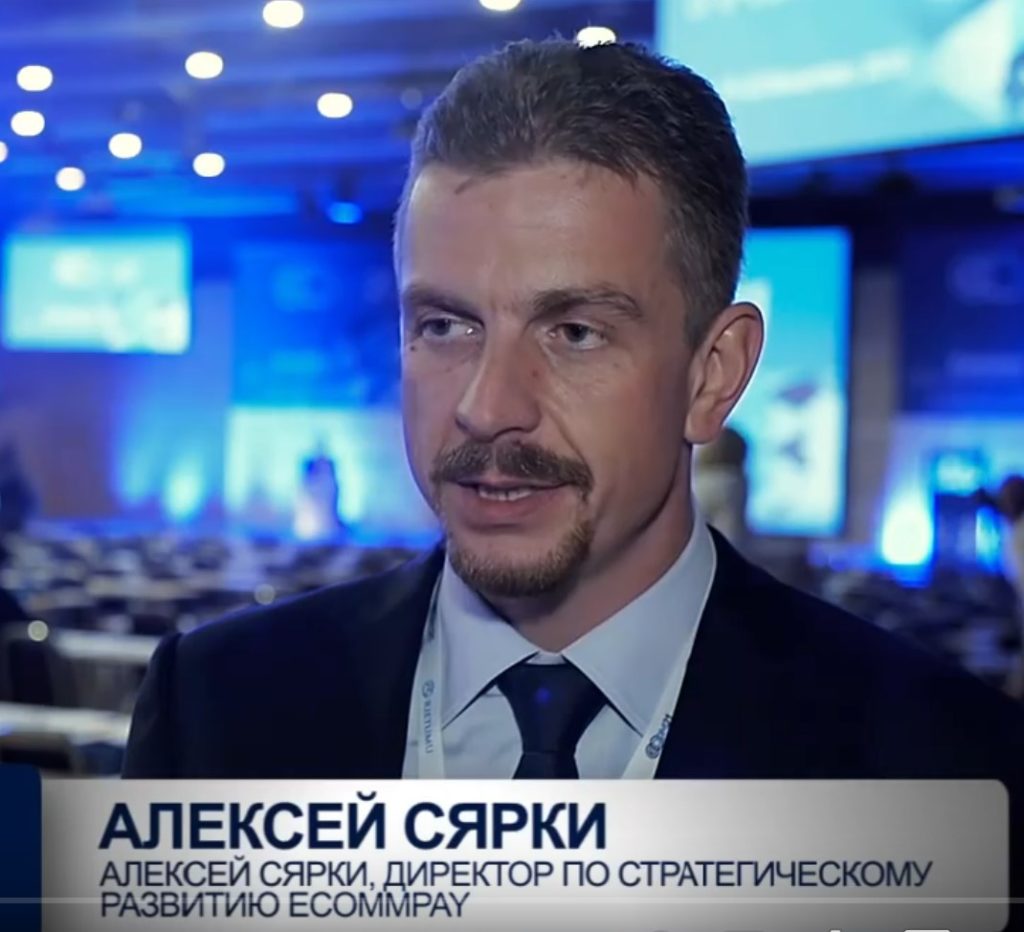 Whistleblower information shows that ECommBX, regulated by the Central Bank of Cyprus as an e-Money Institute (EMI), is part of the ECommPay group of companies.
ECommPay Holding Ltd in Cyprus is the controlling shareholder of ECommPay Limited, an authorized payment institution regulated by the UK FCA with the reference number 607597. According to the Companies House, the controlling person is the Latvian Aleksejs Sjarki (pictured left), who also acts as a director in these companies.
ECommPay has both a branch in Cyprus and the separate legal entity ECommPay Ltd. All companies in Cyprus are located in Alpha Business Centre and share offices and staff there. ECommBX operates its platform ECommBanx (www.ecommbx.com), which does not inform that it is part of the ECommPay group.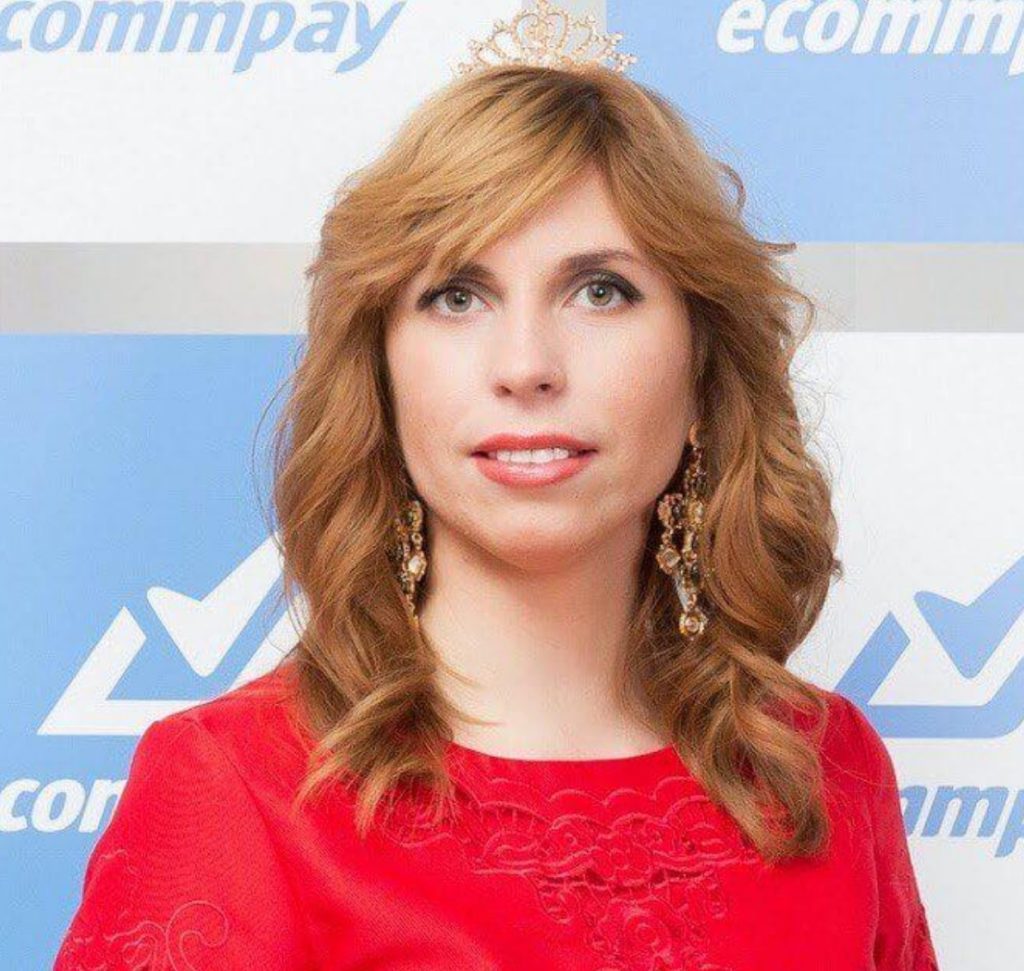 We learned that the high-risk processor ECommPay is a global network of companies and roots in Russia. ECommPay was represented in Russia by LLC KPR, founded by Xenia Viktorovna Kuryshkina (pictured right before an ECommPay brand wall), who is also active in other group companies. As mentioned above, she was a director of the vanished Russian payment processor Paymantix.
Share information
We would like to know more about the network of high-risk payment processors around ECommPay. If you have any information, please share it with us through our whistleblower system, Whistle42.