A few weeks ago FinTelegram pinpointed the beneficial owners of the StoxMarket broker scam. Since then we have received further information and also identified a bank account. In summary, these are the findings to date:
The scam was operated via Marketier Holdings Limited, registered in the Commonwealth of Dominica and the UK-registered companies Profitier Limited, OCapital LP, and InOut Capital LP;
The Israelis Chaim Elazar Bornstein and Mordechay Litke received a Power of Attorney (POA) from Marketing Holdings Limited and are the ultimate beneficial owners;
Moorwand Ltd (UPayCard), MoneyNetInt, Payobin Group are involved with their payment services;
Marketier Holdings Limited holds a bank account with Hipotekarna Banka ad Podgorica with Bornstein and Litke holding the power to sign.
FinTelegram has got all the documents necessary to uncover the facts of the StoxMarket scam scheme and the persons involved without any doubt. However, this does not mean that stolen customer money can be recovered automatically. This still requires some effort from the EFRI team.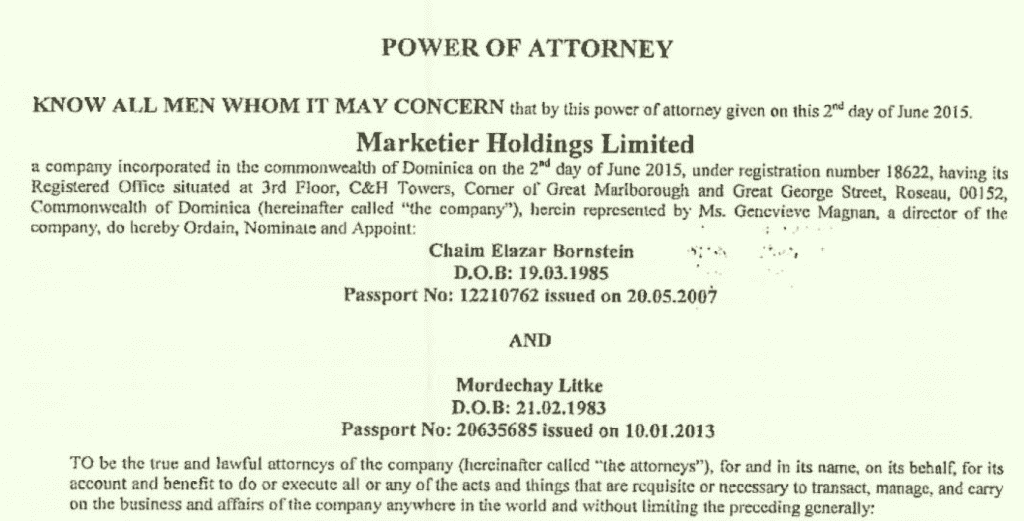 Northwestern Management Services Ltd has made the notorious Genevieve Magnan available as a nominee director. The latter also signed the Power of Attorney and confirmed to Bornstein and Litke that the shares of Marketier Holdings Limited are held in trust by it. The entire transaction was notarized on June 2, 2015.

The scam's bank data
We have received documents confirming that Marketier Holdings Limited has opened a bank account with Hipotekarna Banka da Podgorica through Hermes Solution Podgorica DOO. Deposits from StoxMarket clients were also credited to this account. The bank account, as well as, Hermes Solution Podgorica are subject to criminal proceedings in Podgorica according to the documents available to FinTelegram.
Next steps
FinTelegram has received the data of the beneficial owners of StoxMarket and their whereabouts. Consequently, the EFRI team will contact them directly to request a refund of the stolen client funds. Corresponding letters of claim will also be sent to the payment service providers involved.
File your claim with EFRI
In case you are a victim of StoxMarket please file your claim with our EFRI Campaign to recover funds: