Over the last few months FinTelegram, with the support of the many victims and whistleblowers, has been able to detail how the UK FCA regulated Moorwand Ltd with its brand UPAYCARD and its beneficial owners have been involved in dozens of broker scams as payment service providers.
The plain facts
At first sight, the Moorwand Payment Scheme is not evident which is what the beneficial owners want. We have therefore compiled the key data again below:
From November 2016 to April 2019, FCA-registered Moorwand Ltd (Reference No 900709) did business as (d/b/a) UPayCard brand. This brand was also registered with FCA;
According to FinTelegram's records, Alain Bazille was the founder and one of the beneficial owners of Moorwand Ltd. He is also a director and beneficial owner of UK registered UPC Consulting Ltd and it can be suspected that there is also a close economic relationship to PAP Onpoint Services Ltd (now acting under the brand UPAYCARD).
In or around April 2019 Moorwand Ltd transferred UPayCard to the Cyprus-set up PAP Onpoint Services Ltd;
UPC Consulting Ltd and Moorwand Ltd (both operating under the brand UPayCard) with an account at the Danish KBH Andelskasse formed the Moorwand Payment Scheme controlled by Moorwand and its beneficial owners;
While UPC Consulting's and Moorwand Ltd´s bank accounts were used for the electronic bank of the client-victims of the broker scams UPayCard was used for credit card payments;
the scandal-shaken KBH Andelskasse was apparently also controlled by the people behind Moorwand. In any case, there were close personal and business ties, says the Danish police.
Complaining with UPayCard
The client-victims of the various broker scams who made their deposits through the bank accounts of UPC Consulting or the UPayCard want their money back. Understandable, isn't it? They, therefore, file their claims with UPayCard and UPC Consulting. That's the names they find on their payment documents and in their email correspondence with the broker scam agents. It is undisputed that at least until April 2019 UPayCard and UPC Consulting formed an economic entity under one leadership.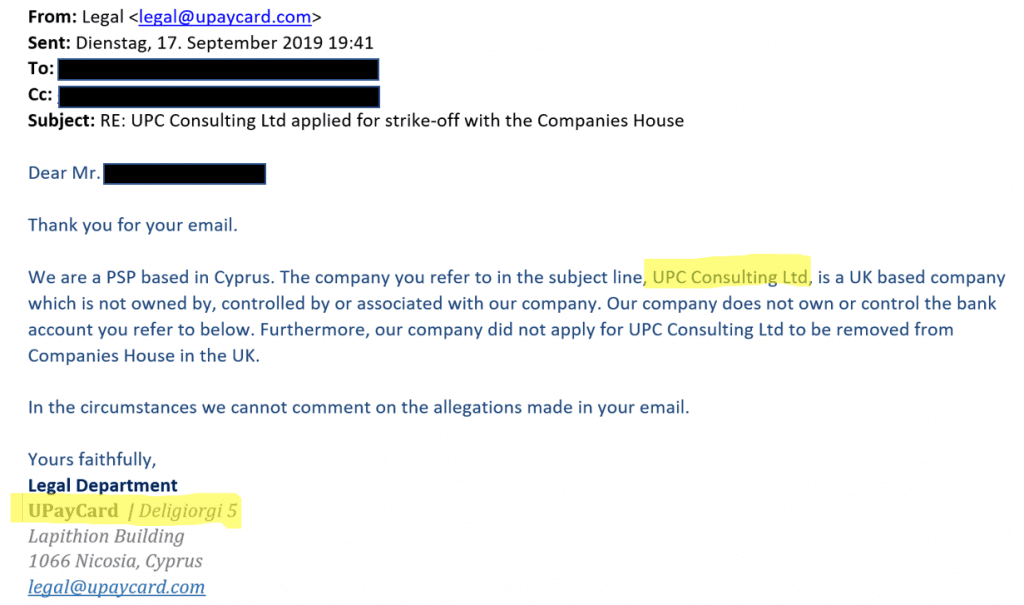 When complaining, client-victims receive answers from UPayCard's "legal department" that they allegedly have nothing to do with UPC Consulting Ltd. The UPayCard emails do not mention any company. The sender from UPayCard's "legal department" also does not state her/his name. Strange, isn't it?
In fact, a reputable UPayCard would indicate that they are acting for PAP Onpoint Ltd in Cyprus (but maybe they are not acting from them?). And the sender from the legal department would give her/his name. In fact, UPC Consulting (also acting under the brand UPAYCARD as well as Moorwand Ltd have been undoubtedly acting as an economic entity – the "Moorwand Payment Scheme" – until April 2019.
Evidently Alain Bazille decided to close down UPC Consulting Ltd and to transfer the brand to PAP OnPoint Ltd and to start again accepting fraudulent merchants and facilitating the transfer of millions of unsuspecting European retail investors to fraudsters. With the change of the ownership of the brand also the liabilities of the brands change ownership – and legally there are several entities now who can be held responsible for not adhering to the money laundering rules as legally required. But as we expect criminal proceedings anyway already being underway regarding Moorwand Ltd and all related companies, we expect that this "legal department" will soon have to accept the reality.
Liability and responsibility
Of course, the beneficial owners of Moorwand and all its related entities (former owner of the brand UPAYCARD, and PAP Online Services (now owner of the brand UPAYCARD) are liable for the failures of the past, i.e. for the involvement in broker scams. There is no judicial regime on this planet that would not acknowledge this liability. Closing down companies and pretending that there is no longer someone responsible for fraud may have worked in earlier years but this has changed recently.