Spread financial intelligence
In early 2019, the Israeli Gal Barak and his German partner Uwe Lenhoff were arrested in the course of an international law enforcement action. They were accused by the authorities of operating an international cybercrime organization. Lenhoff allegedly committed suicide in his prison cell in Germany on July 6, 2020. Barak was sentenced to 4 years in prison on September 1, 2020. Dozens of Barak's and Lenhoff's co-conspirators are now waiting for their charges. The Austrian Joachim Kalcher allegedly was one of the late Lenhoff's partners.
Scams need technology
Scams are not feasible without software, software developers, and technology. To scam investors online you need online platforms and online payment options. At some point in early 2017, the German cybercrime kingpin Uwe Lenhoff hired the Austrian Joachim Kalcher as Chief Technology Officer (CTO) for his organization. And together, they pulled off interesting fake deals together to rip off Veltyco shareholder and scheme investors. In return, Kalcher received shares in Lenhoff's Veltyco and a lot of money. Money that came from deceived consumers and small investors.
The Bulgarian connection
With the support of his Israeli partners, Lenhoff established Varkasso EOOD and BlackCyan EOOD in Bulgaria to develop and operate the crypto payment platform 8crypt. And together the two have pulled off an interesting transaction deal around these companies. In spring 2018, in the already fading crypto hype, a million-dollar deal with the listed Veltyco Group PLC (now Bet90 Holdings PLC) was faked through these companies.
Late in 2017, Lenhoff sold 51% of the Bulgarian Varkasso, founded by himself, to his Veltyco through the Bulgarian BlackCyan, the company he founded together with his Austrian partner Joachim Kalcher. The deal was announced amid the 2017 crypto hype and should have marked Veltyco's entry in the crypto era.
The Dark Empire
Lenhoff and his dutch partner, the real-estate investor Dirk-Jan "DJ" Bakker, established the public-listed Veltyco Group PLC in summer 2016 via a reverse-takeover (RTO) with a company listed on the London Stock Exchange in the AIM segment. Lenhoff told his partners that this would be the "white" frontend for his "dark" empire.
The actual headquarters of his dark empire was Winslet Enterprises EOOD in Sofia, Bulgaria from 2015. The Israeli friends had also settled there. Gal Barak had an E&G Bulgaria there and Joachim Kalcher joined in 2017. The Bulgarian Winslet also handled business in the Balkans with branches in Belgrade, Pristina, Podgorica, and Sarajevo. Without informing the public and shareholders, "secret" subsidiaries of Veltyco were also founded in Bulgaria and Montenegro, which are still existing today. These were essential for money laundering. It was the still active director Marcel Noordeloos who implemented this scheme on Lenhoff's instruction.
Lenhoff was the main shareholder, appointed director, and officer. In 2016 the Veltyco share was quoted below 30 GBX. With the Varkasso transaction and the crypto strategy, the shares were raised to over GBX 100 in 2017. In fact, the Veltyco share price exploded with the announced crypto strategy and climbed to more than GBX 103.
The Dark Empire's COO
From around 2017, the Austrian Joachim Kalcher became the Chief Technology Officer of Lenhoff's dark empire and started to prepare a crypto-based money-laundering tool – 8Crypt. In addition, he organized bodyguards for Lenhoff and had detectives spy on and observe potential enemies. Kalcher was the COO and security officer of the Dark Empire.
Kalcher's 8Crypt payment software officially developed by Varkasso was used in other Ponzi systems like the Nexus Global Crypto MLM scheme. Kalcher has always stated that with his 8Crypt you could hide money from tax and investigative authorities and it would never be detectable in the system. A black box that could be used for money laundering which was a key element of Lenhoff's cybercrime organization. He claimed that he was moving at least €2 billion per year through his companies.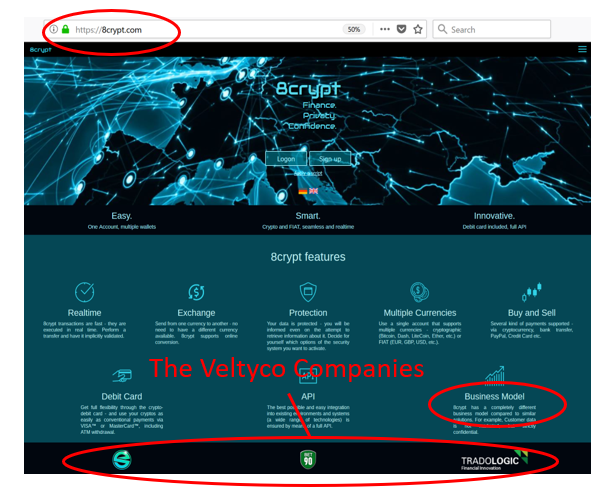 After the arrest of Lenhoff, 8crypt and the website vanished. The domain www.8crypt.com originally registered by Kalcher is available again. Kalcher has already made the same software disappear in 2016 at the Canadian BitRush Corp. after he wanted more money and company shares. He then teamed up with Lenhoff with this 8crypt software.
Fake and take
But Kalcher has done much more for his partner Lenhoff. He was responsible for the eSports project and allegedly programmed the token for the ICO. That's what he told the police. This ICO was one of the many crypto fakes of these crypto rush times in 2017 and 2018. On the eSports website (www.esports.com) at the time, the astonished public was informed that many millions would have been received in the ICO from investors. In fact, hardly anyone invested in the eSports token. The token has now been completely discontinued and has disappeared.
The domain www.esports.com, allegedly acquired for a seven-digit Euro amount, was of no use. Veltyco has made great announcements about the partnership with eSports. The share price was pushed once again with fake news.
Honey and Money
Joachim Kalcher and his partner Stefan Boes have obviously earned well from Lenhoff's crooked deals. Their company kb-spirit GmbH (company register) and their Bulgarian entities apparently earned a small fortune with Lenhoff's cybercrime organization. Money that belonged to defrauded victims.
The criminal files of the public prosecutor's office include various tapped phone conversations of Kalcher with then co-conspirators. They openly discuss Lenhoff's illegal dealings and the possible prison sentences for them. In a phone conversation with his partner Stefan Boes, Kalcher is upset that he would not get enough money from Veltyco. His partner reassures him and me that this is not a problem because the Israeli (Lenhoff's partner at the time) would pay an unbelievable amount of money for it anyway. Money and honey it was raining.
Joachim Kalcher is listed as a suspect in the criminal case Lenhoff et al. He should know where the money is for restitution payments.