Spread financial intelligence
Whistleblower Credits: We would like to thank our whistleblowers for their reports and insights, which help us expose scammers and their payment processors. Together we can make a difference in cyberspace. Together we are an invincible force.
FinTelegram News was founded in early 2018 with the mission of investor protection. Since then, we have faced numerous threats, DDoS attacks, and also lawsuits. We have survived everything so far and defeated some of the bad players. Some companies have lost their licenses, and some scammers have been sentenced to prison and fined millions for investment fraud. All this would not have been possible without whistleblowers. They are the heart of our project. Now a whistleblower has proven that the StoxMarket scam is indeed alive.
The resurrected binary options scam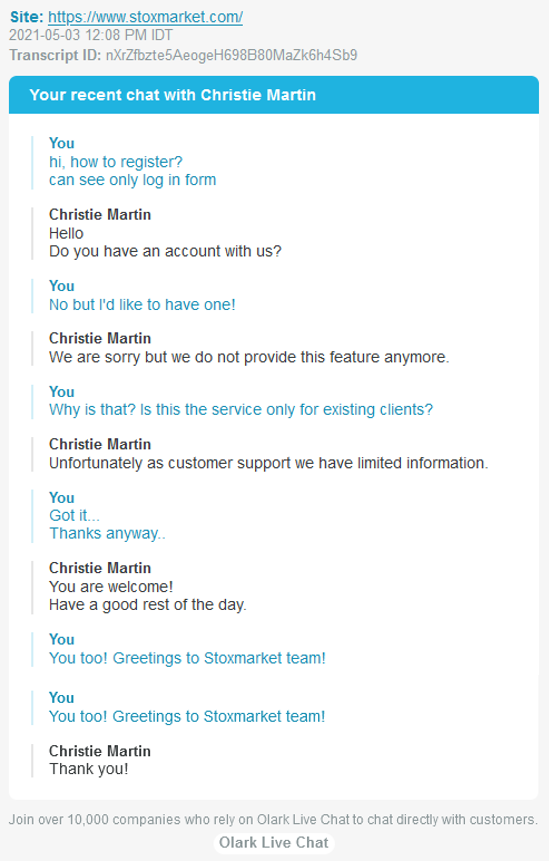 A few days ago, we received a message from one of the victims of the StoxMarket scam that the site www.stoxmarket.com is back online. The binary options scam operated by Israelis Mordechay Litke and Chaim Elezar Bornstein scammed thousands of victims out of tens of millions. Then the scam disappeared and with it the website.
Evidently, StoxMarket is back in some way! At least the boiler room agents behind it are active again. A whistleblower chatted with the StoxMarket boiler room (see screenshot on the left). The boiler room agent confirmed that StoxMarket is back but only for existing customers. New registration would not be possible currently. We thank the whistleblower for his effort. Much appreciated!
The European Fund Recovery Initiative (EFRI) has already launched a fund recovery campaign for StoxMarket victims in 2019. However, after the new findings regarding the scam operators Mordechay Litke and Chaim Elezar Bornstein (see the report about CONVERTA and GNI here), EFRI wants to intensify this campaign, says its founder, Principle Elfriede Sixt:
The prosecution of scammers and fund recovery are long shots. Unfortunately, it often takes many years to achieve justice. The key is persistence. We will apply that to StoxMarket as well.

Elfriede Sixt, EFRI principal
Share information
If you have any information about StoxMarket or its operators, we would be grateful if you could share it with us. If you have any records of deposits to StoxMarket, we would like to have them as well. We can follow the money trail via the payment processors involved.