The Italian entrepreneur Gennaro Lanza has long been known to FinTelegram as the mastermind behind boiler rooms and offshore brokerage schemes that offer financial services without regulatory permission in the EEA and other regulatory regimes. Lanza is also known for running fake websites and backdating FinTelegram articles without our consent. While he continues to operate his broker schemes, he makes fake DMCA claims on Google and sends his lawyers. We would like to learn more.
The Facts
It is a fact and confirmed by many available documents that Gennaro Lanza is behind many offshore broker schemes and boiler rooms. He has operated broker brands such as OnSpotBKN, DBFX, DBInvesting, NewFX, or DubaiFXM through offshore companies and firms in Malta and Cyprus. The domains and companies change and vanish frequently in the process.
Read our reports about Gennaro Lanza and his schemes here.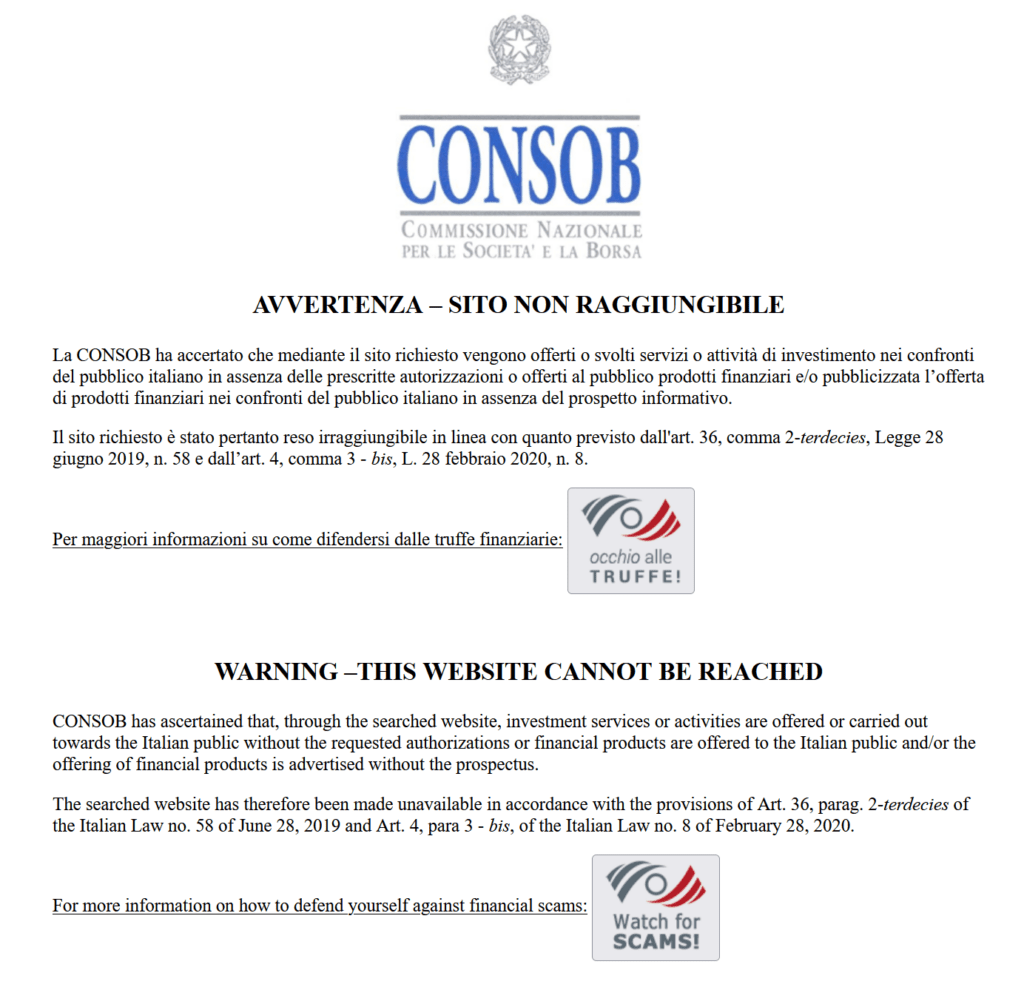 Lanza is (or was) also one of the beneficial owners behind boiler room Capital Solutions Ltd in Malta. The broker schemes were operated through this company. At the end of 2020, Italo Mainofli and Massimiliano Moroni resigned as directors of Capital Solutions and sold their shares to Invest Group Global Ltd, registered in Seychelles. This offshore entity is or was controlled by Gennaro Lanza.
It is equally a verifiable fact that numerous regulatory warnings have been issued against broker schemes operated or co-operated by Lanza. For instance, the Italian regulator Consob has blocked OnspotBNK's website for Italian visitors.
Defamatory Statements
Lanza's law firm ARTEMIS ANTONIOU in Cyprus claimed that FinTelegram would offer a "whitelisting service" and put brokers on this white list for a fee. Most recently, Lanza also anonymously made such claims on X (formerly Twitter) with a fake FinTelegram account using the FinTelegram logo without our permission, which is a DMCA violation. We have filed a corresponding complaint with X.
The fact is that FinTelegram does not offer whitelisting services or maintain a whitelist. In this respect, we cannot sell this service at all. In this respect, such statements are defamation and constitute a criminal offense per se. It is also a fact that corresponding facts back all FinTelegram reports and are well documented. We have received corresponding documents from many whistleblowers, including sworn statements used in court.
The website of Lanza's law firm (www.artemis.law) is no longer accessible.
Key Data Gennaro Lanza
Brands
NewFX,
Dubai FXM, DubaiFXM Trade (offline),
DBinvesting,
DBFX, DBFX Trades,
OnspotBNK (offline)
Boiler Room
Capital Solutions Ltd, Malta
Domains
www.capitalsolutions.mt (boiler room)
https://newfx.trading, https://newfx.co, www.newfx.us
www.dbinvesting.com
https://dbfx.trade (offline)
www.dubaifx.com (offline)
https://onspotbnk.com (offline)
https://onspotb.com (offline)
Connected individuals
Gennaro Lanza (LinkedIn),
Massimiliano Moroni,
Italo Mainolfi
Connected entities
Capital Solutions Ltd (Malta),
Big Horizons Ltd (Seychelles)
Big Horizons Ltd (Commonwealth of Dominica),
New Forex Limited (Commonwealth of Dominica)
Invest Group Global Ltd (Seychelles),
Dupay LP (previously Dubai FXM LP in the UK),
Dubai FXM Limited (Vanuatu),
DBInvesting Limited (Vanuatu),
DB Invest Limited (Seychelles)
DBFX Limited (Vanuatu)
Belight Capital Group Ltd (Cyprus)
Regulatory actions
warnings of CNMV and Consob,
Belight Capital Group (license revoked by CySEC)
Jurisdictions
Malta, Cyprus, United Kingdom,
Commonwealth of Dominica, Vanuatu, Seychelles,
Warnings
AMF and Consob (OnspotBNK)
CNVM against NewFX and OnspotBNK
MFSA against NewFX
Consob against NewFX
MFSA against NewFX

Share Information
If you have any information about Gennaro Lanza, his activities, or his schemes, please share it through our whistleblower system, Whistle42.