While the former Wirecard CEO Markus Braun is waiting for his trial in Germany, the insolvency administrator, Michael Jaffé, is trying to shed light on the scandal and claims damages against the former management and partners. In June 2022, he secured over €220 million from a subsidiary. Meanwhile, high-risk payment processor Payabl, founded and run by former Wirecard top executives, is thriving and promoting itself in an aggressive approach on social media. Here is another update!
Key Data
The Sponsoring Activities
Payabl is currently spending a lot of money to sponsor conferences and create buzz. Posts are often made several times a day on LinkedIn to report on Payabl and their conference activities. Just recently, Payabl posted on LinkedIn that their Head of Operations, Nikolett Ioannides, would join the Banks and Fintechs – The Partnerships of the Future panel at Cyprus's 12th NextGen Payments & RegTech Forum.
Most recently, Payabl also supported the Reflect Tech Festival in Limassol as a Gold Sponsor. Founded by former Wirecard executives Dietmar Knoechelmann and Ruediger Trautmann, the high-risk payment processor appears to have deep pockets.
The Wirecard High-Risk Legacy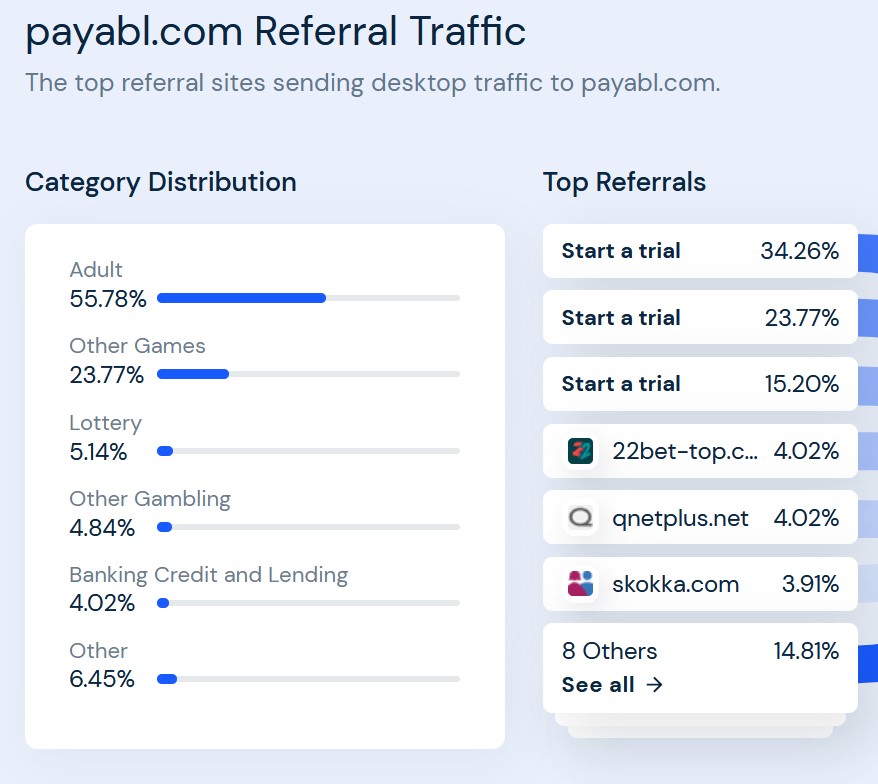 Based on the latest Similarweb statistics, it appears that Payabl will continue Wirecard's business model as a high-risk payment processor. More than 55% of referral traffic comes from porn sites and more than 32% from gambling. Wirecard was also known to do a significant amount of its transaction volume with these high-risk industries.
More than 35% of Payabl website visitors come from German-speaking countries.
Payabl founders Ruediger Trautmann, Dietmar Knoechelmann, and his wife Ayelet Fruchtlander-Knoechelmann certainly have enough money to make the company really big – and eventually, sell it. They have earned millions by selling their companies to Wirecard. According to a JCAP analysis, Knoechelmann sold his Gateway Payment Solutions Holdings Ltd and Gateway Financial Services Limited (GFSL) to the Wirecard group in 2007. An analysis estimates that he and his partners cashed in more than €40 million.
The Gateway Group was a payment processor for the online gambling industry. According to the JCAP analysis, the group was accused of processing illegal gaming transactions. Knoechelmann himself has deep roots in the online casino industry. He was one of the beneficial owners of BingoWorkz in Cyprus. These early Wirecard transactions under the tenure of Ruediger Trautmann and Dietmar Knoechelmann were done very secretively.
The New Payabl. Game
In 2022, the former Wirecard satellites PowerCash21 and Inatec were merged to form the "new" Payabl Group. The Lithuanian payment expert Ugne Buraciene was installed as the group's CEO.
The Payabl Group should be excellently equipped financially.
In May 2022, the group led a CHF3 million investment into the FINMA-regulated Klarpay, a Swiss company with offices and managers in Cyprus.
the Cypriot Payabl.cy Limited subscribed to a capital increase with a nominal value of GBP 350,000 at Payabl. (UK) Limited in May 2022.
Share Information
If you have any information about Payabl, its operators, and its activities, please let us know via our whistleblower system, Whistle42.