The Wirecard trial in Munich against Markus Braun, Oliver Bellenhaus, and Stephan von Erffa is closely followed on Twitter. The private investigator @csfa continuously publishes background information on the trial, which he also attends. Most recently, he shared that he emailed the prosecutors to point out the role of former Wirecard director Ruediger Trautmann and Payabl (formerly PowerCash21). He also exposed some interesting new companies connected to Trautmann and Payabl.
Among other things, @cfsa also uncovered that Payabl, back then still operating as PowerCash21, was a partner of Miura Systems Limited as of 2016. The CEO of the PowerPay21 group to which PowerCash21 belonged was Payabl co-founder Dietmar Knoechelmann, a former Wirecard top manager.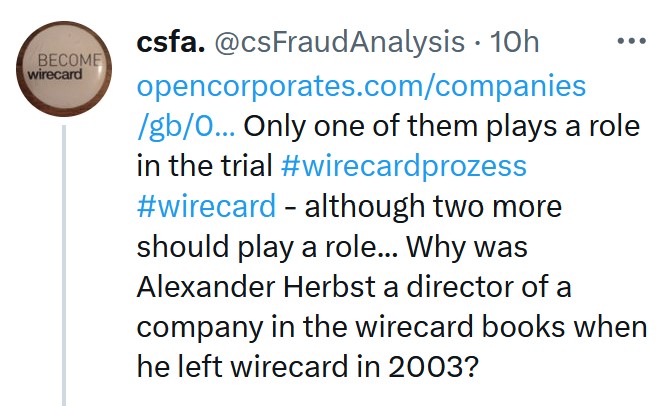 The private Wirecard investigator also believes that other former managers should play a role in the Munich trial in addition to the three currently charged. He refers, for example, to the former Wirecard company OVAL (2123) LIMITED, where one of the accused, Stephan von Erffa, was a director. In addition, however, Ruediger Trautmann and the former Wirecard CFO Alexander Herbst were also active directors of this Wirecard shadow organization company.
Share Information
If you have any information about Wirecard, Payable or other companies in the then Wirecard shadow organization, please let us know via our whistleblower system, Whistle42.