Spread financial intelligence
The Argus Trade24 (a/k/a Argus24 or Argus Trade) scam operates with the domain www.argustrade24.com and uses the SecureWallet24 (a/k/a R-Wallet) service (www.securewallet24.com) for deposits and trading. SecureWallet24 pretends to be a part of the Raiffeisen Bank International in Austria. Argus Trade Ltd allegedly operates the scam, but we also uncovered the British QRS Trade Ltd behind SecureWallet24. Argus Trade presents itself as a CySEC-regulated company, which is also likely to act as a broker in other EU countries via EU license passporting. BaFin issued a warning against Argus Trade24 and launched a probe into the scam.
The Fake Regulation
Argus Trade24 scam claims to hold a license from Cypriot CySEC and providing changing license numbers
CySEC Fake: on the website, it is claimed that Argus Trade Ltd would be regulated by CySEC as a Cyprus Investment Firm (CIF) with license number 334/17. This license number belongs to Acier FX Ltd (formerly ARGUSFX LTD) which is authorized to operate the domain www.argusfx.com.
BaFin Fake: According to BaFin, Argus Trade has stated on the website to be supervised by BaFin under the number 124140. However, the number is misused to pretend supervision or permission from the German regulator. In the BaFin database, the number "124140" is assigned to the Cypriot Argus Stockbrokers Ltd which is regulated by CySEC with the license number 010/03 and is allowed to operate in Germany via the EU license passporting.
As far as we know, neither Argus Stockbrokers Ltd nor Acier FX Ltd is associated with the ArgusTrade24 scam.
The Fake Payment Wallet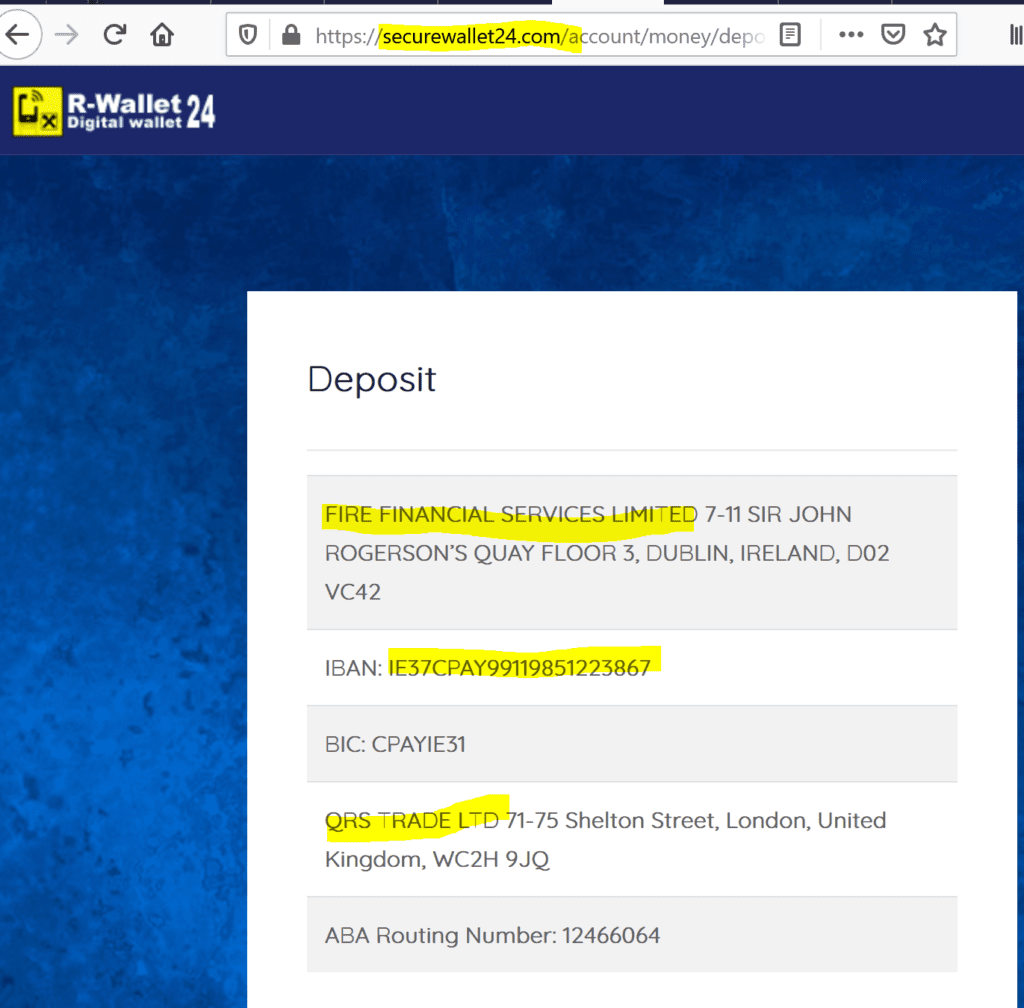 After registering on www.argustrade24.com, you will receive a confirmation email from SecureWallet24 asking you to confirm the email. After that, you will be redirected to a trading page with the subdomain https://portal.securewallet24.com/.
When you try to load the SecureWallet24, you are asked to deposit money into an account with QRS Trade Ltd, registered in the UK, with the Irish Fire Financial Services Limited (IBAN: IE37CPAY99119851223867). The reference number should be EUR407FFC2E52.
QRS Trade Ltd has been registered in February 2020 and is controlled by the Romanian citizen Violeta Prunchievici, born in December 1987. She is also the company's director.
The scam surrounding ArgusTrade24 and SecureWallet24 may actually be much larger than is currently apparent. We will be back with an update shortly.
Share information
If you have any information about ArgusTrade24, SecureWallet24, QRS Trade, Violeta Prunchievici, and/or other individuals and companies, we would be grateful if you could share it with us.