Spread financial intelligence
The 1k Daily Profit campaign (www.1k-daily-profits.com or www.1k-dailyprofit.com) is run through a vast network of affiliate sites and massively promoted on Google in social media. For example, the campaign is currently also running on the page Investment Generator (https://investment-generator.com/1k-daily-profit-crypto-robots). From there, one is redirected today to the broker Scam EU Finance (www.eufinance.eu), among others, after registration. As scam-facilitating payment processors, finanic, Venus Exchange, Bitexchain, and Jubiter are connected via the BoxiPay Cashier.
Estonian Finanic
Finanic (www.finanic.io) is operated by the licensed crypto payment processor Finanic OÜ (previously MaxViva OÜ) registered with company number 14716854 in Tallinn, Estonia, and licensed by the Financial Intelligence Unit (FIU) of the Republic of Estonia with License No. FVT000077. When potential victims want to deposit funds via Finanic, they are redirected to AdvCash (www.advcash.com) to deposit the necessary FIAT money to Finanic. These FIAT funds are then used to purchase Bitcoins (BTC) on Finanic. They are then are forwarded to the EU Finance scammers.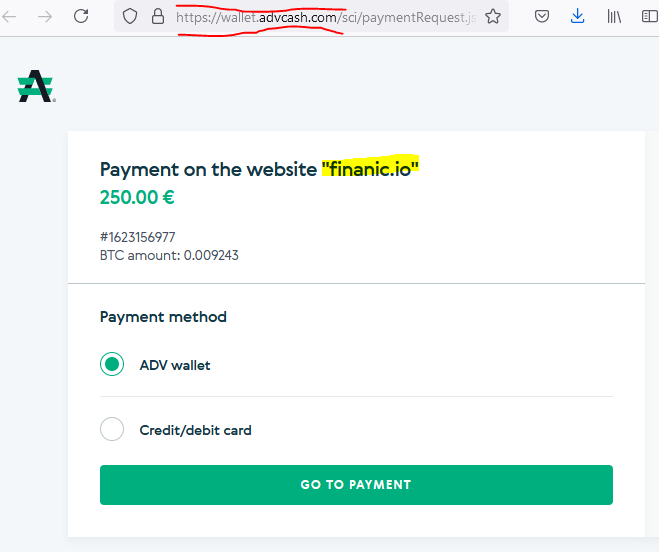 The operators of the EU Finance scam evidently have partner agreements with the other crypto payment processors Venus Exchange, Bitexchain, and Jubiter. However, we did not discover any deep integration, i.e., no predefined wallet addresses were displayed, for example. However, via the API, the information about the deposit amount is very well transmitted to Jubiter and auto-filled into the online deposit form.
Stay far away from those fraudulent marketing campaigns like 1k Daily Profit and the scams mediated by them. You will save yourself money and frustration. In case you have information about scams and/or fraudulent marketing campaigns, we would appreciate if you share it with FinTelegram.