CoinPayments is a pioneering crypto payments processor founded in 2013 by Alex Alexandrov and Jason Butcher in Caymen Islands. The operators used to be CoinPayments Inc. in Caymen Islands and the Estonian HODLtech OÜ. CoinPayments informed that effective 15 June 2022 it is providing its crypto payment services jointly with Venture Star UAB in Lithuania, replacing Estonian HODLtech OÜ of its former CEO Jason Butcher. HODLtech OÜ lost its license a few days ago! Venture Star would be authorized to provide virtual currency deposit wallet and exchange services.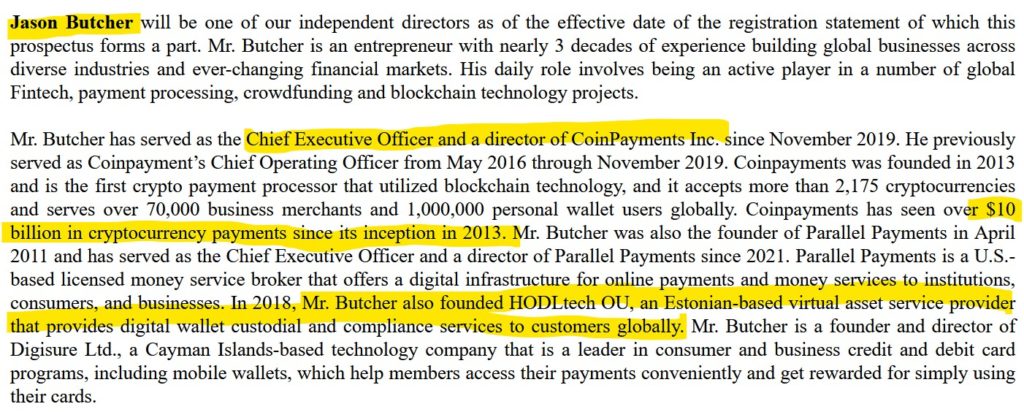 According to a July 2021 SEC filing of the Caymen Islands-registered blank check company Oxbridge Acquisition Corp, CoinPayments has processed more than $10 billion since its inception from 70,000 merchants and more than one million wallets (screenshot left). On its LinkedIn profile, the company claims to serve 115,000 merchants.
Between November 2019 and March 2022, Jason Butcher served as the CoinPayments CEO. Butcher is also the founder and CEO of Parallel Payments (www.parallelpayments.com) in April 2011. This licensed US money service broker and merchant service provider offers a digital infrastructure for online payments and money services to institutions, consumers, and businesses. In 2018, Jason Butcher also founded HODLtech OÜ, an Estonian-based crypto payment processor that lost its crypto license in June 2022!
CoinPayments co-founder Alex Alexandrov has been dubbed the crypto czar and CoinPayments has been billed as "the largest altcoin payment processor and wallet solution in the world."