Update: MEXC Estonia has appealed against the revocation of the license before an Estonian court. Until the court's decision, the crypto license is considered valid, the regulatory authority FIU has announced. We have provided an update on MEXC with background information here.
After the collapse of FTX in November 2022, regulators worldwide cracked down on crypto companies. Scrutiny increased in intensity and led to complaints and warnings from regulators. This also affected the crypto exchange MEXC, which received warnings from regulators worldwide. As exclusively reported by FinTelegram, the Estonian FIU has now revoked the crypto license of MEXC Estonia OÜ. Does this mean the end for MEXC? It is a likely scenario!
The Regulatory Scrutiny
On the MEXC website, you will search in vain for information on regulation. You will not find MEXC Estonia OÜ there either. You will only find it if you have registered as a customer on MEXC and want to buy cryptos with FIAT, either by bank transfer or credit/debit card. You will then be informed that the Estonian MEXC Estonia is acting as the payment agent.
The MEXC scheme has receives several regulatory warning over the last couple of months:
You don't need to be a rocket scientist to realize that it will be almost impossible for unregulated crypto providers to continue their business in the future. Furthermore, it is very difficult to imagine that MEXC will receive regulatory approval in light of the warnings and license revocation in Estonia.
The Downgrading to Red Compliance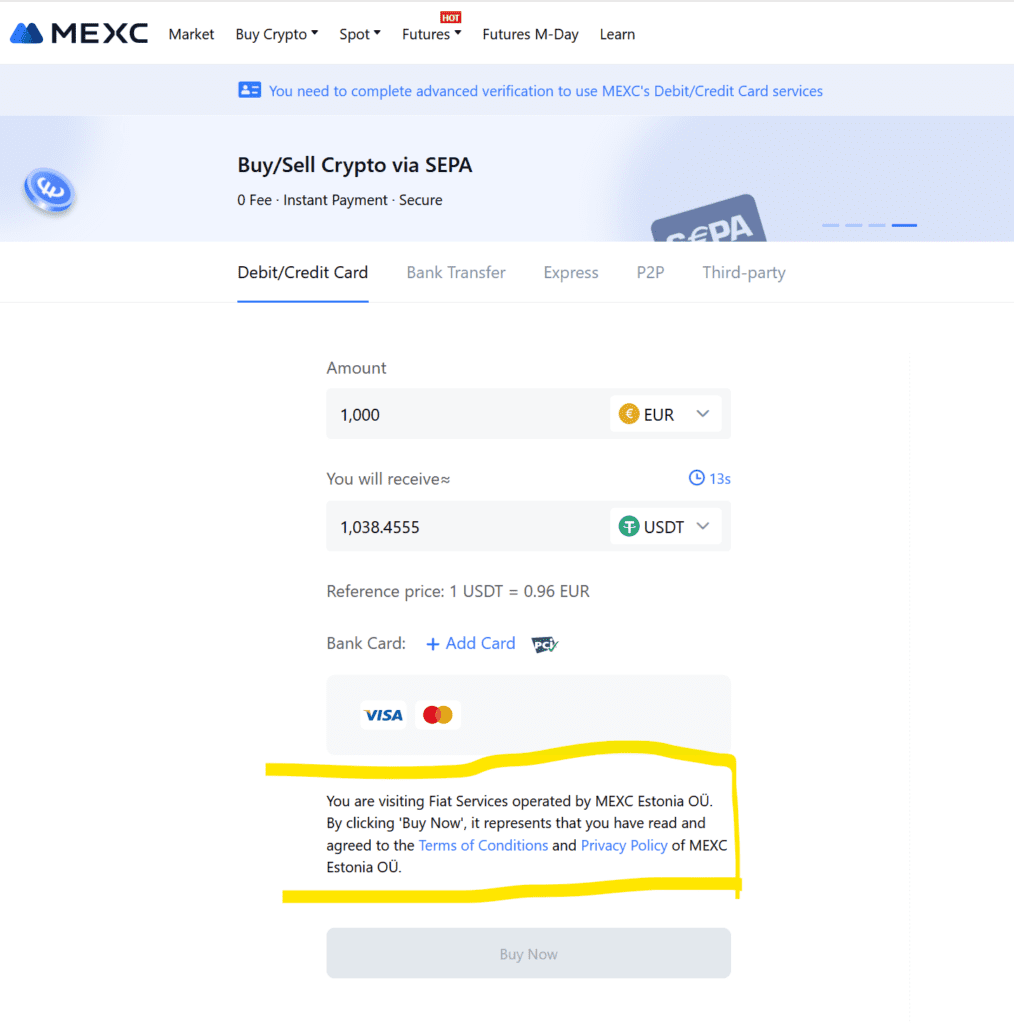 In November, we downgraded MEXC to the Red Compliance list due to the warnings but also because of the findings in our own investigations. We have found out that the FIU-licensed crypto service provider MEXC Estonia OÜ was acting as a payment agent for MEXC.
Read our MEXC downgrading report here.
MEXC Estonia processed both bank deposits via SEPA and credit/debit card payments for the crypto exchange and also worked with partners such as Mercuryo, Banxa, MoonPay, and Simplex.
Consequently, we were contacted by the Austrian lawyers of MEXC Estonia, the law firm Brandl Talos. They complained about our report and our warning. Initially, they argued that the Estonian MEXC Estonia would not affiliated with the crypto exchange but rather be an independent scheme. It was not hard to provide evidence that MEXC Estonia was indeed pivotal for the MEXC scheme. However, the lawyers then took a different tack, claiming that MEXC Estonia was properly licensed as a crypto service provider in Estonia. Therefore, we should remove this Estonian entity from our reports and warnings.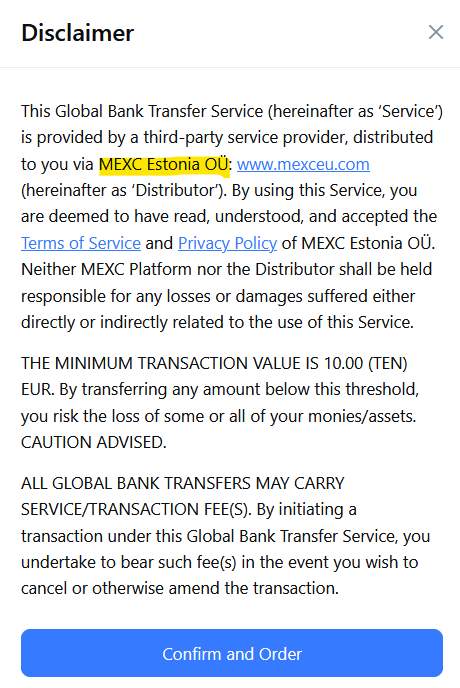 Like in your previous article, you keep mixing up MEXC ESTONIA OÜ with MX Global Ltd (MEXC) by stating that MEXC Estonia qualifies "as part of the MEXC scheme". MEXC Estonia holds a license in a member state of the European Union. Thus, there can be no question of an "unclear regulatory situation" regarding MEXC Estonia OÜ. Our client is not involved in any unlawful or unregulated activities and has never been subject to a warning of any regulator globally even if you, once again, imply the opposite.

Statement of the Austrian lawyers of MEXC Estonia (Nov 15, 2023)
Less than 48 hours after the last email from the lawyers (with a threat of possible legal action, of course), the Estonian FIU revoked MEXC Estonia's license.
What Happens Now To MEXC?
That is the crucial question. Especially for the crypto exchange's allegedly more than 10 million customers. The regulatory warnings and the withdrawal of the license of its distributor and payment agent in Estonia put MEXC under massive pressure, sending a clear message to the public that the exchange has been operating without regulatory permission.
With the Estonian license revoked, the possible consequences are:
Payment facilitators such as Mercuryo, MoonPay, Banxa, or Simplex would have to discontinue their services for MEXC a/k/a MEXC Estonia. The same applies to the banks involved.
MEXC would have to withdraw immediately from those jurisdictions where the provision of these financial services requires a regulatory license. This is the case everywhere, at least in North America and Europe.
Other authorized crypto exchanges would have to discontinue their partnership with MEXC in order to avoid the risk of losing their own license.
Customers should withdraw their funds and move their trading to regulated/registered crypto exchanges. We recommend all MEXC clients to withdraw their funds. The risk of MEXC collapsing is simply too great. Maybe MEXC will find a way to solve these problems, but we think the chances are slim.
MEXC Key data
Trading names
MEXC, MEXC Global
MEXC Ventures
Business activity
Crypto exchange
Domain
www.mexc.com
www.mexceu.com
https://m-ventures.io
Social media
LinkedIn, X, Instagram, Youtube
Legal entity
MXC Technology Pte. Ltd.
MEXC Estonia OÜ
MEXC Lithuania, UAB
MX Global Ltd
Contact data

[email protected]


[email protected]
Jurisdiction
Seychelles
Singapore
England (User Agreement)
Related individuals
John Chen (LinkedIn)
Yichen Peng
Ljudmila Budnikova
Authorization
Estonian FIU crypto license
Payment options
Crypto, Credit/debit card
Payment processors
MoonPay, Mercuryo, Banxa,
Simplex,
Trustpilot
2.2-star rating with a "Poor" trust level
Compliance rating
Red
Warnings
BaFin, FMA, BCSC
Share Information
If you have any information about the MEXC scheme, its operators, and facilitators, please let us know via our whistleblowing system, Whistle42.