Spread financial intelligence
This morning we find an email from Katiusha Zhukova informing us about the possibilities of making money through Facebook. The email was forwarded to us via Google Slides, where Katiusha commented on a presentation. In the comment, a link to https://bhgok.exevsote.top/afafauo-ucgy-paynei is provided. When clicking, we are redirected to a fake article about a Crypto Engine from Facebook presented on https://wphff.naxnah.xyz. Using this Crypto Engine, we are supposed to earn up to $2,900 per day. Via the Crypto Engine website (https://en.cryptoengine.we-trck.com), potential victims finally land at the broker scams Victoria Coins (www.victoria-coins.com) or El Comercio24 (www.elcomercio24.com).
El Comercio24 is allegedly run by 8 Dots Ltd, registered in St. Vincent & the Grenadines). We found Payneteasy, Finanic OÜ d/b/a Finanic (www.finanic.io), and Paycly (www.oppey.net) as payment providers. The Payneteasy cashier offers different payment options like RogerPay, GameChangers, Pay by 2fav, or even Bitcoin via RocketBit, QBO, and BH Exchange. AdvCash is also integrated into the Paycly cashier (see screenshot on the right).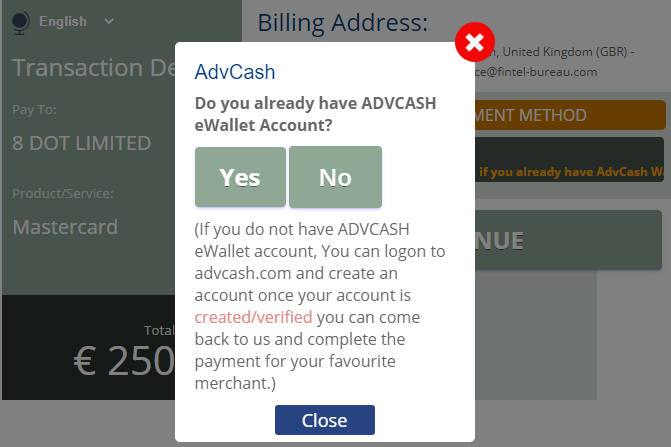 On the website of Victoria Coins, no legal entity is specified as the operator. S. Vincent & the Grenadines is stated as the responsible jurisdiction. Currently, deposits are only possible by contacting support. We have done so but have not received any response. Maybe they don't like us too much?
Stay far away from fraudulent marketing campaigns like Crypto Engine and the scams they promote. You will save yourself losses and frustration.