This is our 3rd warning against the allegedly Russian broker Quotex facilitated by the U.S. crypto exchange Coinbase and the unregulated Russian payment processors Piastrix and Perfect Money. Currently, the broker scam operates with the new offshore entity Maxbit LLC, St. Vincent & The Grenadines, and the new domain (https://quotex.market). However, according to our information, the scam is actually operated via boiler rooms in Russia and Ukraine. Do yourself a favor and stay away from Quotex.
Key data
Scam narrative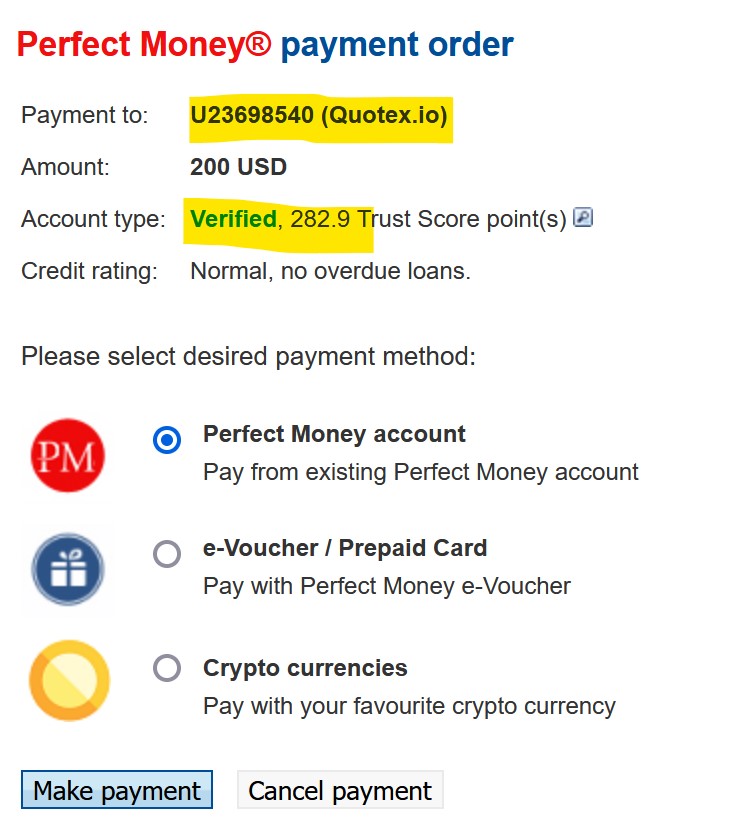 One of the Quotex payment processors is the U.S. crypto exchange Coinbase. It enables the Quotex victims to make their deposits with cryptocurrencies through Coinbase's merchant platform (https://commerce.coinbase.com). It's pretty remarkable that the public-listed U.S. crypto giant Coinbase acts as a payment processor for an illegally operating Russian broker. Especially with the current sanctions. Besides Coinbase, CoinPayments and ChangeCoins are the scam-facilitators for crypto deposits.
The Russian payment processors Piastrix and Perfect Money are the scam's FIAT payment options. According to Perfect Money, Quotex is a long-term client with a Trust Score of 282.9.
The Quotex platform is well crafted and not one of the many cheap white-label scams. The payment processors are perfectly integrated, and Quotex also maintains highly active channels in different social media outlets like Twitter, Facebook, or Instagram. On Instagram, more than 31,100 people follow the broker; the numbers have exploded since our last review a few weeks ago. On Trustpilot, the broker has a 4.6-star rating with a corresponding "Excellent" trust level from around 870 reviews. However, most of the 4- and 5-star ratings are produced by first-time reviewers, which smells like a fake.
Do not automatically believe Trustpilot reviews. More often than not, scammers use Trustpilot as a tool to fool potential victims into their fraud schemes. Stay far away from unregulated brokers such as Quotex a/k/a Quotex Market and save yourself money and frustration.
Share information
If you have any information about Quotex, please share it with us through our whistleblower system, Whistle42.