Spread financial intelligence
Disclaimer: Our review focuses on the background, business model, and structure of Topstep. We want to know if the offer is legitimate and the business model is attractive for potential traders. Regarding the details of trading, we link to other reviews.
Founded in 2012, Chicago-based TopstepTrader LLC did business as TopstepTrader (www.topsteptrader.com) until recently. Sometime in the last few months, it was renamed Topstep (www.topstep.com) a/k/a TopstepFX (www.topstepfx.com). All domains are currently redirected to the main domain www.topstep.com. This is now allegedly operated by Topstep LLC in Chicago. We have not found this company. Michael Patak is named as the economic owner and main principal. There are currently 191 people connected to the traded funding provider on LinkedIn.
The business model of TopTrader (www.toptrader.com) is to offer traders funding for trading. Funded traders are allowed to keep up to 80% of their profits. The losses, on the other hand, are borne by Topstep. That sounds like a cool offer, doesn't it? Well, the offer has some severe drawbacks.
Before receiving funding from Topstep, a trader must master a paid test program called Trading Combine, in which only simulated trading takes place. First, the new trader must purchase one of three packages with funding of $200k, $300k, or $500 and pay $125, $165, and $275 monthly subscription fees, respectively. Each package comes with specific profit and loss targets (see screenshot left). If you do not reach the targets set in the simulated trades of the test period, you will not get any funding. In addition to the profit and loss requirements, there is also a set of rules that must be adhered to. Violating the rules leads to the termination of your account. However, you can restart the program (with a resetting fee of up to $138).
You can find a detailed review about trading on Topstep here and client reviews on Trustpilot.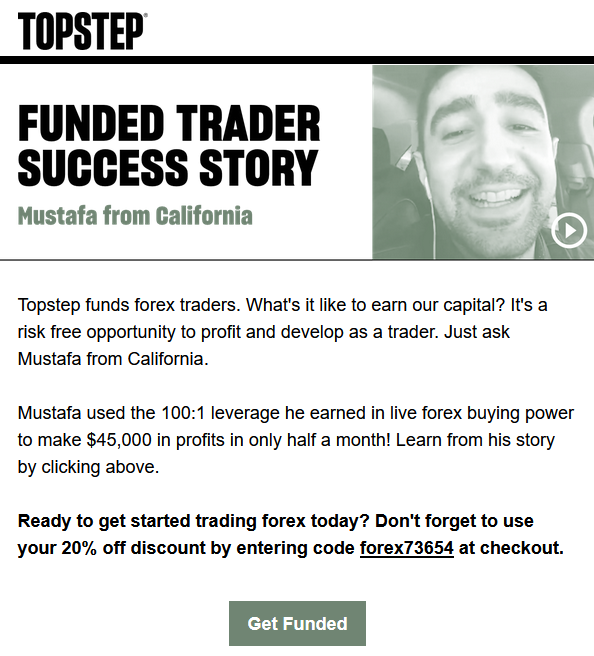 If you master the test program, you will receive the funding, i.e., real trading begins. However, you still have to pay the monthly subscription fees and the trading commission. Also, during the real funding, the requirements concerning profit and loss are valid. If you do not reach them, the account will be closed. Then you have to go through the Trading Combine test program again (with a resetting fee).
Topstep aggressively markets trader success stories (real or apparent) via emails, published success stories, and videos (see the Mustafa Story here).
Regulation, people, and network
Topstep is not a licensed broker in any regulatory regime but offers its services across the globe in a multi-jurisdictional approach. Besides the main principal, CEO, and Chief Visionary Officer, Michael Patak (LinkedIn), the key people are Melissa Footlick as Chief Operating Officer (LinkedIn), Emily Erdman as Director of Marketing (LinkedIn), Melissa Elaguizy Molinsky as Director of Finance (LinkedIn), or Preya Patel as Director for Product (LinkedIn).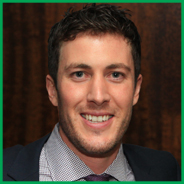 In addition to Topstep, Michael Patak also operates Patak Trading Partners LLC and BLUECHXP LLC, Delaware company d/b/a BLUECHXP (www.bluechxp.com). The latter has a similar business model to Topstep. None of the companies seems to have any license and in any jurisdiction. All companies are located at the same address at 130 South Jefferson St, Suite 200 in Chicago.
Michael Patak is a financial market professional, former floor trader and member of the Chicago Mercantile Exchange, the MarketsWiki tells us.
Preliminary conclusion
Topstep is an unregulated business operating across the globe. Its business model is based on the income from monthly subscriptions and resetting fees. Trading is only a means to an end. Therefore, Topstep's funded trading model is suitable only for experienced traders who can manage profits, losses, and risks. Inexperienced traders, on the other hand, will be overwhelmed and ripped off by the high costs. We suggest giving a second thought before joining the fee-based training or test program.