RoboMarkets Ltd is a CySEC-regulated broker d/b/a RoboMarkets. RoboForex is the scheme's offshore broker operated by RoboForex Ltd, Belize, regulated by FSC Belize. RoboForex offers its financial services in EEA jurisdictions without regulatory permission. In addition, we found that the broker's website receives a lot of traffic from Russia. We have added RoboForex to our Red Compliance list. Read our latest review.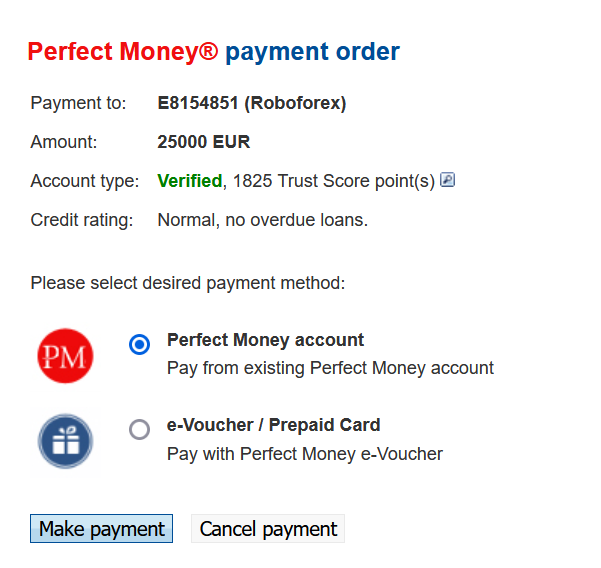 Updated RoboForex Review
In our review on 18 Sept 2023, we could register as an EEA resident with the offshore broker RoboForex without any problems. On the contrary, the registration procedure is even adjusted for EEA residents. Upon registration, an account was immediately created with 1 leverage of 1:000.
Up registration, without KYC checks, we could have deposited immediately via various payment options. Through Perfect Money, we could have deposited up to €25,000. Using a credit card, we could have deposited up to $10,000 pre-KYC via Walletto, CardPay, or Payabl. RoboForex calls this pre-KYC approach "Quick deposit."
For deposits via bank transfer, KYC verification was required.
Key Data
Trading names
RoboMarkets
Related schemes
RoboForex
CopyFX (redirects to RoboForex)
Business activity
forex broker
Domains
https://roboforex.com
https://roboforex.org
https://roboforex.ua
www.robomarkets.com
Social media
LinkedIn
Legal entities
RoboMarkets Ltd, Cyprus
RoboForex Ltd, Belize
Guru Gateway Ltd (prev GuruHosting Ltd), Cyprus
RoboGate Limited, Gibraltar
PROCESSONIX LIMITED, Australia
Jurisdictions
Belize, Cyprus, Gibraltar, Australia
Authorizations
FSC Belize (RoboForex)
CySEC license no 191/13 (RoboMarkets)
Leverage
up to 1:1000
Support data
+65 3158 8389 (RoboForex in Singapore)
+35725123275 (RoboMarkets in Cyprus
Payment processor
Payabl, ShubaPay,
Revolut, N26,
Perfect Money, AdvCash,
Sofort, EPS, Unlimit, Walletto
Related schemes
RoboMarkets Group
RM Investment Bank Ltd, Malaysia
RFund, Cyprus
ContestFX
Related individuals
Nikolay Gerashchenko (LinkedIn)
Andrei Dziarnovich (LinkedIn)
Svetlana Saratova
Vitaly Avtaykin
Compliance rating
Red
Short Narrative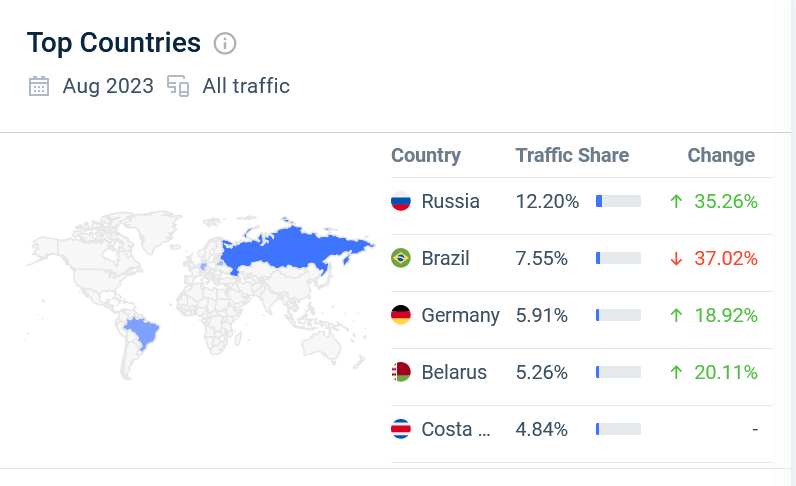 As of August 2023, more than 1.8 million people have visited the website of RoboForex offshore broker. Most of them came from sanctioned Russia (12.2% but also from Germany (5.9%) and other EEA countries. For the summer month of August, more than 1.8 million visitors is an impressive number. In our last review, we even noticed 2.3 million visitors for December 2022. (Source: Similarweb).
In comparison, the CySEC-regulated RoboMarkets is a dwarf. Only a bit more than 151,000 people visited the regulated broker's website in August 2023. But also at the CySEC-regulated broker RoboMarkets, most visitors came from Russia. As usual, these global broker schemes do the main business offshore. The CySEC-regulated brokers are merely the fig leaf and cost factor.
Payment Agents
RoboForex works with payment agents in Cyprus, Gibraltar, and Australia. In Cyprus, these are the CySEC-regulated RoboMarkets Ltd and Guru Gateway Ltd (formerly GuruHosting Ltd) of Evgenii Vtiurin. For credit card payments via Payabl, the CySEC-regulated RoboMarkets Ltd acts as a payment agent.
RoboForex Compliance Check
The leverage of up to 1:1000 violates the regulatory requirements in the EEA, as does the option of pre-KYC deposits of more than €2.500. Moreover, RoboForex is not authorized to offer its financial services in EEA jurisdictions.
Given the non-existence of regulatory permission to offer financial products in EEA or other regulatory regimes (with the exception of Belize) and the aforementioned regulatory violations, we place RoboForex on our Red Compliance List. CySEC has just recently warned CySEC-regulated RoboMarkets. The broker was prohibited from offering non-financial incentives to retail clients. This would violate the regulatory requirements of CySEC and ESMA.
Share Information
If you have any information about RoboForex, its operators, and its facilitators, please share it through our whistleblower system, Whistle42.