We brought an initial review of the XBPrime broker operated by the offshore entity MarketFinancials Ltd, a securities dealer registered by the FSA Seychelles. The payment agent is Cyprus-registered M&N Equity Research Ltd. The offshore entity is said to be owned by Cyprus-registered Proverial Ltd, where Israeli Asher Afriat is registered as a director. He is also a director of the CySEC-regulated FTX (EU) Ltd (formerly K-DNA Financial Services Ltd), which operated as FTX EU. CySEC recently suspended the license of FTX Europe (report here).
Key data
Non-Compliant Activities
On 14 November 2022, Andreas Ioannis, Head of Legal and Compliance at XBPrime, contacted FinTelegram and complained about our latest reviews. He argued that XBPrime would not accept clients from EEA regions. However, in our latest review on 15 November 2022, our staff was able to register as residents of different EEA member states. No restrictions here.
We would have been able to make unlimited pre-KYC deposits via crypto or crypto payment processor bitwallet, in theory. We would also have been able to deposit higher amounts via AstroPay without having to confirm our identity or our place of residence. No restrictions here, either.
The Similarweb analysis shows that more than 90% of XBPrime's website visitors come from Brazil, while some 5% visit the website from Ireland.
This approach is certainly not compliant with the regulatory frameworks in EEA or any other Western regulatory regime. They operate illegally without regulatory permission in these regulatory regimes.
Clients of these offshore brokers are not eligible for Investor Compensation Schemes in the UK, EU, or Australia. Furthermore, there is no supervision or monitoring of whether client funds are held in segregated accounts. Offshore regulators do not even check whether investments or trading occur through authorized exchanges or liquidity providers. And finally, clients are not entitled to the assistance of Financial Ombudsman Services.
MarketsFinancial And FTX Europe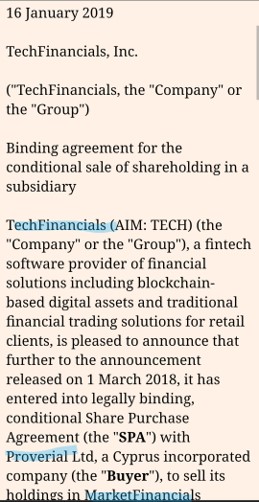 Until 2020, MarketFinancials was part of TechFinancials, a fintech software provider. In Jan 2019, the then-AIM-listed TechFinancial announced that it signed an agreement with Cyprus-based M&N Equity Research Ltd to sell its shares in MarketFinancials. Other public sources (screenshot left found by Twitter user @FanFabric) said that MarketFinancial was acquired by Proverial Ltd, a Cyprus company.
The director of Provial is the Israeli Asher Afriat, who is also a director of FTX (EU) Ltd (previously K-DNA Financial Services Ltd). FTX acquired the CySEC-regulated investment firm in March 2022.
According to The Times of Israel, K-DNA Financial Services Ltd has received funds from the operators of Israeli binary options scams. The company also has economic ties to the worldwide scam network, the so-called Lau Scheme. The company's previous beneficial owners were Asher Afriat and Israeli businessman Daniel Azougy, The Times of Israel remarks. It is unknown how much FTX paid to buy the company in March 2022.
Share information
If you have any information about XBPrime, MarketsFinancial, FTX (EU), or M&N Equity Research group, please share it with us through our whistleblower system, Whistle42.