The Vantage Group is a global, multi-asset broker headquartered in Sydney, Australia, d/b/a Vantage and, until Q2 2022, also as VT Markets. The group runs several offshore entities to circumvent regulations in EEA and other regulatory regimes. Until a few months ago, Moneta Markets was also part of the Vantage Group but left it. Here is another update. Until Q2 2022, VT Markets was officially a Vantage Group brand. Now VT Markets operates without direct reference to Vantage. Here is an update.
Vantage Group Key data
Brands
Vantage FX, VantageFX, Vantage
Vantage Markets, VT Markets
Moneta Markets
Domain
www.monetamarkets.com (no longer)
www.vtmarkets.com
www.vtmarkets.com.au
www.vantagefx.co.uk
www.vantagefx.com.au
www.vantagefx.com, www.vantagemarkets.com
Legal entities
Vantage Global Prime LLP, UK, regulated by FCA
Vantage Global Prime Pty Ltd, Australia, regulated by ASIC
Vantage Global Limited, Vanuatu, regulated by VFSC
Vantage International Group Ltd, Caymen Islands, regulated by CIMA
VT Markets Pty Ltd, acting IB to Vantage Global Prime Pty Ltd
VT Markets LLC, St. Vincent & The Grenadines
Vigglobal Holding Cy Ltd, Cyprus
TTMM Ltd, UK
Jurisdictions
UK, Australia, Vanuatu, Caymen Islands,
St. Vincent & The Grenadines
Authorizations
ASIC for Vantage Global Prime Pty (Australia)
ASIC for VT Global Pty Ltd (Australia)
FSCA for VT Global South Africa (Pty) Ltd (South Africa)
VFSC for Vantage Global Limited (Vanuatu)
CIMA for Vantage International Group Limited (Mauritius)
Platform
PandaTS (until recently)
Leverate
up to 1:1000 (Vantage)
up to 1:333 (VT Markets)
Payment processors
Praxis, ZotaPay (cc), Finrax (crypto),
BridgerPay, PerfectMoney
Related individuals
David Shayer, CEO of Vantage UK
Xueniu Zhang, Controlling Person UK
David Bily, Moneta Markets
Warnings
CNMV
Updated narrative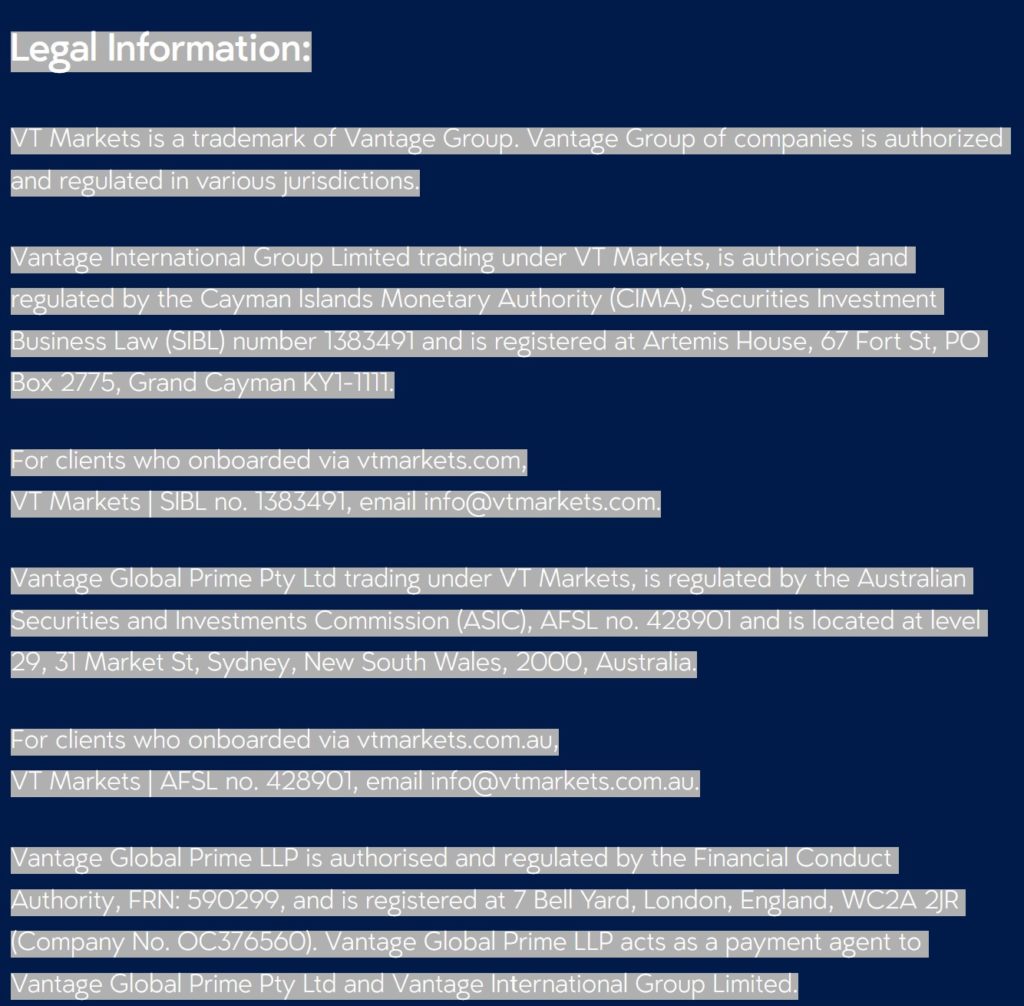 Vantage Group operates with regulated entities in the UK and Australia, as well as various offshore regulated entities through which it also acquires consumers in EEA jurisdictions. Until at least Q2 2022, the VT Markets website listed Vantage as the brand owner and operator. As of Q3 2022, VT Markets is operated without references to Vantage. We are unable to determine at this time if there are still links and if so, what they are.
Until a few months ago, David Billy's offshore broker Moneta Markets was also part of the Vantage Group but has left and is operating as active as an agent of ASIC-regulated AGC Capital Securities Pty Ltd.
Read our Moneta Markets review here!
The partners of the FCA-registered Vantage Global Prime LLP are David Shayer and TTMM Ltd, which controls the company. The Chinese Xueniu Zhang, born in January 1955, is the registered director and controlling person of TTMM Ltd. David Shayer is also the FCA-approved compliance officer.
The EEA Clients!
Vantage offers up to 1:500 leverage in EEA and up to 1:1000 leverage in some regulatory regimes such as Kazakhstan. VT Markets offers a leverage of up to 1:333.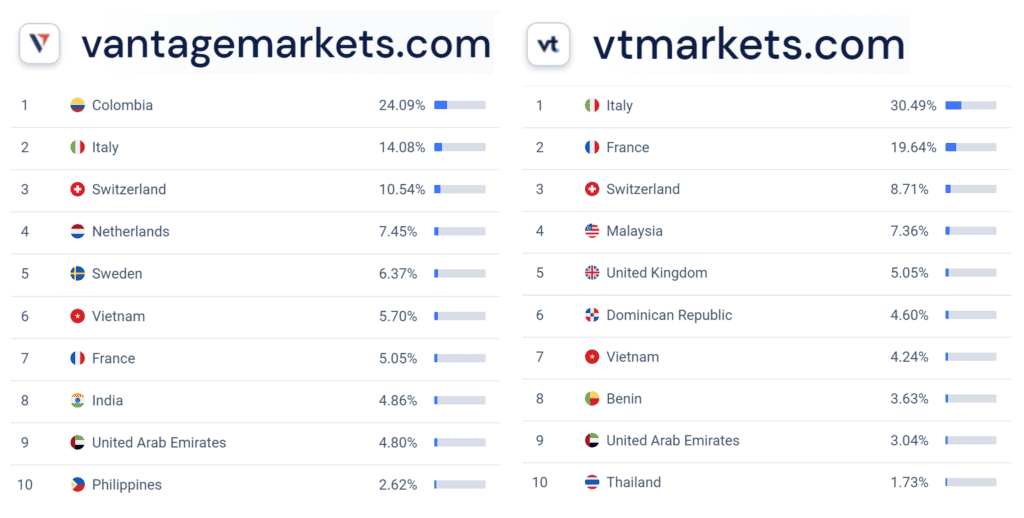 Of the more than 9.6 million website visitors to Vantage, almost half are from EEA countries. The much smaller VT Markets has had just under 190,000 visitors to its website in the last 28 days, of which well over 60% are from EEA countries. Both brands are not permitted to offer their financial services in the EEA. Moreover, the offer violates the regulatory provisions in the regulatory regimes of the EEA region.
The scheme has been subject to warnings from European regulators. The Spanish CNMV warned against VT Markets in Aug 2021. They solicit consumers in the EU without authorization and proper onboarding. The Vantage Group offshore broker attracts clients in the EU and UK and offers leverage of up to 1:500.
Payment Processors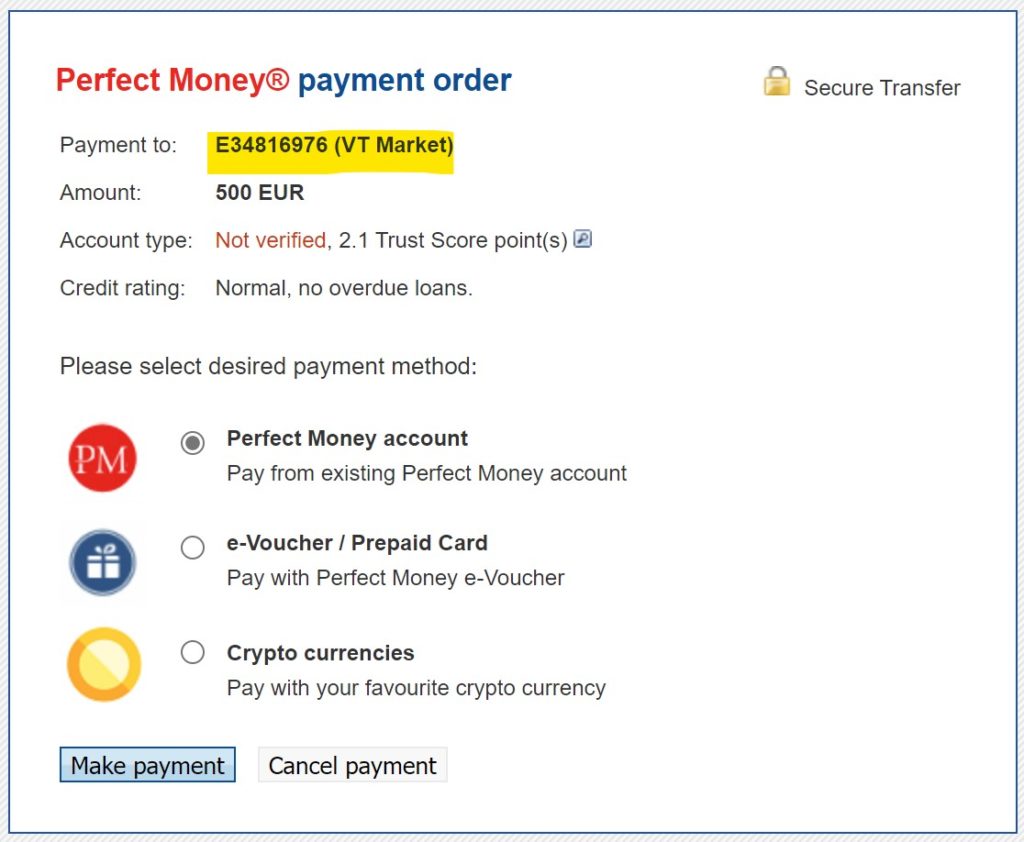 In December 2021, Vigglobal Holding Cy Ltd was established in Cyprus as a payment agent for the Vantage offshore brokers. Until at least Q2 2022, Vigglobal Holding Cy was also the payment agent for VT Markets.
It is interesting to note that VT Markets now offers Russian Perfect Money as a payment option, mainly used by the dark side of the web. Many scam brokers use Perfect Money as their payment facilitator.
Conclusion
The EEA markets are obviously an important target market for Vantage and VT Markets as the Similarweb analysis suggests. However, the brokers have no authorization for EEA. In addition, the high leverage, for example, violates the regulatory requirements in the EEA regimes.
We recommend all consumers not work with VT Markets, Vantage, or any other offshore broker. While they may not necessarily be scams, they operate without authorization from the relevant regulators. The deposited money is not insured, and you are not eligible for investor compensation schemes. Likewise, there is no way to call a Financial Ombudsman in case of problems. Stay away, and do not increase your risk again.
Share information
If you have any information about Vantage, VT Markets, or the Vantage Group, please share it with us through our whistleblower system, Whistle42.