The Spanish regulator CNMV has issued an investor warning against the FMarketX (www.fmarketx.com) broker scam. The scam is apparently operated by Penelope Partnership Ltd, registered in St. Vincent and the Grenadines, which was already active with the TopIndex (www.topindex.co) scam. As a payment processor, we have discovered the PayBox cashier (https://cashier.boxipay.io) as well as PayTechno d/b/a THE BEST GATEWAY. At PayTechno, Penelope Partnership Ltd is still registered as a merchant with the old TopIndex scam.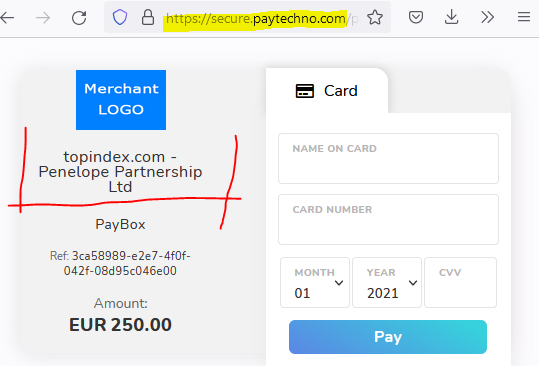 It is known that scammers change their brands, domains, and legal entities more often than their underwear. The boiler rooms and payment processors behind them often remain the same. In this case, the Estonian crypto payment processor PayTechno has already facilitated the TopIndex scam and now the very FMarketX. Warnings have been issued against both brands by the Spanish CNMV. This does not seem to bother the licensed PayTechno. Not a bit.
Besides THE BEST GATEWAY (www.thebestgateway.com), the payment processor PayTechno OÜ also operates CryptoPayTech (www.cryptopaytech.com).