In early December 2022, we published a whistleblower request regarding ES SOLO HOLDINGS LTD, controlled by Georgian Saba Pogosov. On LinkedIn, the Charge.Money payment gateway operator Ben Evans warned his network that high-risk payment processor Prism Pay, connected to ES SOLO HOLDINGS, would have stolen millions from merchants. Prism Pay seems to be part of a scheme run by Gilbert "Gil" Armenta, who has been charged in the U.S. for money laundering in the OneCoin scheme.
Key Data
The OneCoin Connection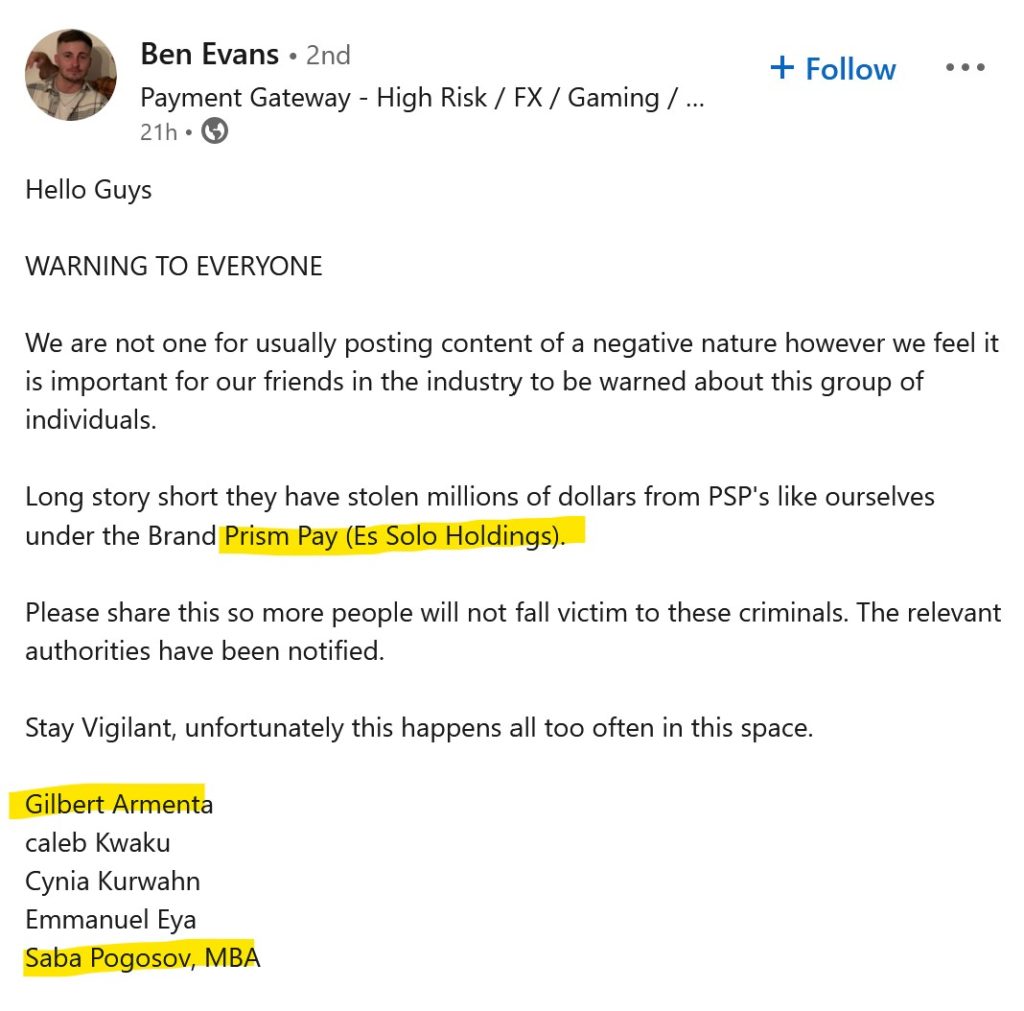 Gilbert Armenta is mentioned in Ben Evans' warning. The U.S. citizen is said to be involved in this Es Solo, a/k/a Essolo Scheme. In his LinkedIn profile, Armenta states that he is the CEO and founder of Fates Group, LLC, in Fort Lauderdale, Florida. Armenta is alleged to have laundered money for the OneCoin scheme, according to the U.S. DOJ indictment, and is charged with that. He has also been romantically linked to OneCoin's founder, Ruja Ignatova. An exciting connection.
The connections between U.S. citizen Gil Armenta and Georgian Saba Pogosov make sense when one recalls that Armenta allegedly bought and ran JSC Capital Bank in Georgia.
We will bring a detailed report on this OneCoin connection shortly.
More Schemes
We further found that Prism Pay lists Georgia and California, United States, as the addresses for its offices. The high-risk processors MerchantFirst and Instand Accept are also located at the same addresses. We may therefore assume that these two brands also belong to the scheme.
According to the presentation on the Es Solo website, the payment provider has spread its network worldwide. From Asia to Africa and Europe to South and North America. Apparently, El Solo, controlled by Saba Pogosov, is part of a larger network that also includes Gilbert Armenta's companies and schemes. There are already complaints from affiliates and merchants who do not receive their money from this scheme. Therefore, you should be very careful.
Share Information
If you have any information about Es Solo, Saba Pogosov, Gilbert Armenta, and their activities, please let us know through our whistleblower system, Whistle42.