On 25 July 2020, the Austrian Financial Market Authority FMA issued an investor warning against Joshua Development Ltd and its new broker scam 10CryptoMarket (www.10cryptomarket.com). In the past years, the Joshua Group has operated a number of scams via various dummy companies such as Joshua Consulting Ltd, Joshua Partners EOOD, or Joshua Development Ltd. Financial market supervisory authorities have issued corresponding investor warnings:
In 2020, the Joshua Group caught our attention in our ongoing investigations of the PumaTS Scam Broker Network. We found that the group operated the broker scam CentroBanc (www.centrobanc.com, www.centrobancitaly.com) as a PumaTS
According to the records of the Bulgarian company register, Joshua Development Ltd (Company No: 18652), registered in the Commonwealth of Dominica, is the sole owner of Joshua Partners EOOD (Company No 204775606), founded in Bulgaria in September 2017 and headquartered in Sofia, Bulgaria. The Georgian citizen Levan Asatiani is recorded as the beneficial owner. The Bulgarian Petyo Donchev Zlatev acts as manager of the Bulgarian Joshua Partners.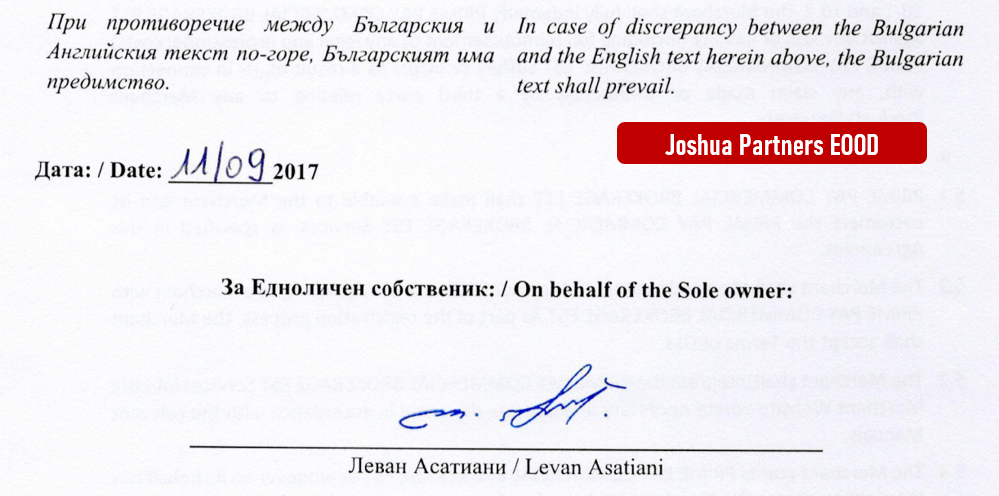 The very same Petyo Donchev Zlatev has been registered as an officer with the UK payment processor Digital E Payment Services Ltd (formerly Digital Entertainment Payment Services Ltd) since 2017. Zlatev is also, as reported by FinTelegram, manager of the Bulgarian Mitchell Group EOOD, which operated the CCXcrypto scam (read this Request 4 Information).
One of the beneficial owners of the Joshua Group, Levan Asatiani, registered the domain www.centrobanc.com with GoDaddy on March 1, 2018. The Austrian Centrobank, a member of the Raiffeisen Group, took Joshua Development Ltd. to the WIPO Arbitration and Mediation Center (Case No D2018-2911) in December 2018 for copyright infringement due to the use of the domain www.centrobanc.com. There it was decided on 4 March 2019 that the domain www.controbanc.com should be transferred to the Austrian Centrobank. Asatiani also registered some of the other scam domains for the Joshua Group (see here).