In January 2023, FinTelegram warned against G999, allegedly a blockchain-based peer-to-peer electronic cash system. It is part of the group of the GSPartners Group of Josip Heit. Recently, the Ontario Securities Commission (OSC), the British Colombia Securities Commission (BCSC), the Alberta Securities Commission (ASC), and the Financial and Consumer Affairs Authority of Saskatchewan (FCAA) warned against G999 and associated MLM schemes.
Key Data
Trading names
G999
Business activity
Blockchain-based payment system
Domain
https://g999main.net
Related domains
https://gspartners.global
https://lydian.world
Related legal entities
GSB Gold Standard Pay Ltd, Kazakhstan
Swiss Valorem Bank LTD, Kazakhstan
IBBP Pay Services LTD, Kazakhstan
GSB Gold Standard Pay KB, Sweden
GSB Gold Standard Bank Ltd, Mohéli
GSB Gold Standard Banking Corporation AG, Germany
GSB Premier Exchange Corporation Ltd, UK
GSB Gold Standard plc, UK
GSB Asset Financial Ltd, UK
GSB Money Ltd, UK
CoinX24 AG, Switzerland
SVB & GSPartners Global Limited, Hong Kong
Jurisdiction
Kazakhstan, Sweden, Germany
Mohéli
Authorization
Financial Services & Payment provider in Kazakhstan
Related schemes
Gold Standard (MLM scheme)
GSPartners (MLM operators)
Lydian.World (metaverse MLM)
Related individuals
Josip Heit
Related law firm
Irle Moser (Website)
Regulatory warnings
OSC, BCSC, ASC, FCAA
Compliance rating
Black
Short G999 Narrative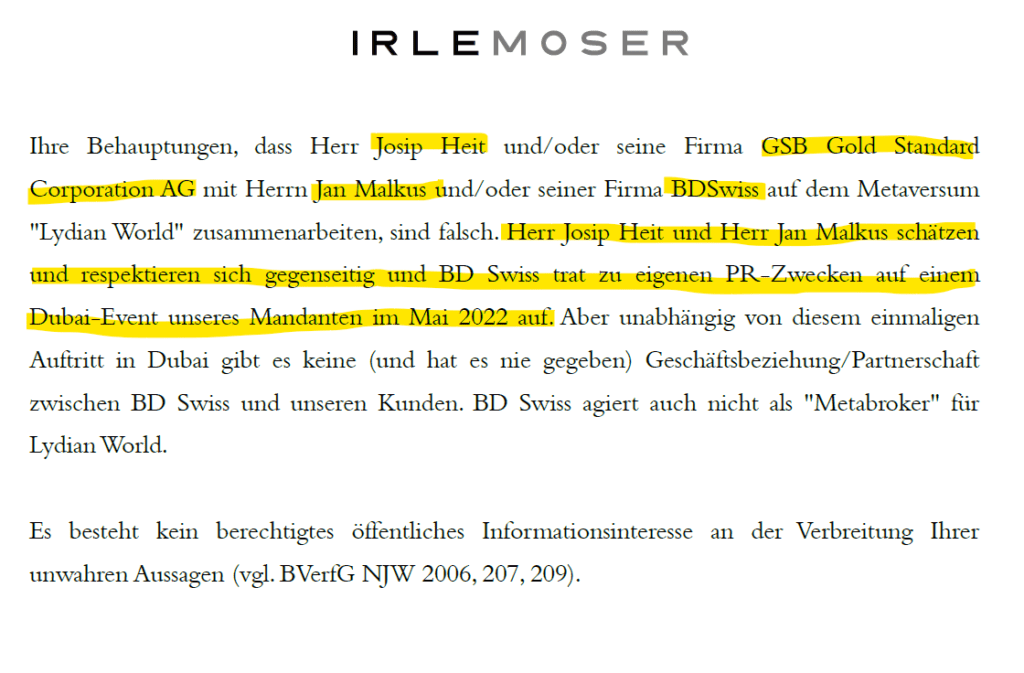 After our warning against G999 and its affiliated MLM systems, GSPartners, Swiss Valorem Bank, and Lydian.World, the controlling individual Josip Heit sent us threats of legal action through his German law firm Irle Moser, claiming that the warning was defamatory. Apparently, however, Canadian regulators have a similar perception to FinTelegram and have issued warnings against G999 and its affiliated MLM systems.
Irle Moser's letters and court documents alleged that a FinTelegram report on the involvement of CySEC-regulated broker BDSwiss in Josip Heit's Lydian.World MLM scheme was not true. In fact, BDSWiss then confirmed the accuracy of this report in an announcement, with BehindMLM exposing in detail the false announcements made by Josip Heit and his MLM schemes.
Dear valued clients and friends,It has come to our attention that for quite some time now, GSPartners Team, Lydian.world, Gold Standard Bank, and/or their associates have been on a publishing expedition of content explicitly featuring our brand and registered trademarks, suggesting an affiliation and/or cooperation with us.We hereby wish to set the record straight by informing you that we have never started any kind of cooperation or affiliation with GSPartners Team, Lydian.world or Gold Standard Bank.If you ever come across such content, please be informed that we have not approved it and are not associated with GSPartners Team, Lydian.world, Gold Standard Bank, or any of their representatives.

BDSwiss statement published on BehindMLM (link)
The G999 Offering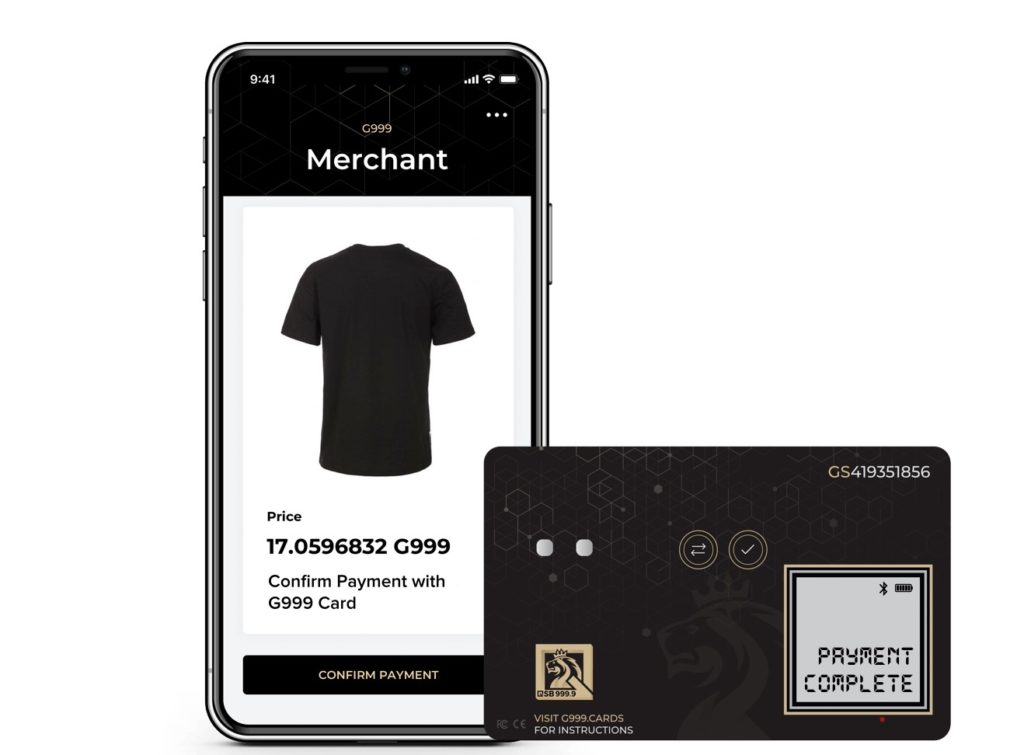 The G999's website provides a complex description that may be challenging for the average investor to comprehend. G999 allegedly operates on a proprietary blockchain, utilizing Masternodes for the mining of its coin (token). Additionally, G999 offers a crypto card, marketed as a cold storage solution and a mechanism for cryptocurrency transactions.
The G999 tokens play a pivotal role in the crypto-based multi-level marketing (MLM) schemes orchestrated by Josip Heit, particularly within his "Gold Standard" initiatives. These tokens are utilized as a medium of exchange and investment instruments.
Sources such as BehindMLM have reported that affiliates of the Gold Standard programs have purchased G999 tokens in anticipation of potential appreciation. However, it's worth noting that reviews of G999 and Gold Standard on BehindMLM are predominantly negative.
Data from Cryptocompare indicates that the G999 token's market price has remained stagnant for an extended period, with no discernible trading activity. This lack of market movement raises concerns about the liquidity and viability of the token.
Nefarious Activities & An Arrest
In August 2023, the leading crypto wallet Metamask blocked three GSPartners-related domains for "nefarious activity."
As reported by FinTelegram, Christopher Scanlon, a 43-year-old U.S. citizen and resident of the UK, was taken into custody in May 2023 in Miami on allegations of operating a money-transmitting business without the requisite licensing. Scanlon is the founder, president, and chief executive officer of Aurae Lifestyle and Club Swan. Scanlon's scheme provided payment facilitation services to GSPartners and Swiss Valorem Bank through his aforementioned entities until September 2022.
Compliance Check
The warnings from Canadian regulators already speak for themselves. The G999 crypto payment system and related MLM schemes are operating without regulatory permission and are, therefore, illegal.
Given the aforementioned factors, we have included G999 in our Black Compliance list. We advise investors to avoid involvement with G999 or any associated MLM schemes. It's important to note that G999 does not align with the typical characteristics of mainstream payment processors.
Share Information
If you have any information about G999, Golden Standard, or Josip Heit, please let us know via our whistleblower system, Whistle42.