Spread financial intelligence
According to an announcement of the U.S. Embassy in Belgrade and the Acting U.S. Attorney for the Northern District of Texas, Prerak Shah, the Serbian Antonije Stojilkovic, 32, has been extradited to the U.S. to stand trial on allegations that he and his co-conspirators defrauded investors out of more than $70 million in binary options and crypto scam schemes. The Serbian police arrested Stojilkovic on July 24, 2020.  Stojilkovic consented to extradition, and he was consequently extradited on Feb. 4, 2021. It's about time to crack down on the vast Belgrade scam scene.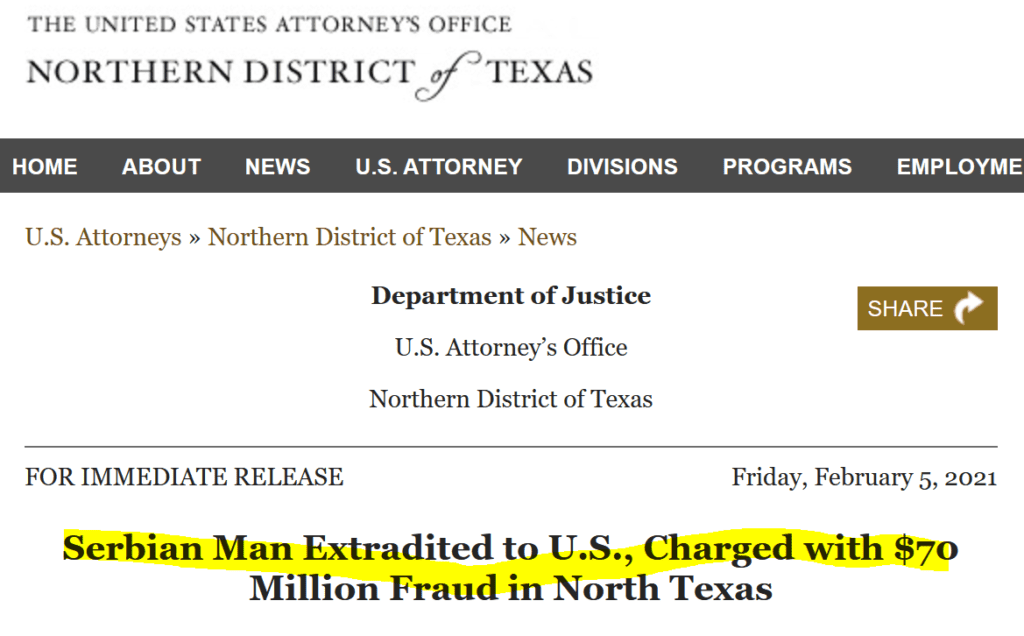 The successful cooperation in this case sends a strong message that "Serbia is not a refuge for international criminal activity," said  U.S. Ambassador to Serbia Anthony F. Godfrey.
A Dallas-based federal grand jury indicted Stojilkovic and more than a dozen other alleged fraudsters on charges of conspiracy to commit wire fraud and conspiracy to commit money laundering in July 2020. His co-conspirators include Kristijan Krstic, Xenia Faye Atilano Krstic, Marko Pavlovic, Uros Selakovic, and Nenad Krstic, all arrested during the Serbian police operation in July. One U.S. based coconspirator, Haojia Miao, was arrested in California in October 2020.
The $70 million scam spanned several continents, targeting U.S. citizens and people from other jurisdictions, according to Acting U.S. Attorney Prerak Shah. According to the indictment, the defendants allegedly helped create and market more than 20 fraudulent investing platforms, including Options Rider, Bancde Options, Start Options, Dragon Mining, BTC Mining Factor, and Trinity Mining.
The scammers promoted their binary options platforms as "the world's market leader in binary options," promising an average payout of 80% and promised 20% refunds on every lost trade. In their cryptocurrency mining schemes, they claimed investors could purchase bitcoin at half the market price.
Belgrade was and is a center of international boiler room fraud around binary options and broker scams. Many Israeli scams had opened their boiler rooms in Belgrade. The cheap labor costs combined with highly trained young employees and bought police protection made Belgrade a hotspot of the European scammer scene and cybercrime.