The US citizen Bill Powers, a 71-year-old retiree, invested in Glenridge Capital and lost $124.000. He is one of 35 investors who have sued in Ireland, claiming $4.6m in losses. Glenridge Capital is one of the many binary options schemes operated via the Irish GreyMountain Management Ltd (GMM), controlled by David Cartu and his brother Jonathan Cartu. On 30 Oct 2022, the court found that GMM's shadow directors and directors were liable for fraud actions and client losses.
The Court Findings
The binary options scheme run by the Cartu Brothers around then Wirecard partner GreyMountain Management Ltd (GMM) was probably one of the largest binary options fraud schemes in the world between 2014 and 2017. According to various estimates, they received between €150 to 250 million from investors and put most of it in their own pockets.
The Irish High Court found that the Canadian-Israeli brothers David Cartu and Jonathan Cartu were shadow directors of GMM who had "syphoned off considerable sums of money" leaving it just €600,000 to fulfil its obligations. The judge made them "personally liable to Mr Powers for the loss he suffered."
Additionally, the two former Irish directors of GreyMountain Management Ltd, Ryan Coates and Liam Grainger, were found jointly liable for the American pensioner's loss of $124,000 due to their "complete dereliction of duty" in not knowing what GMM was doing.
The High Court found that the company made no trades; instead, it transferred the investors' funds to David Cartu and Jonathan Cartu. In addition to running its own binary options scams, GMM has also offered payment processing to other scams for a 10% fee.
The Lying Reputable Law Firm
In January 2016, the Irish Central Bank became concerned about GMM's activities and wrote to it saying it believed it might be acting as an unlicensed money-transmitting business. Consequently, GMM and David Cartu retained the Irish law firm Matheson to help with this Central Bank issue.
GMM "managed, by lying on its own behalf and by having a reputable law firm (Matheson) lie on its behalf in January/February 2016, to throw the Central Bank off the scent and avoid being closed down as an unauthorised money transmitting business (and to avoid being closed down as a firm misrepresenting that it was trading in binary options)," Judge Michael Twomey found.
It seems clear, once again with the benefit of hindsight, that Greymountain would have been shut down by the Central Bank if the reply from Matheson had been honestly answered.

Judge Michael Twomey
The judge noted that in February 2017, the Irish law firm Matheson issued a legal bill for services to Greymountain for writing letters to GMM victims denying they had been defrauded. However, the bill of €16,610 was not issued to GMM but sent directly to David Cartu, who did not live in Ireland. Judge Twomey said that this was evidence that David Cartu, GMM, and Glenridge Capital were all involved in international fraud.​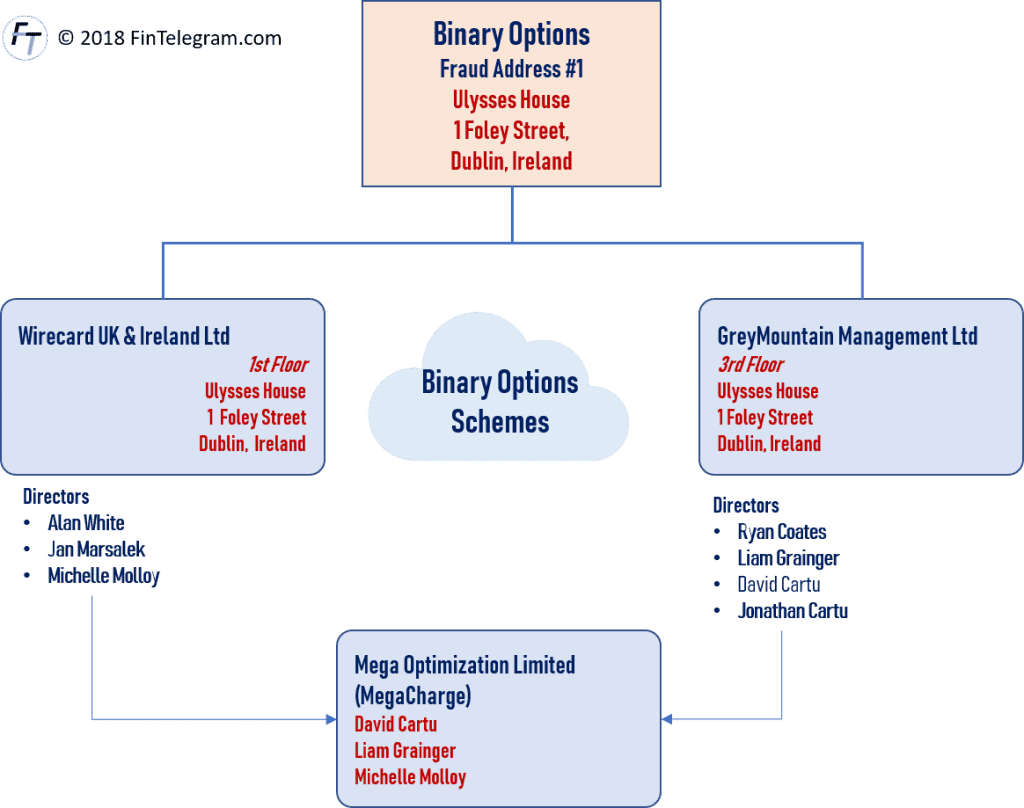 The Wirecard Connection
GMM was one of the many illicit Wirecard clients. Ryan Coates became a director after his mother, Michelle Molloy, then a director of Wirecard UK & Ireland, suggested he take the position.​
Over three years, from 2015 to 2017, GMM had its offices in the Ulysses House on Foley Street in Dublin. Wirecard UK & Ireland was also registered at this address.
Stay tuned for an update on the GMM binary options scheme and its Wirecard connections.
Share Information
If you have any information about the Cartu Brothers – David Cartu, Jonathan Cartu, and Joshua Cartu – or GreyMountain Managemen (GMM) and their activities, please let us know through our whistleblower system, Whistle42.