Several legal entities in different jurisdictions operate the XtreamForex scheme. On the one hand, there is Xtream Markets Ltd in Mauritius, registered as an investment dealer with the Financial Services Commission (FSC) in Mauritius since 2023. The website also mentions Xtream Markets Ltd in the Marshall Islands as the website's owner. The client agreement also mentions Grand Investing Ltd. We have added XtreamForex to our Orange Compliance List.
Key Data
Trading name
XtreamForex
Business activity
CFD broker
Domain
https://xtreamforex.com
https://www.xtreammarkets.com
Social media
LinkedIn, Twitter, Instagram
Legal entities
Xtream Markets Ltd, Marshall Islands
Xtream Markets Ltd, Mauritius
Grand Investing Ltd, Marshall Islands
Grand Investing of Financial Instruments Ltd
Jurisdictions
Marshall Islands, Cyprus
Authorization
FCA-licensed Investment Dealer (license no GB22200951)
Leverage
up to 1:1000
Contact data
+357 96750500 (WhatsApp)
Payment options
Credit/debit card, bank wire, crypto
Payment processors
Perfect Money, PayRedeem, DragonPay
FXPaymentServices (https://secure.fxpaymentservices.com)
Compliance rating
Orange
Short XtreamForex Narrative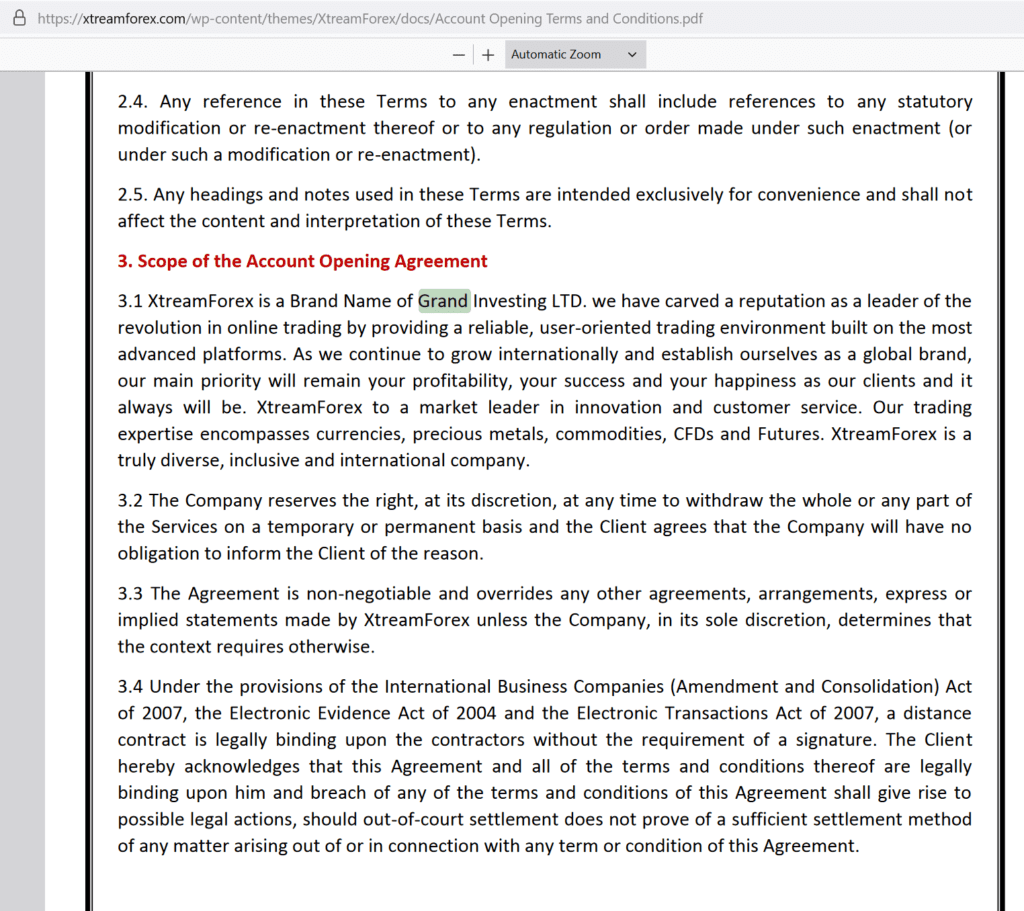 The XtreamForex was founded in 2015 by the Marshall Islands-registered Grand Investment Ltd. This entity is still named in the Client Agreement. In 2023, Xtream Markets Ltd then obtained a license from the FSC in Mauritius as an investment dealer.
We think that XtreamForex is run by people from Cyprus. For example, the broker communicates with its clients via WhatsApp using a Cypriot cell phone.
XtreamForex is a Brand Name of Grand Investing LTD. we have carved a reputation as a leader of the
revolution in online trading by providing a reliable, user-oriented trading environment built on the most
advanced platforms

XtreamForex Clieant AGreement (link)
The broker claims in its affiliate program that it has more than 500,000 live accounts.
As payment processors, we have discovered the Russian Perfect Money, PayRedeem, DragonPay, and the anonymously operating FXPaymentServices through which credit/debit card deposits are processed. Besides, customers can also deposit with cryptos (BT, USDT).
Compliance Check
Xtream Markets Ltd is regulated offshore by the FSC Mauritius. However, it should be noted that the contradictions about the owner, economic operator, and website owner behind XtreamForex are confusing. Information about the people behind the scheme is completely missing. The FSC license does not authorize the offshore broker to offer its financial services to retail clients in other regulatory regimes.
In our new review on August 27, 2023, we were able to register with XtreamForex as an EEA resident without any problems and thus had access to a maximum leverage of 1:500. In the EEA (and most other Western regulatory regimes), a maximum leverage of 1:30 is allowed for retail clients.
Pre-KYC deposits, i.e., deposits from new customers before verifying their ID and residency, were possible without any problems with credit/debit cards or crypto. With crypto, we could theoretically also transfer unlimited amounts.
For the above reasons, we have placed XtreamForex on our Orange Compliance list and advise retail traders not to trade with this offshore broker.
No investor protection schemes or financial ombudsman services do not protect clients of offshore brokers. Therefore, you should not choose offshore brokers for high-risk CDF speculation.
Share Information
If you have any information about XtreamForex, its operators, and its facilitators, please share it through our whistleblower system, Whistle42.