Spread financial intelligence
On May 8, 2018, the German regulator BaFin issued an order that Kai Petersen's FinTech Service GmbH, registered in Dusseldorf, Germany, should cease support for scam brokers. An appeal against this order was denied by the court in Frankfurt. In September 2019, the U.S. SEC filed a complaint against Kai Petersen and his Israeli partners Gil Beserglik and Raz Beserglik charging them with binary options fraud. FinTelegram has reported and Kai Petersen has contacted FinTelegram to contest on of ten counts.
---
FinTelegram has brought a comprehensive report on the scam activities of Kai Petersen and his partners on 20 September 2020 (read the report here). In the report, it was also mentioned that through a bank account of a FinTechServices GmbH at GRENKE Bank payments were made by victims of the notorious Blue Trading scam. We also attributed this company with the almost very same name and a Dusseldorf address to Kai Petersen. This also because this FinTechServices GmbH, as well as FinTech Service GmbH and Kai Petersen himself, are located in Düsseldorf.
Not only FinTech Service GmbH von Petersen has received an order from BaFin to stop its unauthorized and therefore illegal activities. JAC GmbH also received such an order in August 2018 as did his CS Compliance Service GmbH (here).
Kai Petersen has undoubtedly left his mark on the dark binary options and forex scammer scene worldwide. The extent to which the victims of the many scams he participated in, according to the financial market supervisory authorities in the U.S. and Germany, will be held liable for this remains to be seen.
The implicit confession
In his statement to FinTelegram News, Kai Petersen did not deny his participation in scams mentioned in the report, except that this "other" FinTechServices GmbH and its payment services to the Blue Trading scam would be attributable to him. He accused FinTelegram of "lousy" research in this one count out of ten. Well, that is Petersen's right in the first place. The fact is, however, that FinTelegram continues to stand by its fact-based conclusion regarding this one contested count for the following reasons:
BaFin investigated FinTech Service GmbH between at least March and Mai 2018 and Kai Petersen as its beneficial owner and sole director was fully aware of this investigation
On 8 May 2018 BaFin issued the order to cease the support of unauthorized proprietary trading (aka scam) for several brands Weiss Finance (www.weissfinance.com), Stern Options (www.sternoptions.com), or Olsson Capital (www.olssoncapital.com).
On 17 May 2018, the new legal entity with the almost identical name FinTechServices GmbH was registered with an address in Dusseldorf
To continue to receive money from victims, a successor company with a similar name and an address in Dusseldorf was urgently needed – and found!
deposits of Blue Trading scam victims started to be made to the new legal entity almost immediately after its inception
What are the odds that one week after the Cease-and-Desist Order of the BaFin on May 8, 2020, against FinTech Service GmbH on May 15, 2018, the company FinTechServices GmbH, which has almost the same name, is entered in the commercial register and registered in Düsseldorf? Andis Petersons, like Kai Petersen, who lives in Düsseldorf, was appointed managing director. This "new" FinTechServices emerged from a dormant company established by SCUR24 and originally located in Munich.
So many companies, so many rebrandings, and the Panama Papers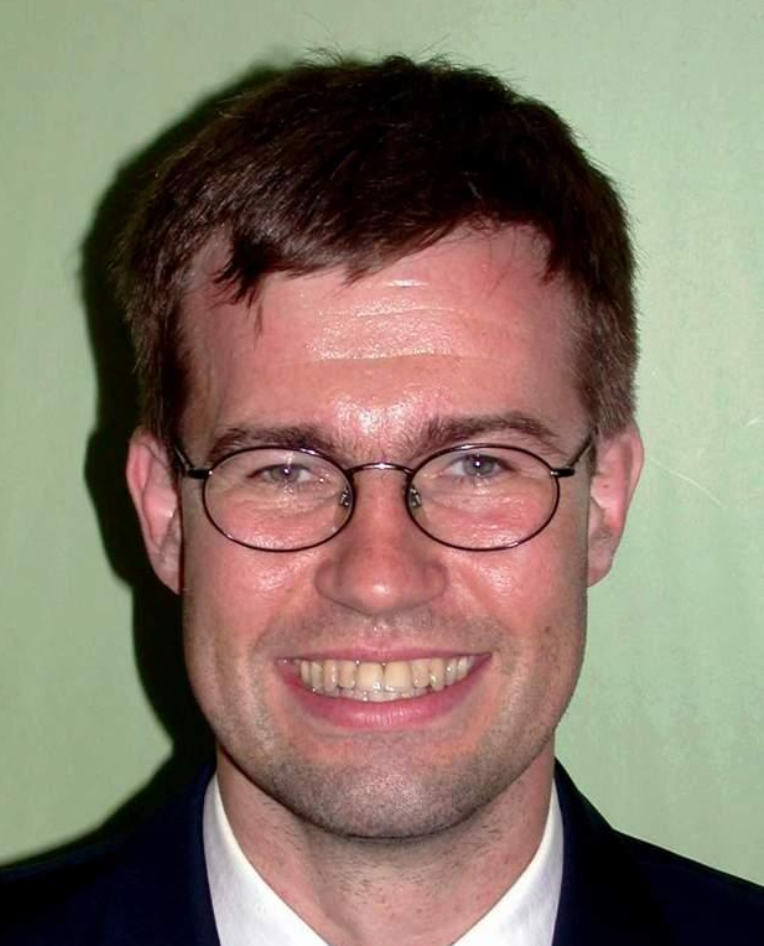 Kai Petersen (see his 2006-picture left) is a veteran in the German forex retail industry and has always played with different and often renamed companies. You can explore his German network of companies here on Northdata.
In 2005 or 2006, Petersen established the Saxo Bank white-label forex broker FINEXO (see web archive for www.finexo.de) brand in Germany with DTS GmbH, then switched the brand to Finexo Service GmbH established in 2008This became TS Trading Service GmbH, then CS Compliance Service GmbH, and finally Premier Infra GmbH. This company is currently in liquidation (see here Finexo press release from 2006).
Petersen is also the director of Van Sterling Capital Ltd, a venture capital firm registered in Malta. This company is included in the Paradise Papers of the ICIJ Offshore Leaks Database.
EFRI money-laundering complaint
The European Funds Recovery Initiative (EFRI), co-founded by FinTelegram, has already filed a report to FATF including the GRENKE Bank and FinTechServices transactions. Moreover, a complete file with victims' and payment data will be filed with the responsible public prosecutor's office in Mannheim, Germany.
The prosecutor's investigations should disclose the actual connections and show whether or not the FinTelegram conclusions have been correct. Even in his statement to FinTelegram Kai Petersen has not denied that he has been involved in and facilitated many binary options and broker scams. The U.S. SEC has filed a civil fraud complaint against him and his partners, the German BaFin has confirmed this in its investigations and ordered the cessation of scam facilitating activities.